It's Fluffy Friday, when we give you a treat for the eyes with adorable animal snaps!
OK, so this week's *stars* aren't the fluffiest of fellows, but they're still totally adorable - meet Arnie and Sylvester, these two cute miniature pigs are the latest residents to join Folly Farm.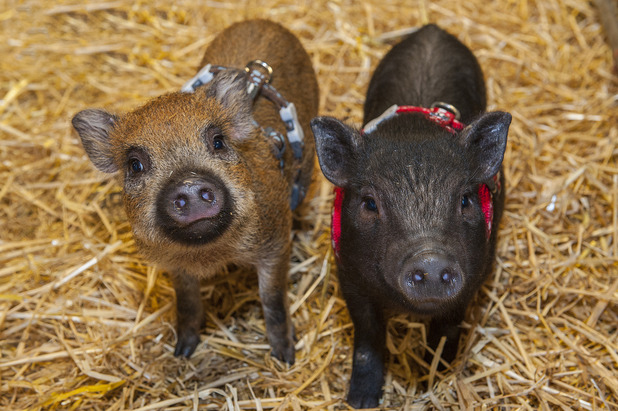 The 15 week old porkers have been in training over the last few weeks to prepare for meet and greets around the farm. Aww, we're gutted we weren't invited to that training camp, to be honest!
Farm manager Jane Hill, said: "They get on really well with each other, even though they're originally from different litters. They play with each other in their pen, and they're both very clever. Arnie's even learned to sit on his back legs, but he's got very cheeky now, and comes to sit in front of you to ask for treats before they've even been offered.
"Sylvester is timid, but he likes to gather up all the fresh straw in their pen into a corner to make a den and they like to bury themselves in it."
Who knew pigs had their own party tricks?! Arnie and Sylvester sound totally adorable and we can really relate to the whole wanting treats all the time part!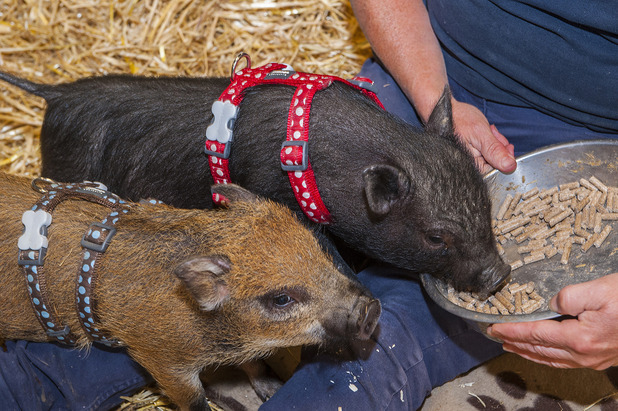 The miniature pigs are expected to grow to around 14-20 inches high, about the same size as a springer spaniel, and that's not all they have in common with canines...
Jane explained: "People always do a double-take when they see them being walked on their harnesses. Everyone always thinks that they're dogs at first, then they realise that they're actually miniature pigs and they can't believe it."
Yep, seeing two tiny pigs on a leash isn't an everyday occurrence really, is it?!
For more information visit www.folly-farm.co.uk
For exclusive competitions and amazing prizes visit Reveal's Facebook page NOW!
Copyright: Rex Features Richard Waters/Solent News