Baby swans may be super-cute, but it turns out they can be rather cheeky too!
Well, at least this little guy is.
Proving even swans can get a little lazy sometimes, this baby cygnet decided to ditch its swimming lesson and hitch a ride on mum's back instead. Much to the annoyance of its sibilings, we bet!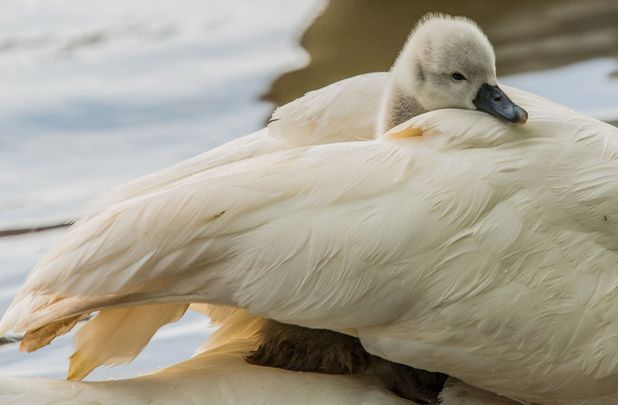 We can see you!
Passing by the group of oh-so-fluffy baby swans as they took to the water, Richard Waters captured this cheeky newborn looking pretty cosy as he perched himself on top of his mum in the River Wey in Guildford.
Either nervous about getting wet or simply wanting to sit out on learning how to get about his new home, the cygnet (who is just 15cm long - think the size of a small ruler!) perched on his parent for a whole twenty minutes while his brothers and sisters did all the hard work.
The naughty one of the group, perhaps?
A regular passer-by of the swan and its new brood, Richard said: "The cygnets are only a couple of days old, a typical brood is four to five eggs, so for nine eggs to successfully hatch is unusual.
"I don't know why the cygnet rode on the back of the swan. Maybe it's nervous about the water - or maybe the opposite, it's a thrill-seeker!"
Either way, we reckon the little mite definitely ruffled a few feathers!
For exclusive competitions and amazing prizes visit Reveal's Facebook page NOW!
Check out more cute animal pictures below:
Copyright: Rex Features Richard Waters/Solent News