Newborn chick Roley is bound to put a smile on your face, and if it's not her oh-so-fluffy coat that does it, her heart-warming story definitely will.
Born earlier this month in Pontisticill, Wales, Roley damaged both of her legs when breaking out of her shell and wasn't able to walk.
Now, with a little added help, she is standing again and hopefully her new support will help her to finally put one foot in front of the other.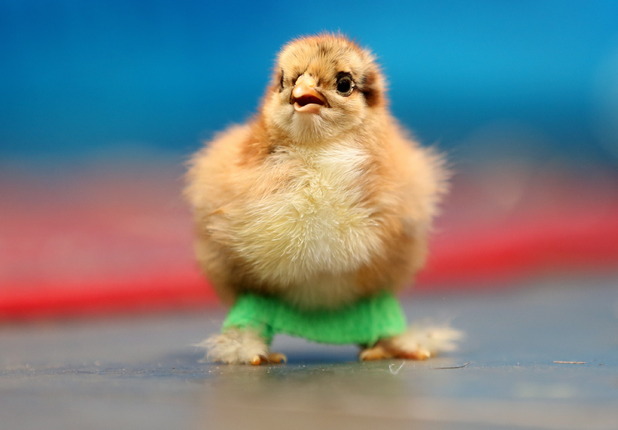 After Roley's birth, animal lover Faye Lennon, 22, realised the gorgeous Pekin Bantam chick had hurt herself.
Unable to walk, Roley was faced with being put down, but Faye insisted she was too cute to say goodbye to so soon. Instead, she worked with a vet to give Roley leg splints, fitting braces which now keep the chick's legs upright.
Faye even gave this little girl her name, calling the chick Roley because she was so wobbly she kept falling over. Aw!
Now she may be Roley by name, but thanks to Faye, she's no longer Roley by nature.
Yay!
For more cute animal pictures see our gallery below:
Copyright: Rex Features Richard Waters/Solent News