It can be tough carrying just one baby, but last month this mother bear ended up with three on her back as she went for a dip in Katmai National Park, Alaska!
These three babies couldn't bear to be away from mum, so they clambered onto her back and hitched a ride...
Not wanting to be left behind, this trio of bear cubs jumped aboard mum as she went for a swim - and no doubt knackered the poor thing out!
The day before, the cubs were left unimpressed when their mum decided to take a dip without them, so this time round they made sure she didn't get out of bringing them with her.
Well, when they look that cute who can say no?!
With two already clinging on safely, the last little one was so eager to climb on board, he looks like he's just about to fall off... oops!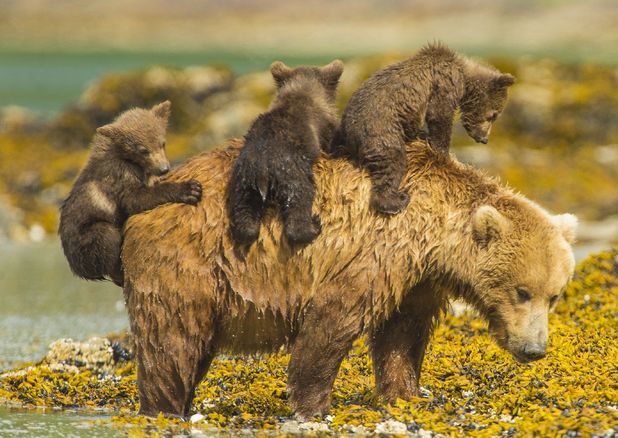 Spotted by Jon Langeland who was visiting the park at the time, the 60-year-old made sure to capture the heartwarming moment on camera as he watched the bear troop clambering about on the beach.
Speaking about the cubs, he said: "[They] melted our hearts and it was touching to see how the mother always looked over her shoulder to be sure they were ok... These spring cubs - just a few months old - are totally dependant on [her]."
Well, by the looks of things, that couldn't be more true!
We're not so sure we'd be up to the challenge...
Copyright: Rex Features Richard Waters/Solent News
Reveal is now on Google Plus! Join us here for the latest pictures, fashion and celebrity news!