Folly Farm in Pembrokeshire, Wales has had a roaring success as it's new lions and cubs took no time at all settling into their new home.
Welcoming their new pride from Longleat, Folly Farm said hello to two new lions Hugo and Luna and their four adorable cubs, Sola, Zahra, Alika, and Ebele.

Look at them all lined up... like butter wouldn't melt!
Feeling a little peckish after their travels, Hugo and his clan wasted no time in tucking in as they chowed down on a whopping 10 kilos of raw beef for their first meal in their new home.
But for lion keeper Rosie Badger the fact the lions and their cubs were prepared to eat in their new terrority to fill their healthy appetites is a reassuring sign.
Glad to hear it!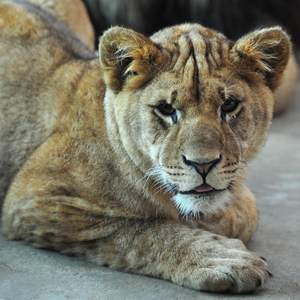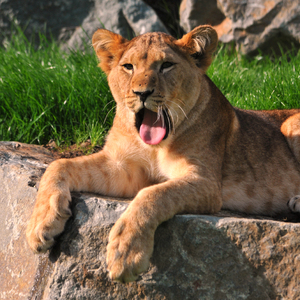 And though they may feel comfortable to indulge in some dinner, Zoo manager Tim Morphew has said the lions "won't completely settle until the new enclosure begins to smell of lions too".
He said: "Once they start exploring and marking their territory, they'll feel right at home."
Guess it's time for our fluffy friends to start spreading their scent!
Reveal is now on Google Plus! Join us here for the latest pictures, fashion and celebrity news!
See more cute animal pictures below:
Copyright: Rex Features Richard Waters/Solent News