If you love Disney favourite The Fox And The Hound then you'll be cooing for forever over these latest pictures of unlikely friends, Maddy the dog and Rosie the Fox - the modern day Tod and Copper!
Striking up a lovable friendship just like in the 1981 Disney classic, Rosie and Maddy have become the best of friends - and don't the little heartbreakers make a cute pair!
We can hear the soundtrack playing already...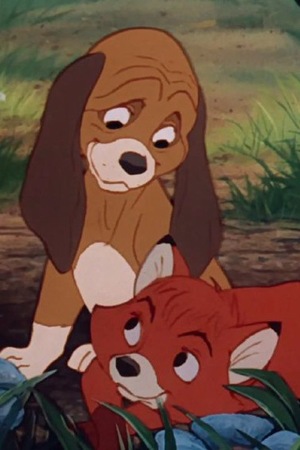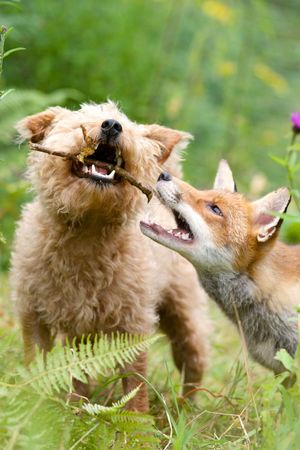 Maddy, not quite a Hound but a Lakeland Patterdale, became besties with her foxy friend after kind owner Richard Bowler took Rosie into her home when she was abandoned.
Despite Rosie's difficult start in life (Rosie's dad killed most of her litter), the pair thankfully haven't had such a rocky road to friendship like in the movie.
Not forced apart, but brought together from the get go instead, Rosie and Maddy have learned to love each other and formed a very close bond at their home in the Berwyn mountains near Corwen, North Wales.
So much so, that Maddy likes to plant kisses on Rosie now and again, even if the fox does try and steal her sticks!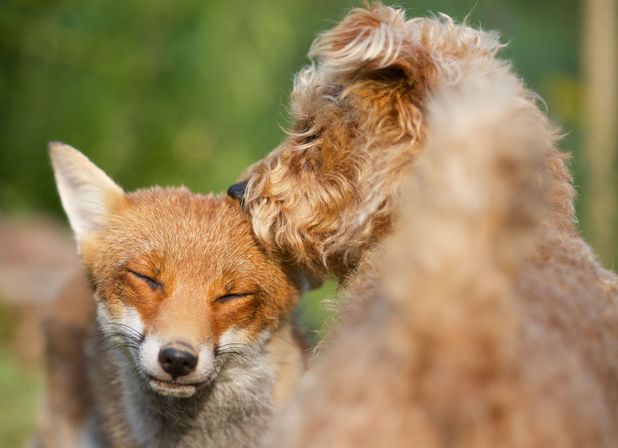 Speaking about his two girls, Richard said: "They love chasing each other; usually Maddy does the chasing but if Rosie feels she's not getting enough attention she'll dive on Maddy to get the game started.
"They interact about 3-4 times a day. Sometimes if neither of them are in the mood to play they just greet each other by sniffing each other and then just chill out in the sun, it's not always manic when they are together.
"Maddy has always been a playful pet and it is a natural instinct for a fox cub to play so it is no surprise they share the same instinct for fun."
How adorbs!
Reveal is now on Google Plus! Join us here for the latest pictures, fashion and celebrity news!
See more cute animal pics below:
Copyright: Rex Features Richard Waters/Solent News