With the World Cup kicking off yesterday, everyone is out in force supporting their teams and for ZSL London Zoo, their lions were no different!
Backing the England team, London Zoo's Asian lionesses were spotted giving our boys a run for their money as they showed off their very own footballing skills.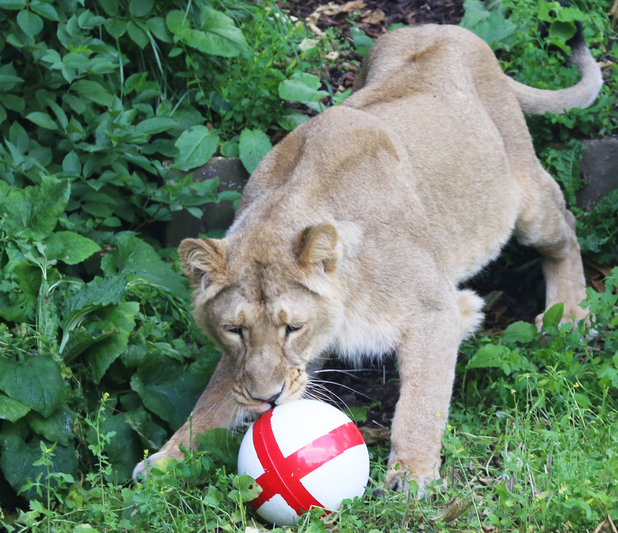 Lionesses Ruby, Heidi and Indi were each treated to their own patriotic footballs stuffed with meaty treats. But although one lioness paw'ed around with her ball, it's safe to say the others were more interested in eating their football than having a kick about!
Maybe playing isn't such a good idea and mascotting is more their thing? After all 'three lions on a shirt' and all that!
Speaking about his footballing pride, London Zoo's senior keeper, Paul Kybett, said:
"The keepers are all keen football fans and we're hoping that with ZSL London Zoo's pride of lions roaring them on, the England team will be bringing home the World Cup this summer."
"As the three lions at the Zoo and the England team embark on their different campaigns, we're hoping the country will get behind the football and help us save this iconic species so future teams can wear them with pride on their shirts."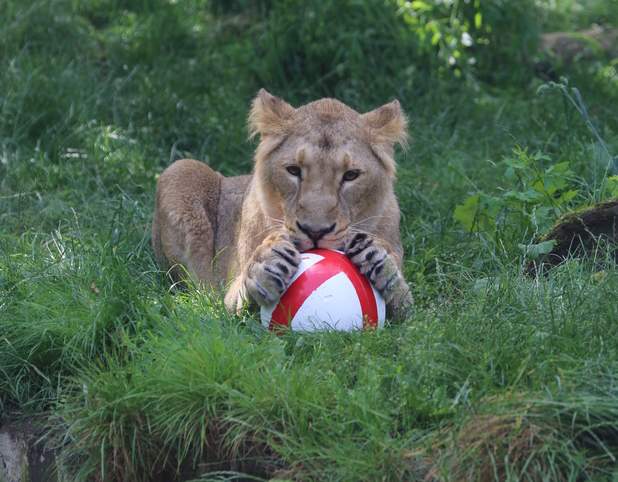 Lion400 is ZSL's latest campaign to help save their Asian lion pride from facing extinction, and with the backing of the British public this summer, they are hoping to raise money for a new breeding centre and exhibit at London Zoo.
And in hoping football's coming home this summer, let's get behind our team's mascots and make sure our lionesses are here to stay too!
Check out more cute animal pics below:
Copyright: Rex Features Richard Waters/Solent News