A curious tiger cub found herself making friends with a tortoise recently, after encountering the animal for the first time at a reservation in South Africa.
The five week old Bengal cub snooped inquisitively around her new pal for a few moments at the Tiger Canyons reservation in Karoo, South Africa, before placing a paw on its shell and even cuddling up alongside it in the sun.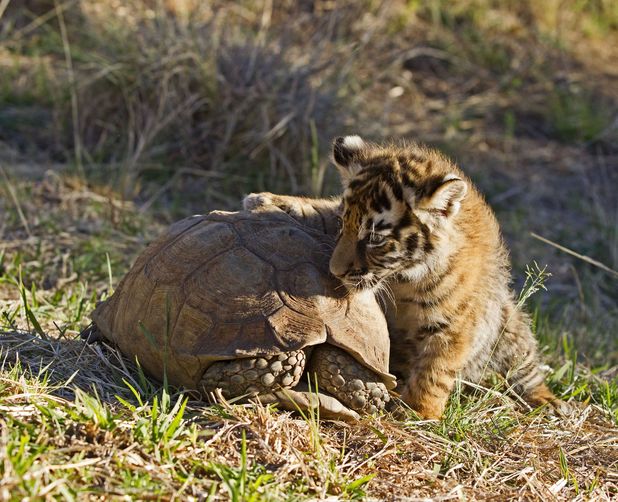 However, the tortoise was a little more reserved and only popped out occasionally from its shell to say 'hello'.
That's still pretty brave!
Photographer Ken Watkins managed to catch the endearing moment on camera and said: "The tortoise did retract into its shell but seemed to realise it was not in real danger as he popped out every now and then."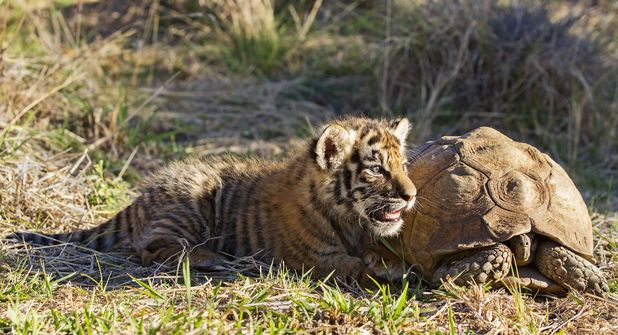 He added: "The tigers were extremely inquisitive but also somewhat unsure."
The chance meeting lasted around five minutes, with the cub then continuing on her walk around the reservation with her cub brother and Ken.
Check out more cute animals in our gallery below.
Copyright: Rex Features Richard Waters/Solent News