Tiger keepers at ZSL London Zoo are thrilled after the top-secret birth of the zoo's first tiger cub for 17 years.
Five-year-old Sumatran tiger Melati gave birth to a single cub at 9:22pm on Sunday 22 September, with the pregnancy lasting approximately 105 days!
The six-minute labour was captured on a hidden camera by zookeepers, who were keeping a careful eye on the first-time mum.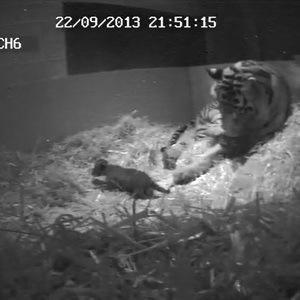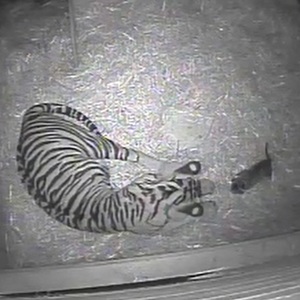 These cute photos show the as yet unsexed cub's first movements, while being watched on by doting mum Melati!
The cub is currently snuggled up in Tiger Territory exhibit's special cubbing dens, but in the meantime, visitors can observe five-year-old dad Jae Jae in the 2,500sqm enclosure, as he leaves nappy duties and night-time feeds to Melati.
Zookeeper Paul Kybett said: "We are simply over-the-moon about the birth of the tiger cub; it's a momentous occasion for everyone at ZSL London Zoo and a real cause for celebration.
"We were nervous about the pregnancy, as it was Melati's first cub and we didn't know how she'd react. When it came to her due date, we were all watching our monitors with bated breath.
"The actual birth happened very quickly and Melati's maternal instincts kicked in immediately as she started licking the cub all over and it soon began wriggling around - we couldn't have asked for a smoother birth!
"It's still very early days, so we're leaving Melati alone to take care of her adorable baby, and our cameras allow us to watch them both from a distance - so far she's proving to be a doting mum."
Watch some footage of the birth and the first steps of the new cub bonding with Melati:
Check out more cute Fluffy Friday animals below:
Copyright: Rex Features Richard Waters/Solent News