If you're planning a summer party, this is the ultimate in showstoppers - your own home-made ice bowl. Isn't this one gorgeous?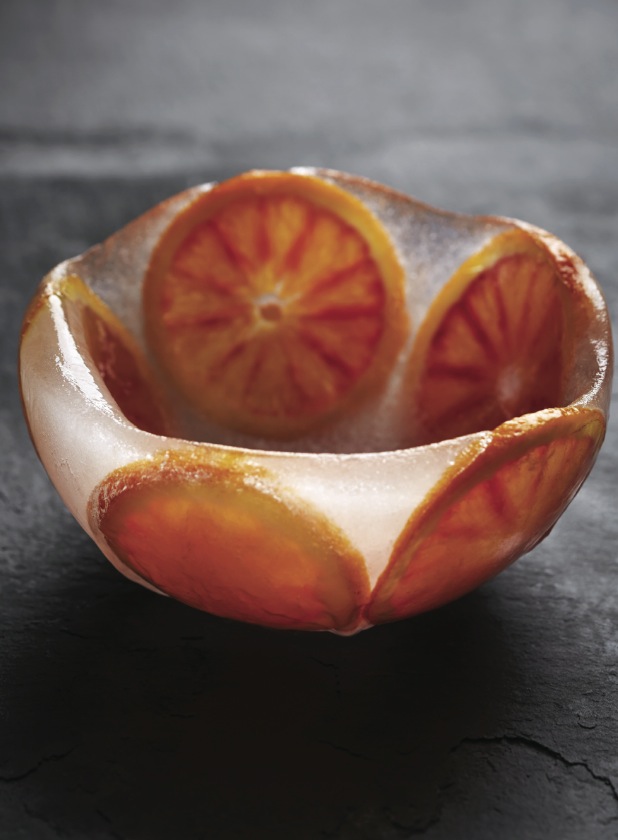 It's the brainchild of ice cream queen extraordinaire, Julie Fisher, who owns deluxe ice cream parlour Ruby Violet in North London and who has just brought out a stunning book full of the most amazing ice cream recipes,
Ruby Violet's Ice Cream Dreams,
out now from Hardie Grant Books, priced £16.99.
'Ice bowls and plates are a very pretty way to serve your ice creams or sorbets,' Julie writes. 'As well as oranges and other citrus fruit, you could use slices of strawberry, redcurrants, bay leaves, mint and star anise – you are only limited by your imagination.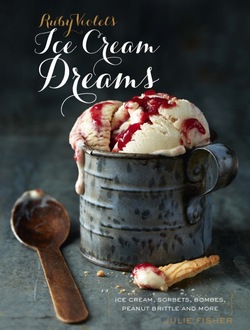 'You will need two stainless-steel bowls; one should fit inside the other with approximately 2 cm (¾ in) between them. Line the smaller bowl with a piece of clingfilm, fill it until ¾ full with water and freeze (this is going to weigh it down and prevent it moving).
'Once the small bowl has frozen, remove from the freezer. Place the larger bowl on a freezerproof board, then place the smaller bowl inside.
Slice some oranges, or whatever you fancy, quite thinly and pierce one edge of each slice with a cocktail stick. Wedge the orange slices between the two bowls with the cocktail stick resting over the top. This prevents the slices sinking to the bottom of your ice bowl.
'Now pour water into the larger bowl to 1 cm (½ in) from the top – do not fill it right up as water expands as it freezes.
Freeze overnight, then remove. Let it stand at room temperature then use a hot cloth carefully remove the smaller bowl and its ice - this could take 20 minutes or so, don't force it or the ice bowl will crack.
'Once the smaller bowl has come away invert the larger bowl and free the ice bowl again using a hot cloth. Carefully remove the cocktail sticks or snip off with a pair of scissors.
Freeze until needed.'
And if you fancy experimenting, have a go at making your own
Ice Cream Plates
as well.
For this you need a small, round silicone mould. Place the mould on a freezerproof board. Pour water in up to 1 cm (½ in) from the top. Don't fill it all the way up as water expands as it freezes.
Across the base spread lemon or lime slices, blueberries, vine leaves, whatever you fancy, as long as it is fairly flat, or slices of strawberry rather than whole strawberries.
The fruit will float around if you're not careful, so take it out of the freezer after 45 minutes or so and check. Manoeuvre the decorations into place if you need to.
Once frozen, flip the plate out of the silicone mould and use as a serving plate. Small ones are very impressive to serve individual desserts on.
Recommended summer recipes:
Strawberry & Custard Ice Lollies
Slow-cooked Pork Sliders with Homemade Coleslaw
James Martin's Herby Chicken & Potato Kebabs
How to mix a Cocktail Classic