Chef and street food expert Mark Jankel is challenging members of the public to try his menu for free - with the catch being that it is entirely made out of brains.
Mark will be offering three Gory Gourmet dishes and "offally good sides" to passers-by in London to celebrate the forthcoming DVD launch of
The Walking Dead: Season 2
.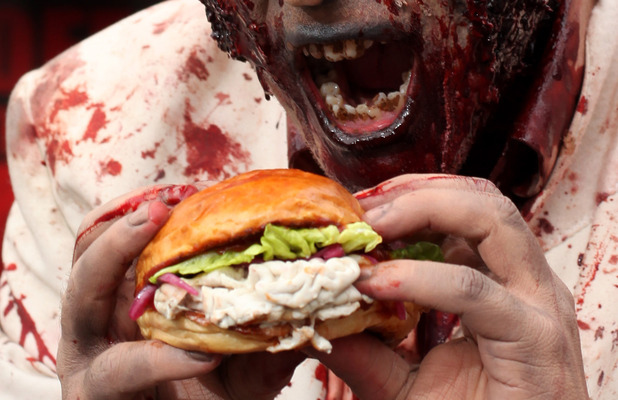 The menu features a Big Brain Burger, topped with mustard mayo, lettuce and cheese.
There is also Crispy Brain Dippers - chunks of brain with barbecue sauce - and a Brain Salad Wrap, which consists of brain chunks with wild rocket and tarragon mayo.
Sides also include Feet and Thyroid Nuggets and Skewered Hearts. Mmmm...tasty...!
The Gory Gourmet will be offering a free lunch to the first people in the queue at 12.30pm tomorrow at Camden Lock Market in Camden.
They will park up again in Lower Marsh Market in Waterloo on Thursday.
What are you waiting for?!
Read more:
Win a DVD box set of Walking Dead Series 2!