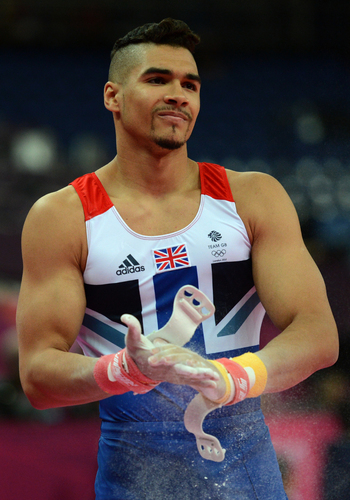 With muscles rippling and a huge grin, London 2012 Olympic medal-winner Louis Smith is our new crush!
Having bagged a bronze for Team GB in the men's gymnastics team event and with more medal opportunities to come, we can't get enough of gorgeous 22-year-old Louis!
Here are 10 fun facts about him:
1. As a child Louis was diagnosed with ADHD (Attention Deficit Hyperactivity Disorder). His mum Elaine Petch says she had a choice: "It was either him running around the house and climbing everywhere, or going somewhere that's structured." So she chose to send him to local gym classes.
2. With a barnet like that, it's little surprise that Louis has an eye for fashion and he says he'd love to start his own fashion brand after his gymnastics career ends. Perhaps he'll be designing the team GB kit for the next Olympics in 2016?!
3. Not only is he a talented gymnast, but he's not a bad singer either. In fact Louis once made it to the fourth round as a contestant on The X Factor. "It was a bit of fun," he later said. "I had to make a decision when I was eight and got offered a scholarship in singing either to do that full time or carry on with gym. I chose gym."
4. Despite choosing sport over music, Louis' love of reggae still helps him through the big competitions. He has even made his own playlist of "nice summery, bouncy reggae tracks that give you a chilled-out sense" to listen to on his headphones between events.
5. When your hunky physique is on show as much as Louis', it's little wonder he's chosen to show it off with a host of tattoos. He has a tribute to his late grandmother, which reads: "Rest in Peace, Nan, Missing You". He also has two guardian angels tattooed on either side of his back with the words: "What I Deserve I Earn".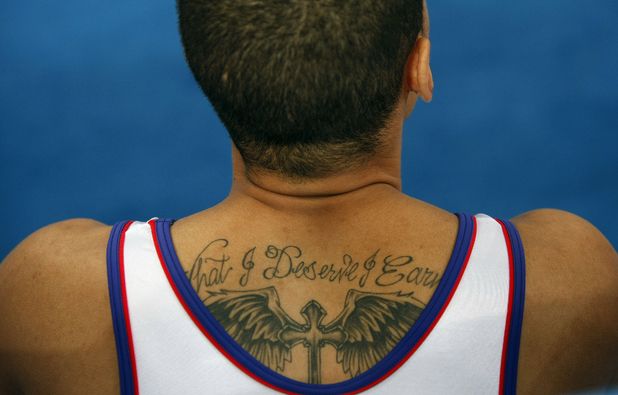 6. He's an emotional soul who admits he was nearly "derailed completely" after splitting with his long-term girlfriend last summer. He confesses: "I couldn't eat, I felt sick all the time. I lost more than a stone in weight." Awww. The good news, however, is that he's now single and ready to mingle!
7. Louis and his brother Leon were brought up by his mum and his late grandmother near Peterborough and he's a real mummy's boy. He has bought her a car from the income he gets from his host of sponsors. "It's only now I can appreciate what Mum and Nan went through for me to pursue a dream," he says.
8. When Louis took bronze at the last Olympics in Beijing he became the first Brit to win an Olympic gold medal in gymnastics since 1928. Four years on he is the team captain and is known as a bit of a joker among his team mates. "I just try to keep the team relaxed," he says.
9. It's thought that Louis has done more than million circles on the pommel horse since he began training at the age of seven. But it has taken toll on his body. "I'll definitely have a walking stick at 60. In fact I already feel 60. The physio told me I've got the back of a 40-year-old," he said, adding: "Most mornings I wake up in pain."
10. When you're working your body to the limit, you'd think Louis would be shattered by the end of a hard day in the gym. But he admits he's "not much of a sleeper" and adds: "Everyday just as I'm going to bed, I'll light a candle. There's something relaxing about watching fire burn."
- Who else do you find hot in Team GB? Tell us in our comments box below.
> Read more: 10 fun facts about hunky Superman Henry Cavill
> Read more: 10 fun facts about Hunger Games star Jennifer Lawrence