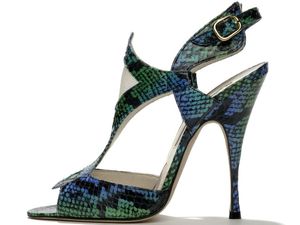 Beauty can often be a pain, and it's British women like The Only Way Is Essex cast who suffer the most by wearing the highest heels in Europe.
Foot care brand Compeed has revealed that we Brits gladly suffer the burn with 3.3 inch heels, compared with conservative German ladies who prefer 2.7 inch heeled shoes.
French women like to play it safe with 2.4 inches, but the braver Spanish closely follow the British by clumping around in 3.2 inch-high shoes.
All these inches, however, pale in comparison with some of the skyscraper heels our pint-sized celebs have been spotted in.
Victoria Beckham refused to ditch her favourite stilettos when pregnant with baby Harper, continuing to totter around in eye-watering 9 inch Christian Louboutin boots when the tot was born.
And the entire female cast of
The Only Way Is Essex
are massive fans of the mega heel.
With the height of British women averaging at 5ft 4in - which makes us some of the shortest ladies in Europe - it's no wonder we're prepared to suffer!
What are the highest heels you've been out in? Do you prefer a six incher or is that just too much?