The Only Way Is Essex's Kate Wright has denied using Photoshop after a handful of her Instagram followers accused her of editing her body in pictures.
With her tiny waist and shapely pins there's no denying Kate has a figure to-die-for, and on Wednesday afternoon (7 August) the reality star decided to treat her fans and followers to an eye-popping underwear snap from her bedroom.
Swit-swoo!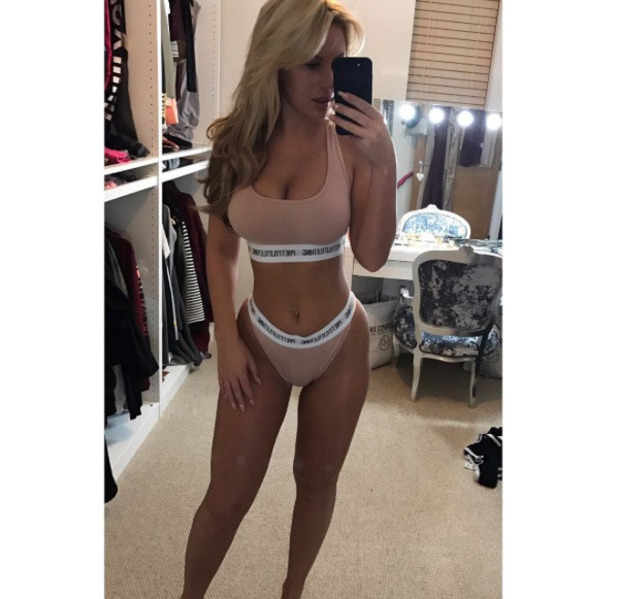 But of course, with the hundreds of compliments came the speculative comments, and a number of Kate's followers were almost certain she had used her computer skills to nip in her waist and even slim down her legs.
After posing up a storm in the Pretty Little Thing two-piece, Kate posted another snap which read, "Positivity feeds the soul," - but it was her lengthy caption that garnered the most attention.
Hitting back at the accusatory comments, Kate Wrote, "Some of you need to take some inspo from this quote!"
Denying the claims, Kate continued, "Fed up of waking up to loads of nasty comments & articles saying I photoshop my body. People always have to be negative. I normally ignore them but not today - my body is NOT photo shopped. Yes I have a small waist & my legs are chunky & may not be exact same CM size, but that's how it is."
After venting her frustration at the harsh words, gorgeous Kate encouraged everyone to be a little kinder in the comments section!
"People should be lifting others up not trying to constantly find the bad in one another and bring each other down," she lamented. "I have a naturally curvy figure but I train hard and eat well to maintain it & I'm fed up of people trying to take that away from me because they are so bitter."
The stunner put her fabulous shape down to a clean diet and personal training sessions before going on to thank the rest of her fans for their lovely comments.
"Have a day off it's Christmas or come join me at the gym. You'll release some endorphins and u may not feel the need to rip other people apart," she said. "Anyway enough about the haters; thanks to all the people who say lovely things & continually support me. Oh & shout out to my PT @michaelevansfitness ... he's obviously doing something right."
Of course, it wasn't long until the positive messages came flooding in for Kate.
"You look exactly the same on TOWIE as you do in your pics! People are just jealous and insecure because they can't be bothered to work hard for a figure like yours!," wrote one.
Another said, "It's jealousy! Keep doing what you're doing Kate. I would rather have, as you put it, chunky thighs, than a vicious, nasty tongue."
You tell 'em, guys. Now if you'll excuse us, we're off to book ourselves in for a personal training sesh...
Like this? Don't miss out! Make sure you're following Reveal across Twitter @RevealMag / Facebook @Revealmagazine / Instagram @revealmagofficial