There's no denying TOWIE star Megan McKenna is the ultimate trendsetter - who else could make tracksuits and heels and head-to-toe suede so ultra-glamorous?
You can imagine our excitement, then, when gorgeous Megs introduced us to her brand spanking new Sports Luxe collection for online fashion hub Miss Pap! A drop packed with slouchy sweats (SO affordable, FYI), Instagram-worthy hoodie dresses (totally a thing now) and pin-enhancing thigh-high boots.
Here, the fashionista gives us the lowdown on her new range as well as being in control, her ultimate bargain beauty must-haves and styling boyfriend Pete Wicks!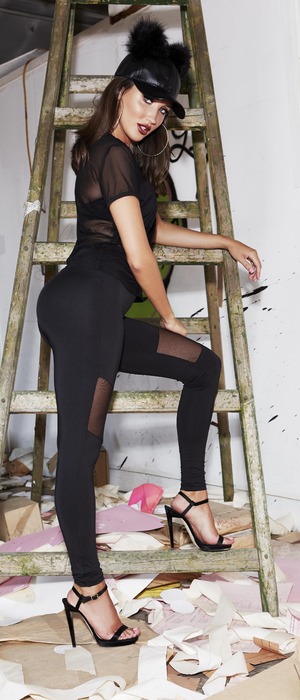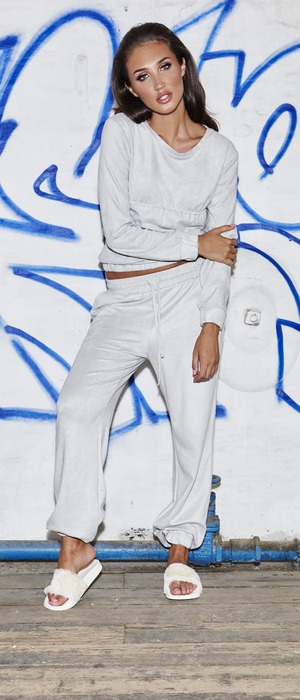 Hey Megan! Give us the lowdown on the Sports Luxe collection - what makes it different?
Well, on
Celebrity Big Brother
everyone saw me wearing the tracksuits and I feel like people really jumped on that trend! Everyone seemed to get on the tracksuit vibe, but what's different is that I like to pair it up with some heels, a big bag - I really glam it up and I think, no-one really does that - that's what this collection is about.
Celebs in America are doing it but I've always loved that look and I think it's so cool. I feel like I'm now making it acceptable to wear tracksuits and heels!
If you could put any celebrity in a piece from your collection, who would it be and what would you dress them in?
I'm going to be a little bit unrealistic here but Pia Mia! I love Pia Mia and obviously Kylie Jenner! I'd put Kylie in the suede tracksuit - she'd make it look so cool and Pia Mia in the velvet hoodie with the knee-high boots. I look at her style and love it because things she puts together are quite weird but they really work.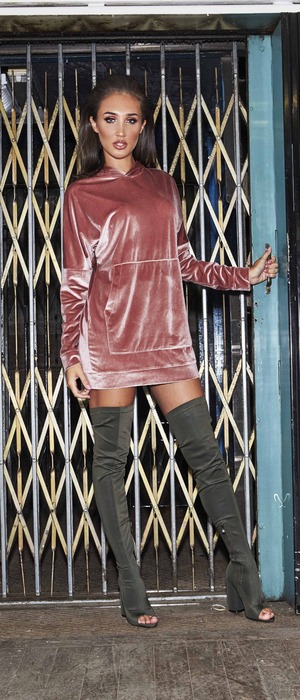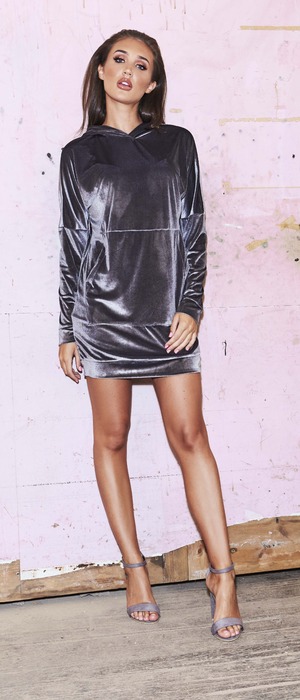 You obviously grabbed the collection before anyone else! Which pieces have you been wearing non stop?
The all-black three-piece, I love it! I took most of my inspiration from Gigi Hadid. I saw her walking around in something similar and thought, 'Oh my gosh, that is so sick!' And I'd also say the suede tracksuits. No other brand has designed a full suede tracksuit at the moment unless it's designer. That's why I love it so much.
The pieces are SO you! How much creative input did you have?
I have
everything
to do with it - this whole collection is 100% me. Obviously, I sit down with designers and we choose the styles, materials and length of garments, but they'll go away and design it, then come back to me with the pieces.
How we put things together is all down to me, though. I'm the stylist and on location shoots I put my own outfits together because I really like to take control. Even though there are people that help I tell them all, 'No! This is how I want it to be.'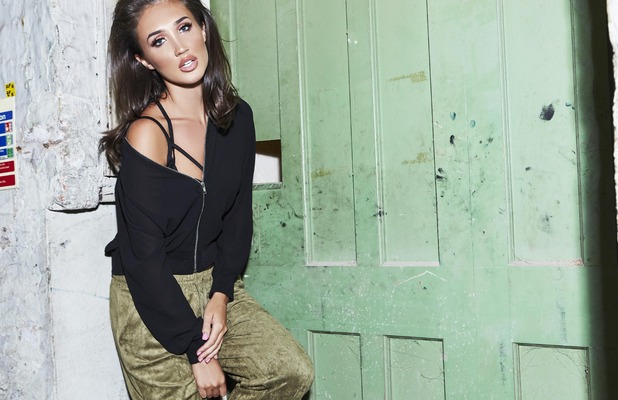 Do you run any ideas by your boyfriend Pete? What does he think of the new drop?
Do you know what? He said that he really liked the velvet hoodie! He said if that came in a man version he'd 100% wear it and I thought 'oh, that's an idea!' We'd be the new Posh and Becks, all matching.
What's his favourite thing about your style?
I think he likes my style because I'm not one of those girls that always has to wear a full face of make-up and dress up. If I'm not doing press or doing work I'll happily not wear a scrap of make-up with my hair up, rocking a tracksuit. I think he prefers that look on me. Obviously, he likes it when I get glammed up and he loves to compliment me, but I do think he prefers the natural Megan.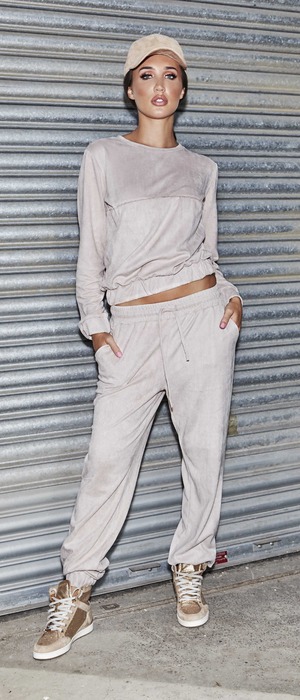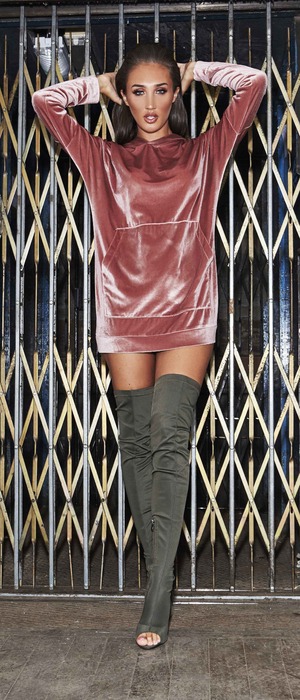 Your TOWIE co-star Georgia Kousoulou just launched an A/W collection and so has Danielle Armstrong. Is there any fashion competition between you?
Everyone's launching stuff but I really think mine is so different from the rest. I also feel like my fanbase is slightly younger than the other
TOWIE
girls' so I don't really have any competition.
What is your number one style rule?
Matching - everything matching! I like things to be the same colour but different shades, all neutrals! Light green, dark green, khaki, camo - that's the tip I swear by.
You're always on shoots! Have you picked up any clever tricks or hacks from make-up artists?
SO many! Always, always do your eye make-up before your face make-up. I never used to be able to do it, it used to annoy me, but now I've had to learn. You're not
really
meant to put any make-up, like foundation, around your eyes. This way, you can put the eyeshadow on, let it drop down and really work on your blending! It's all about the blending.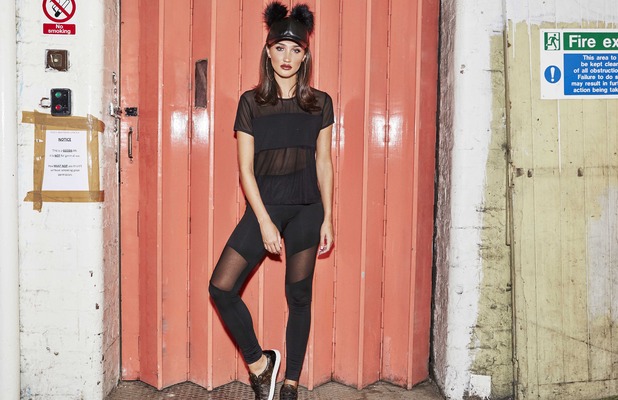 What's your favourite bargain beauty buy?
I always have a tube of Carmex with me. I take it everywhere.
You're really close with your sister, Millie, and she often stays at yours. Does she ever steal your clothes?
Yes! She stays round mine because she wants to raid my wardrobe and she knows that by staying round mine she'll gets what she wants! She's very similar to me, Millie. She's really grown up - I don't see her as my younger sister anymore, I see her on the same level as me now. We used to argue a lot when I lived at home but now we get on a lot better.
Do you give Pete any style advice?
Sometimes, but I like everything he wears because he's different - he's got such a distinct sense of style.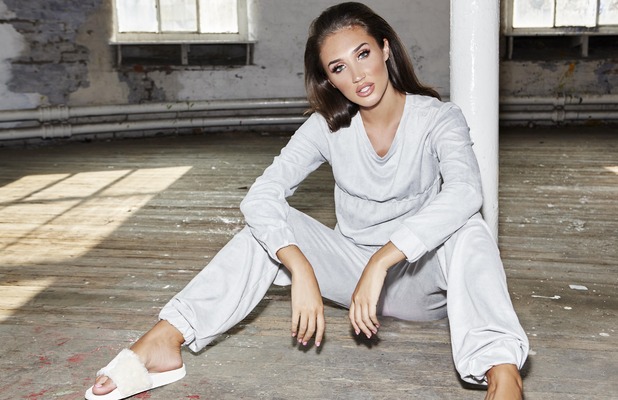 Out of all of the TOWIE girls, who has the best style? P.S. You can't choose yourself...
I really like Chloe Sims' style because when she dresses edgy with her leather jackets and her blunt cut hair, I look at her and I think she looks unreal. I love her hair, she's doing down a Kardashian route as well.
What's your favourite lip liner and lipstick combo?
Peggy Sage
lip liner in a nude shade, always. Nude all the time! I like light brown colours but on top I live by a clear gloss and
Victoria's Secret
do a great one. The trick is to blend the liner on your lips with your fingers to make them appear fuller. Then just put the gloss on top.
Megan X Miss Pap Sports Luxe Collection, available at www.misspap.co.uk
10 reasons why we want to be in TOWIE:Follow us on Twitter @RevealMag for all your celeb, fashion and beauty news!Fancy winning some GREAT prizes? Check out Reveal Competitions here!