TOWIE's Georgia Kousoulou announced her first foray into the fashion sphere earlier this week as she lifted the lid on a swimwear collection including bikinis, body chains and sassy one-pieces - and we were seriously impressed!
We sat down with the lovely lady herself to get the goss on the debut drop, her beach bag must-haves and the hilarious reason why she will never, ever use tanning oil!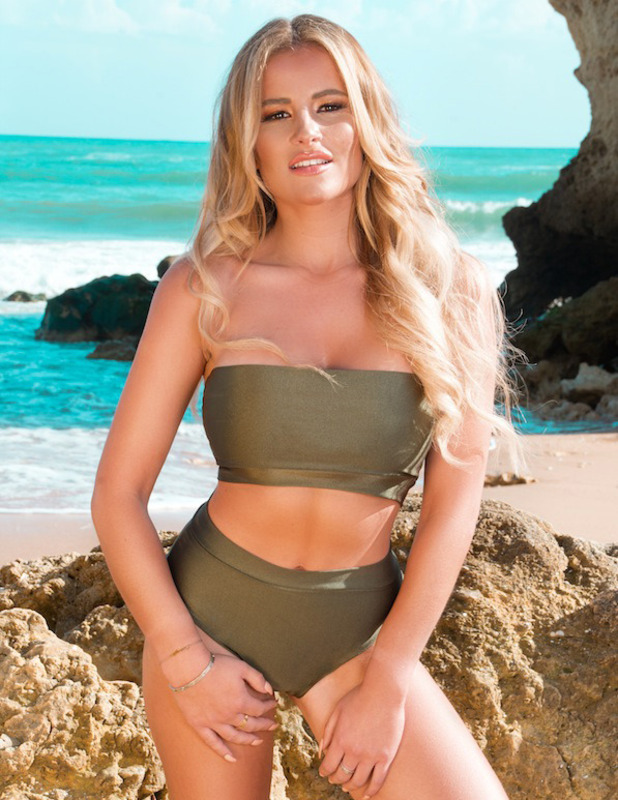 Hey Georgia! There are quite a few celebrity swimwear collections out at the moment – what makes yours different?
Their collections are unreal but they've added that on to their existing clothing collections as an extra thing. I didn't want to do that, I just wanted to do swimwear and I've done this on my own, so I'm not 'by' someone else.
The collection itself is so different. We have pieces that we've pulled in and that we've chosen carefully but we've got lots of handmade pieces as well. Now, you can order those for your own body, they're made to measure.
A lot of girls can't just go and buy a normal bikini because of sizing issues – no-one else has that service. We know that a lot of girls find it hard so that's why we did it. You can buy some key pieces.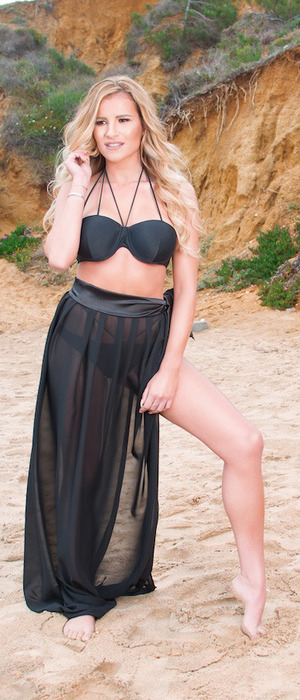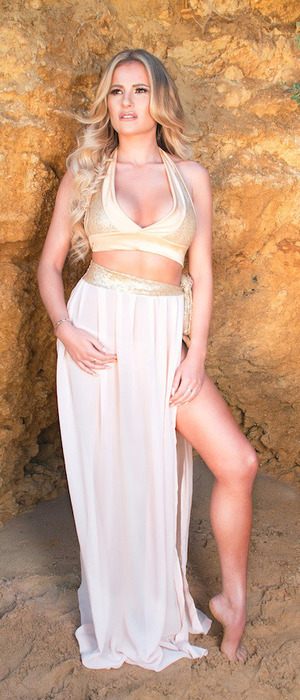 What has the reaction from your fans been like?
It has been unreal. I kept waking up in the night and checking the website! I was literally gobsmacked. We've had so much positive feedback and people are loving everything. The Tweets, the comments and the messages have been amazing and actually, I think people were quite shocked about the campaign images!
Shocked? Explain!
Haha! Everyone was so excited and I said, "Thanks but I can take a picture, you know!" It's because it's something I've always wanted to do and swimwear is really scary but I'm very glad I did it. I'm the first
TOWIE
girl to do swimwear on my own and I'm proud of that.
Are you going away this year? Which pieces will you be wearing to death?
I haven't booked anything yet but we shot this in Portugal and it was so fun! We found a beautiful remote cove and it worked out really well in spite of the rain! Everyone else has done villas shoot-wise and they look lovely but I wanted something different.
It's so hard to decide which pieces I'd wear. I love the khaki bikini because I love high-waisted clothes. I love the floral version and I also have an army swimsuit that's really cool. We're filming abroad in July, so I'll be sorted. The other girls will, too, because I'll give them a few bits! We're all going to pretend the beach is a catwalk.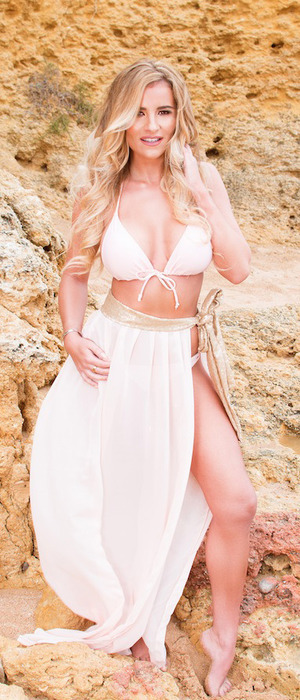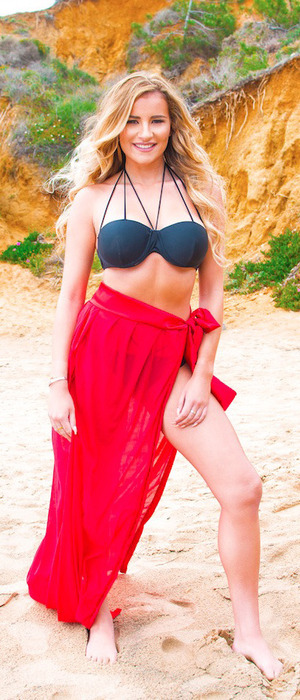 How do you think this collection will fare against high-street ranges?
The sales have been great already but I'd be gutted if they sold out! I'd be like, "No! It's gone!" I think they are going to well because they are different. This collection is more 'party' that high-street collections. You have your Dubai, Marbella and Ibiza inspired pieces. We also have bodychains that aren't even on the website yet because we haven't had time!
We have trousers and skirts with sequins which gives us an edge. In terms of swimwear, I'd rather go and buy something that is handmade.
Someone on Twitter said the bikinis are quite revealing – what do you have to say to that?
The vibe is Marbella and that's just what it is. The bikinis aren't your basic tie-up pieces which you can get really cheap on the high street and online. I didn't see any point in competing. I've really thought about each piece and they might not be for everyone but girls that go out want to be a bit different. What's the point in blending in?
What are your top body confidence tips?
If you feel confident inside it shows on the outside. That's why my pictures turned out so well because I really believed in the collection and felt comfortable in what I was wearing. The materials make you feel good. If something fits you perfectly – and most of the pieces are handmade – then you'll feel great, always. There's nothing worse than something falling down.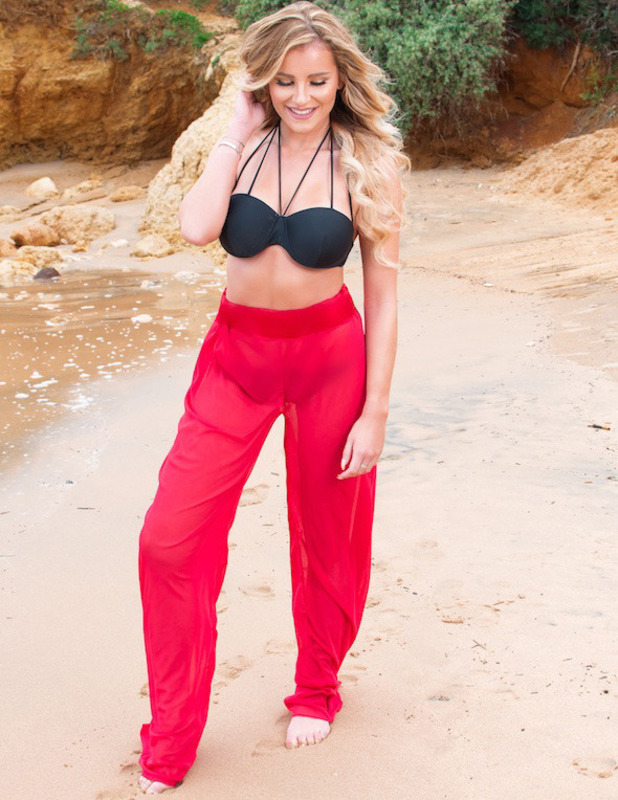 What are your beach bag must-haves?
Last year I forgot my beach bag which was a nightmare! I had to bring along my leather Prada and it was in the sun and filled with sand by the time I got back. I will always carry sunglasses and we have so many nice pairs on the website now.
I always wear a very high factor sun cream and I will always go barefaced on the beach. I have a lip balm and that's it, but I will get my lashes done beforehand. I love the individuals.
I love not wearing make-up though. If you saw me on the beach you wouldn't recognise me but I'm so casual. I'm half Greek and I keep my tan well so I don't get one before I go like the other girls. I catch a tan so fast, but I moisturize daily.
In terms of beauty bits, right now, I love the
benefit Hoola Zero Tan Lines Body Bronzer, £19.50.
I put it on today and was amazed!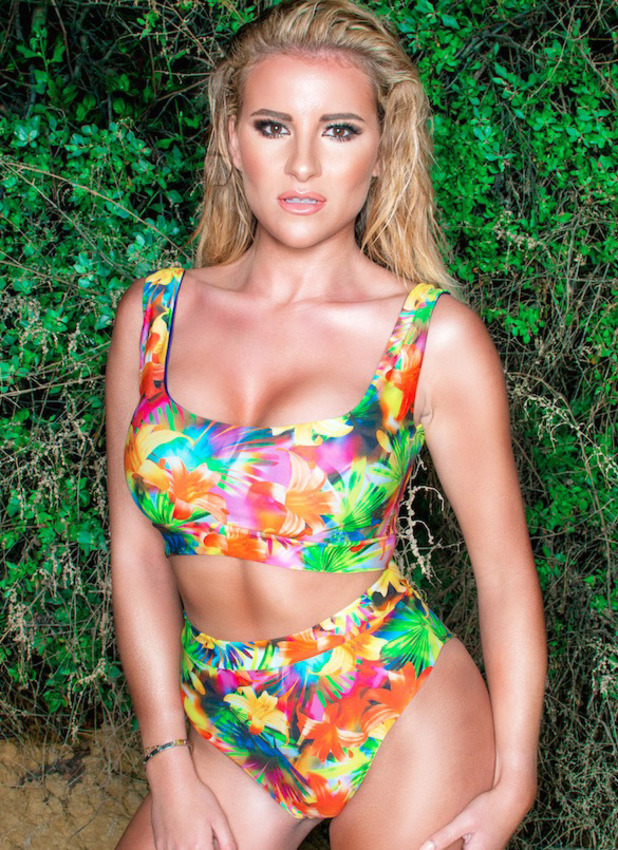 Will you ever use tanning oil on the beach? Your co-star Megan McKenna came under fire from fans who criticised her tanning habits recently…
I know, I saw that! I never use tanning oil because I don't want to burn at all. I still tan through a cream but most people do. When I was really little I got burnt on my cheeks in Cyprus and my mum made me walk around the beach with Greek yoghurt on my cheeks to help take the redness down and to treat the burn. Since then I've been really careful. I've learned the hard way thanks to my mum!
Shop Georgia's collection now at www.summerdreamsbygeorgiak.comFor exclusive competitions and amazing prizes visit Reveal's Facebook page NOW!