Made In Chelsea fans are undoubtedly super happy to have the gorgeous Binky Felstead back on their screens (us included) but amidst filming for the new series she has been very busy re-vamping her clothing collection for online fashion hub In The Style - hurrah!
We sat down with the lovely lady herself to get the goss.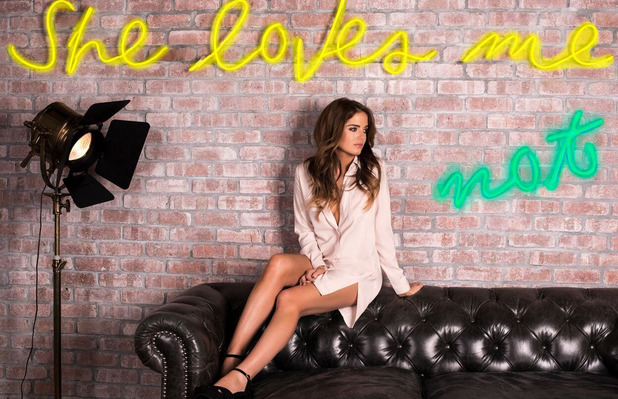 Your first In The Style drops were predominantly chilled and really boho, which we adored. What is different this time round?
It's just more colour I think and many more patterns. There are obviously the new shirt dresses, which actually sold out within the hour, in every colour! And then we have the things you can chuck over a bikini or walk down the streets of London in. It's all still very boho-chic and now we have some different playsuits in the collection, but unlike last time they're all a little bit tighter fitting.
To be honest, I just love how the cape dresses can be worn by everyone. Curvy girls, slim girls, girls with big boobs, girls with small boobs. If you want to feel good, these will get you there.
What pieces will you be living in this summer?
I love the shirt dresses a lot and I think the playsuit which I wore to the In The Style launch has been going down so so well. There's a lot of neck detail on some of the pieces this time and I think that makes them much more going out-y.
From the collection, what would you wear on:A girl's night out:
It would definitely have to be the flirty floral playsuit. Or even the coral jumpsuit because it's out there, but it's not
too
much.
A date:
A shirt dress with heels or thigh-high boots. It's sexy and elegant but you're not showing off too much.
A family meal:
This black and white printed smock dress. It's chilled and understated.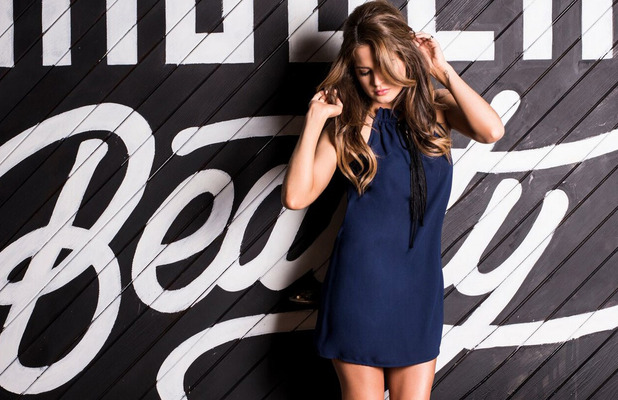 How much creative input did you have in designing the new pieces? Is it something you like to get stuck into every time?
Yeah, definitely. From the beginning I've made sure of that. We have a Whatsapp group with the production and design team involved and we'll send each other ideas. I'll go for meetings every other month to talk about patterns, fittings, designs and little trims. I have a lot of involvement and my following aren't stupid. They know if I haven't and they can instantly tell!
I wanted to design something that I could wear, because I've never really liked my hips. I like my legs, but I just wanted to feel comfortable. I don't like having to hold in my stomach after I've eaten food. I like to chuck something on and not worry about my body.
Looking at their other girls' collections there are a lot of tight fitting, bodycon clothing. It's a completely different style to be honest.
What has the reaction from fans been like?
It's been amazing. We've sold out in pretty much everything so far. With the hour with some pieces, because they're simple. I think people try and be so creative with fashion and what to wear and design but the simplest things are what sell out the most because I don't think you need to be fancy and flamboyant all the time. Something simple and elegant feels much better.
We've even gone to sizes 18 because people are requesting that we present the collection in larger sizes, and that's just great.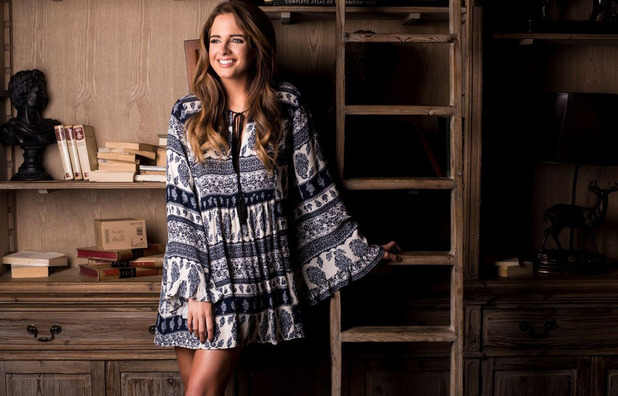 Are you loving any bargain beauty buys at the moment?
Mum has always got me into Pond's Cold Cream. That's the best, it's really old school. I can't believe that Kylie Jenner likes it too, that's cool. Right now I'm wearing a too faced blusher.
I used to always wear the Nivea Pearl and Shine, and one of my beauty regrets is that I used to apply fake tan with just my hands! I used to walk around school with black gloves on in the summer!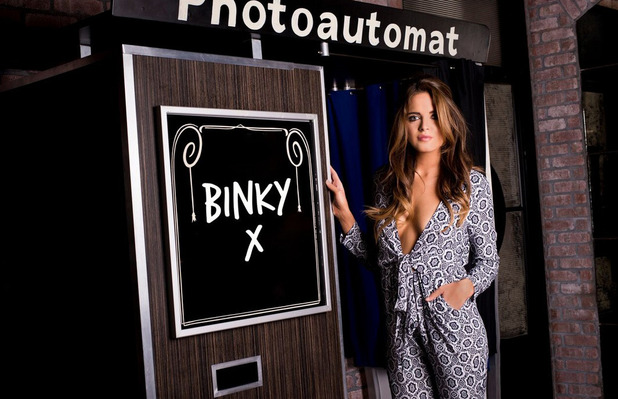 How are things between you and JP? We've seen him gushing about you and your relationship on Twitter lately...
We're still very happy. You'll see everything in the new series and it's bigger and better than ever I think.
Would you say you're smitten?
Yes.
Have you dropped the L-Bomb yet?
Ah, you'll have to wait and see!
Now things are serious between you two, are you wary of putting your relationship on camera? Made In Chelsea doesn't really have the best track record when it comes to relationships.
Obviously it's not great and it's hard putting your relationship on camera for sure but you'll have to wait and see what happens. [Binky's mum butts in] He's such a sweet boy though, isn't he?
One person that is a little bit unlucky in love is Ollie Locke. Do you think he will find love this series?
I hope so! He does deserve it. I love him more than anything and he really does support me, forever. I do think he will find someone, male or female, who knows but we do cover that a lot this series.
Shop Binky's full collection at www.inthestyle.comFor exclusive competitions and amazing prizes visit Reveal's Facebook page NOW!