When Geordie Shore star and I'm A Celebrity winner Vicky Pattison was announced as the brand spanking new face of Ann Summers' summer swimwear collection, we weren't in the least bit surprised - not only because she has a fabulous body and heaps and heaps of electric confidence, but because just she's so real.
Gah, we love her!
Here, the reality beauty lifts the lid on her favourite bits and pieces from the range, talks her holiday must-haves and reveals why she hates glamorous beach parties with a passion!
P.S
. Try not to drool over the hotter-than-hot campaign images...
Wowza - someone open a window!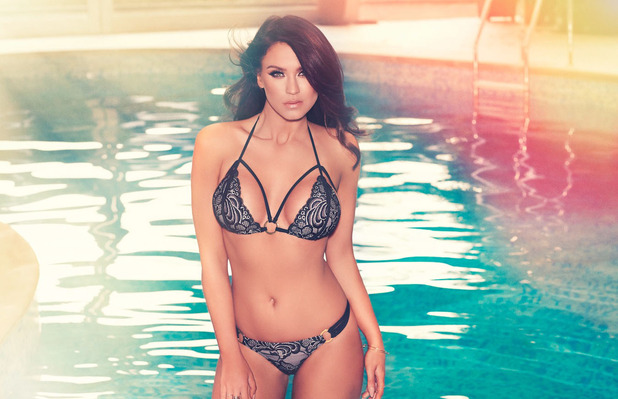 Congrats Vicky! Tell us, what's different about this Ann Summer collection compared to other high-street/online swimwear lines?
For starters it's massive! This is a capsule collection but when I look through the entire thing there's so much variation and there genuinely is something for everyone. That's what interests me about Ann Summers as a brand. It's so feminine but it's also so versatile and they cater for everyone – people with big boobs, small boobs, people who are curvier, people who aren't as proud of their stomach.
That's what I like the most. There is the more conservative stuff and then you have all of the cover-ups and they have managed to take the animal print piece, which everyone has got, and completely update it. This collection offers things we've never seen before. Everyone is so passionate about this collection and I loved that everyone was so involved.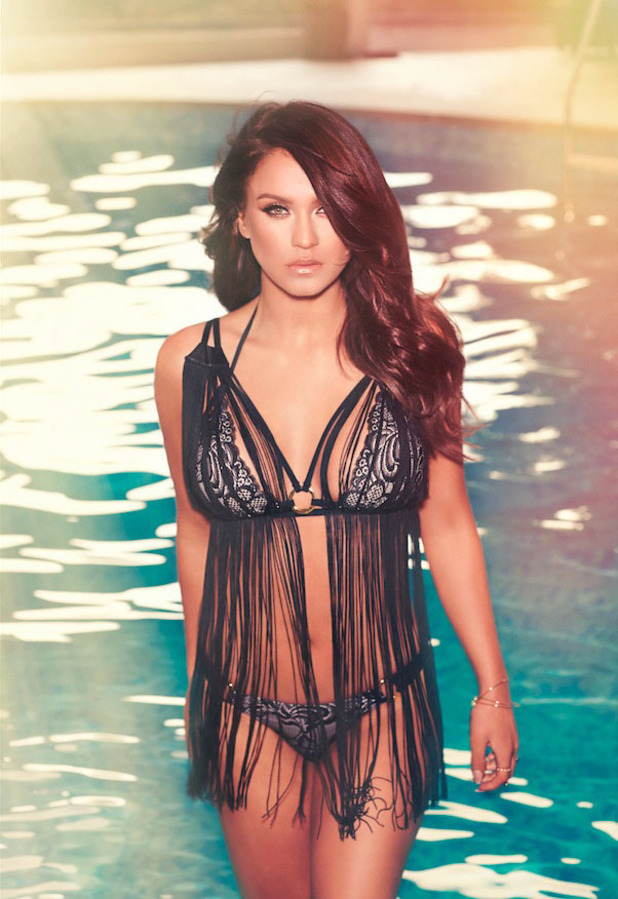 Did you have fun shooting the campaign? You look absolutely flawless...
What blew me away was the enthusiasm of the entire team. It was one of the best shoot days I've ever had. With shoots, I really don't like them and they're often quite long and overwhelming and draining, but we really pulled together, from the buyers to the stylists even to Jacqueline, the founder. It was very hands on and that shows in the final shots just how much we all enjoyed it.
You're so, so busy at the moment, do you have any plans for a summer getaway to flaunt the new collection?
I'm so desperate for a holiday but I already had to cancel Dubai due to my hectic schedule and due to me losing my passport like an absolute t**t as well. I was in the jungle, would you believe? My head was all over the place and I left it on my flight. I left it on the plane in Dubai and almost didn't get back to the UK. I was the Queen (of the jungle) at the time and I had to call on a special favour!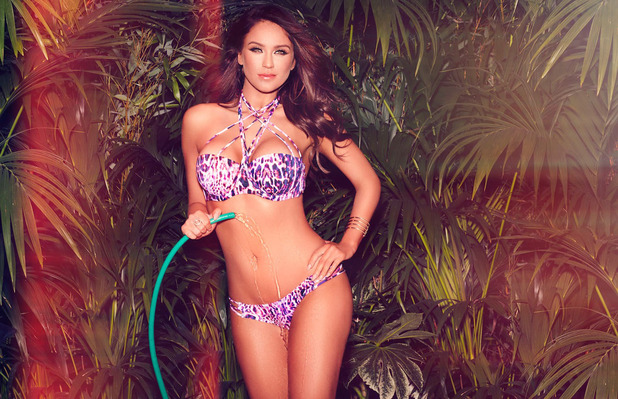 I'm going to - hopefully - go to Jason Vale's lovely spa retreat in Portugal for a bit of R&R and I plan of undoing all of my hard work by going to Dubai and partying hard. I also plan on going to Benidorm with the girls. This is the year we all start turning 30 so we might as well live it up, and where better than Benidorm?! I'm going to have plenty of holidays so I can show off the collection – it deserves it!
From the new collection, which pieces will you be wearing to death this summer? Which are your faves?
Martini, the black and gold bikini is one of my faves and the Mimosa ruched bikini in green and coral is just gorgeous. And then the Kylie Jenner high-leg swimsuit in hot pink. I'm going to have to do a couple more squats before I put that on...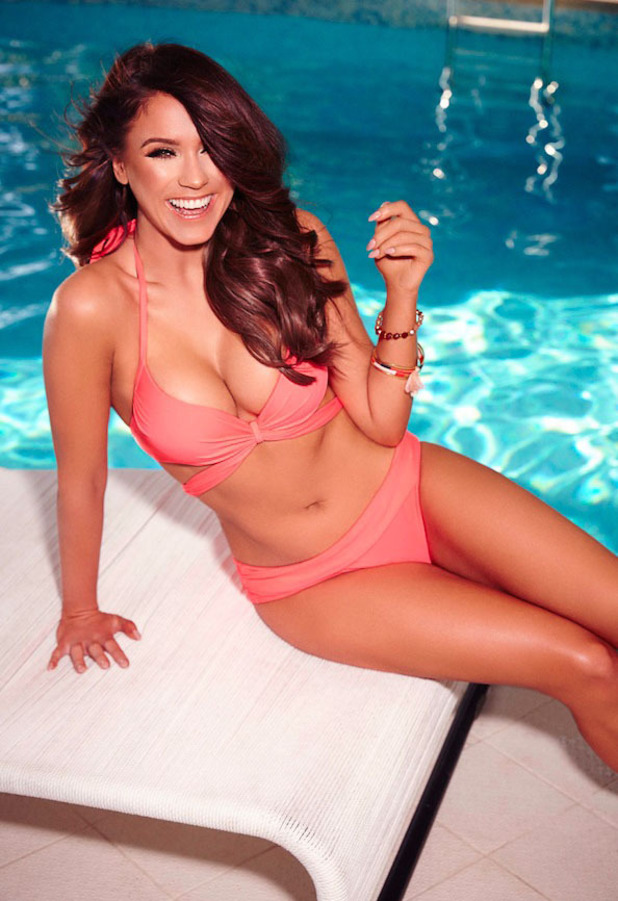 What are your beach bag beauty essentials?
I always have a Carmex or
Vaseline
and maybe a sun stick for my lips because it's so easy for them to get dry and dehydrated. And a good sun lotion – I like Piz Buin because I'm prone to prickly heat. I start off with a factor 20 but I'm so bad and I go down to a factor 10 in days. When I was younger I used to use baby oil! That is literally so bad for you, but I was 16 at the time and I didn't really care!
I wear absolutely no make-up in the day but I will go for a good strong
HD Brow
beforehand. I go slightly darker before I go away because you're in a pool and your face is in the sun and there's a potential for it to go lighter. In the jungle, I decided to get mink eyelash extensions because I didn't want to look like a bag of p**s on the telly. You're sitting in that bush telegraph and you know it's not forgiving!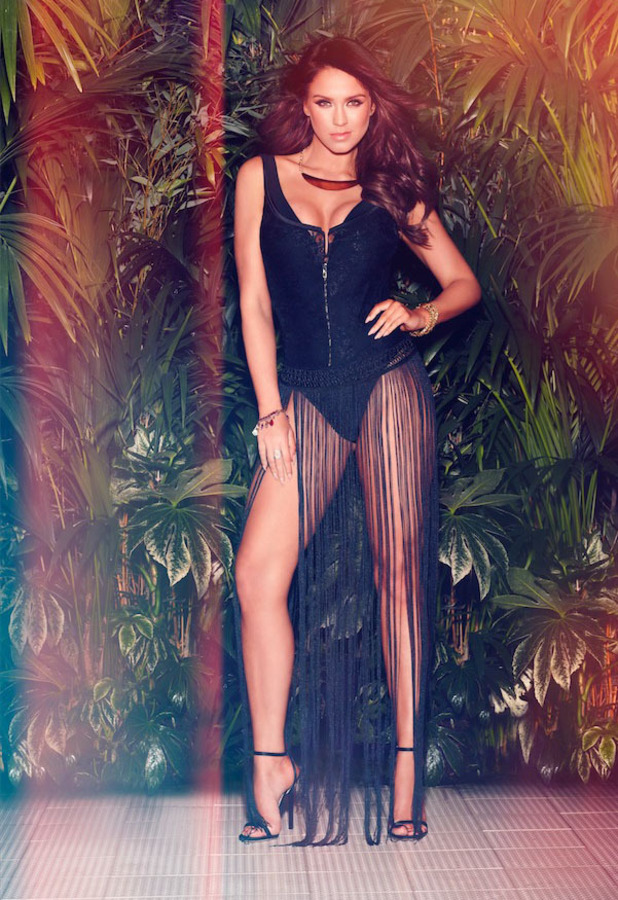 I get loads of facials before I go away, too, and that's about it. I'm really stripped back on holiday but I go glam on nights out. I can't stand anything worse than the Marbella and Ibiza pool parties – they give me such anxiety. A couple of years ago when Ocean Beach in Ibiza first opened I was in a maxi dress with sunglasses and there were birds that looked like they were going to the races. Bouncy blow-dries, wedges – and there was me in a River Island maxi with my hair on top of my head. I had come to the wrong place! That's just not for for me.
Do you have any top body confidence tips for baring all around the pool or the beach?
I go to the gym and I eat right but things aren't all that simple and easy. You don't always have loads of time at your disposal. If you want to get body confident I would say pick the right bikini. It sounds so simple but it's so difficult and I've fallen victim to bad changing room light in the past. They just aren't flattering and it's enough to cause a major panic attack putting a bikini on for the first time in the changing room.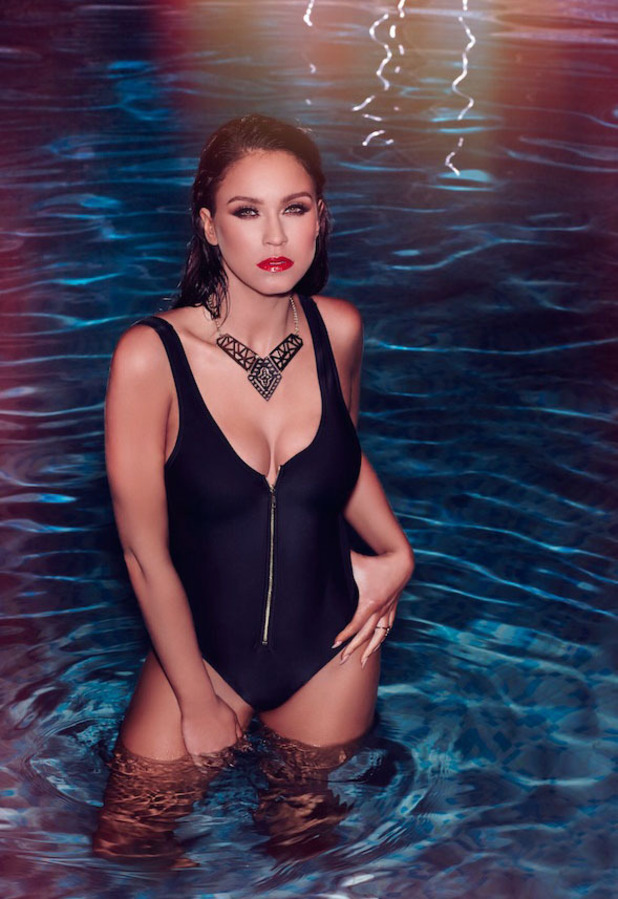 You get it home and it's ill fitting and too small and you go, "Oh I'll keep it and slim into it." Then you don't wear it, or you do wear it and you feel uncomfortable and you're not going to enjoy yourself that way. Take time picking the right bikini. There is honestly something out there in my collection for every body shape.
If you aren't body confident, go for a high-waisted style. Pick the right one, it's half the battle. And if you aren't that confident, there are gorgeous cover-ups too. Just work it, do what's best for you. If you feel sexy you'll come across as confident.
You always look flawless on camera, so if we were to look inside your make-up bag, what five products would we always find in there?
The
Anastasia Beverly Hills Dip Brow Pommade,
is one of my beauty essentials. Eyebrows are my thing. I like a good plumping lip gloss and Rimmel and Maybelline do some really great ones. I like a good strong foundation and I swear by
M.A.C's Studio Fix Waterproof Foundation
– it's very thick and offers great coverage and of course, the
Urban Decay All-Nightter Make-up Setting Spray, £22
– it's the best thing.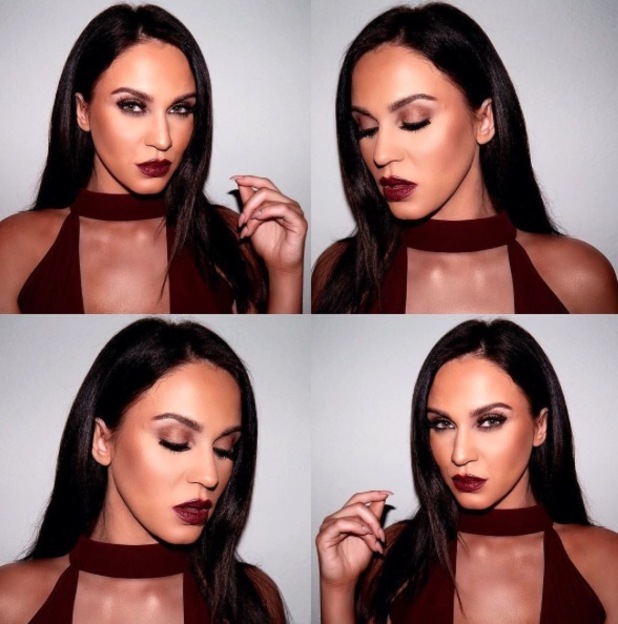 I get up in the morning for
Loose Women
get my make-up done and it needs to last all day! I may put a bit more on under my eyes...
Have you learnt any top tips or beauty hacks from your trusty make-up artist Lo Dias or since being on set on Loose Women?
Yes, Lo taught me a great tip. I have my foundation – a shade that fits my skin colour – and then a shade that is lighter as well and I use the lighter shade down the centre of my nose and the tops of my cheekbones. I can't contour myself but a little bit of that works. That, and where to put your bronzer! Right under your cheekbones, round the sides of your face and down the sides of your nose. I don't pick up much because I'm
usually fast asleep!
Shop the collection in full at www.annsummers.com now!