This Morning's Holly Willoughby has let viewers in on what can only be described as the most awkward wardrobe malfunction ever as she made her debut at No.10 Downing Street yesterday evening.
Holly and her husband Dan were invited to the Prime Minister's home for a special event last night but things took an embarrassing turn when the zip on Holly's glamorous red dress gave way.
The stunning blonde started her story with a little background info...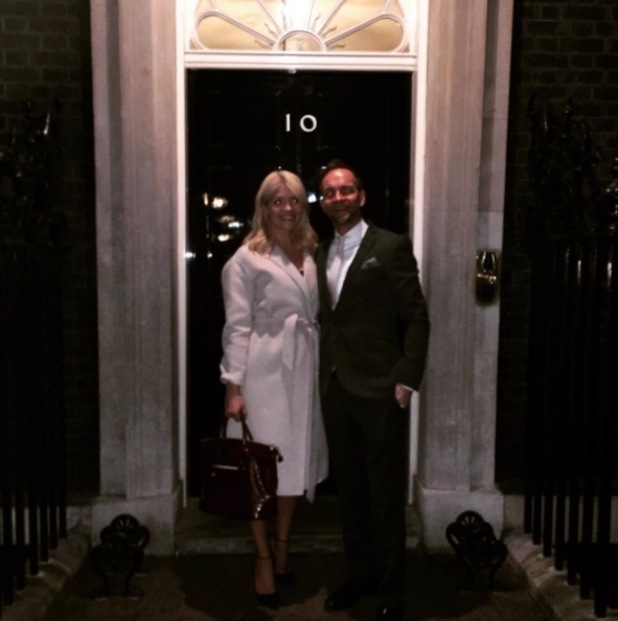 "As soon as we walked through that lovely famous black door, I gave my coat and you have to give your phone in - because you're not allowed to have your phone," she said, "and we went up the grand staircase with all the Prime Minister's pictures. Very beautiful, very lovely and Dan needed the loo, so I said 'OK, I'll go to the loo too'."
And then came the cringe-y part.
"I went to the loo, stood up, and then I heard this noise," Holly told co-star Phillip Schofield as she tried to stifle a giggle.
She continued, "My zip on the back of my dress went completely! Now, this isn't just a little zip, this zip goes from top to bottom! So I am now stood there with no coat, no phone, in the toilet in Downing Street, on my own thinking 'what do I do?...I can't walk out - my bum is out!"
Honestly - you couldn't make it up! But did Holly manage to salvage her dress?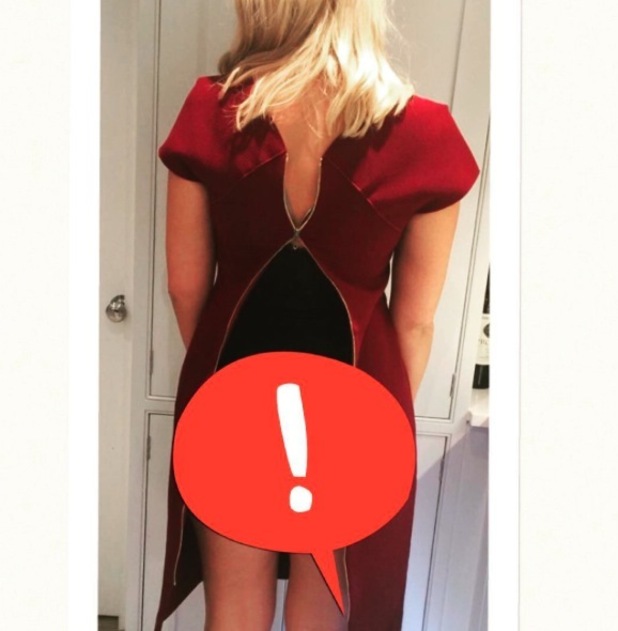 "I had to wait for somebody to come in [to the loo] to say 'Please can you go and find my husband', and this lovely lady came in. I went 'Please can you find my husband, I think he's outside the men's loo's waiting for me'."
Holly went on to say, "Dan went downstairs and thought this was hilarious and told the majority of people he met along the way, including all the staff who recommended I use gaffer tape to strap my dress up! And I had to walk around in my coat all night…"
Oh Holly, we do feel for you! At least your hair and make-up was on point for the whole evening, right?
It wasn't long before fellow
TM
presenter Phillip chipped in with a question that we
all
wanted to know the answer to, though. Did Holly tell the PM's wife, Samantha Cameron?!
Holly replied, "Well I did tell her because we had a photo together and I said 'I'm really sorry I'm wearing my coat!'"
She continued, "Everybody was wearing normal clothes and I'm wearing a great big winter coat - and I was like 'I'm so sorry but the zip on my dress has gone' and she just went 'Oh gosh!' so there we go. That's how I spent the night! Looking like that!"
We'd take the frock straight back to the shops, Hol...
This Morning, weekdays, 10.30am on ITV.
For exclusive competitions and amazing prizes visit Reveal's Facebook page NOW!