Anne Hathaway looked incredible at the New York premiere of her new movie The Intern last night.
As leading lady in the comedy, it was only right that all eyes were on Anne, 32, as she sashayed down the red carpet in a beautiful, sheer black frock with beaded embellishments and feathered trim.
Gorgeous! Anne kept her dark hair swept to one side, finishing her look with a classic smoky eye and perfect pout.
The Oscar winner was joined by co-star Robert DeNiro. The Hollywood stars held hands on the red carpet, showing they struck up a close bond during filming.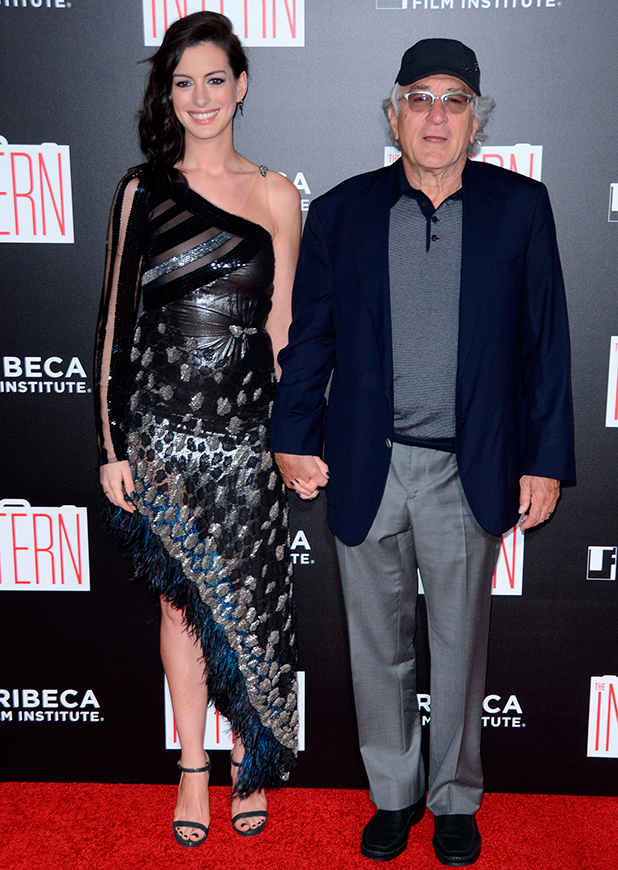 The Intern
tells the story of fashion CEO Jules (Anne) who ends up employing the elderly Ben (Robert) when her company signs up for a community outreach programme. It's directed by Nancy Meyers, who has previously worked on fab films including
The Holiday
,
The Parent Trap
and
Father of the Bride
.
In a recent interview with Refinery29, Anne admitted that she felt connected to her character, Jules.
"I don't always relate to my characters, but Jules I really did. It's hard to be a person making mistakes in the spotlight, and I related to her on that level. But she is someone who is handling her stress pretty well," she said.
"One thing that I love about Jules is she's a nice boss. She can be a little high-strung and she works everybody like crazy, but she is a nice boss."
The Intern
is released in UK cinemas in 2 October.