Sarah Jessica Parker arrived for a US TV interview in jeans yesterday, before having a Cinderella moment and leaving in a glamorous jumpsuit!
The
Sex and the City
star was pictured outside the New York studio on Monday afternoon (13 April), wearing faded denims and a casual grey jumper.
She still looked a-mazing. Cause, well, obvs! She's SJP! She can do no wrong when it comes to fashion!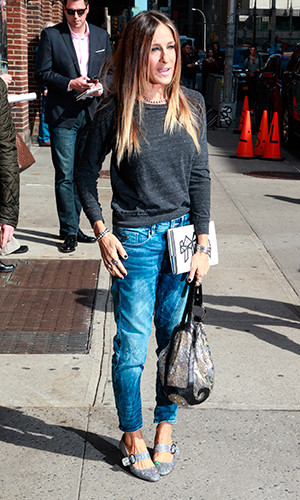 When she left the studio, however, she was sporting a different look entirely, wowing in an olive green jumpsuit and chic fitted jacket.
Gorge!
During her interview on
The Late Show with David Letterman
, the star admitted she'd once had a dream about the host!
She explained: "I had a dream you and I went to a basketball game together in a small town together. We were sitting on bleachers at half time and you turned to me and said – and I think you meant every word – that you love me. I said, 'Oh my God, I love you too!' And then you dipped me. It was so fantastic and so chaste."
How the mind works!