Whether it's a casual day look or getting glammed up for a night out, Vicky Pattison always wows in the style stakes with her chosen ensembles.
So we were pretty excited to hear
she'd teamed up with Honeyz.com
to launch her very own collection! We grabbed the Newcastle lass for a quick chat, where she spoke about the celebs that give her fashion inspo, how her style has changed since
Geordie Shore
and her Victoria Beckham dress splurge...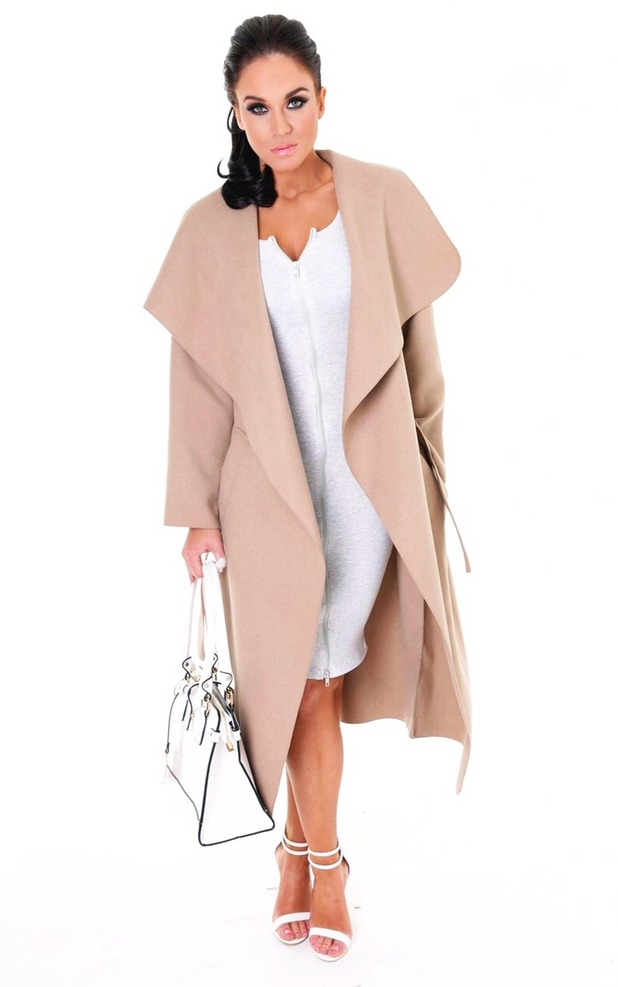 Hi Vicky, congratulations on your new collection. What are the inspirations behind your range?
"I take inspiration from celebrities, I love the way they dress, or what is on the catwalks. I just try and make it affordable and versatile so every woman can wear it. So it's like taking inspiration, taking little bits, without making it unwearable."
Tell us about the celebs whose style you admire.
"I love all of the Kardashians; they know what fits their bodies. They've got fantastic ways of complementing their bodies, which draws attention to parts that they like, which is all part of being a woman, isn't it? I think that you just need to embrace it.
"I also love Victoria Beckham. I went to her shop in London and I was blown away. I felt like I was less in a shop, and more like an art gallery. Her clothes are art. I love Mollie [King] from The Saturdays, I think she's fab. She has such a nice fashion sense, she always looks immaculate and she's just like a little doll."
Jealous that you went to the Victoria Beckham shop! Did you buy anything?
"Yeah, I treated myself! I bought a dress, strapless, like a burgundy/brown and it's got a corset underneath. So you can't see it from the outside but underneath it's hugging you in. Oh my god, it's amazing! I need somewhere special to wear it! And if you know you're going to be photographed wearing it, it's something that you can only wear once. I have to make sure I go somewhere special to wear it, it's still in its bag at the minute."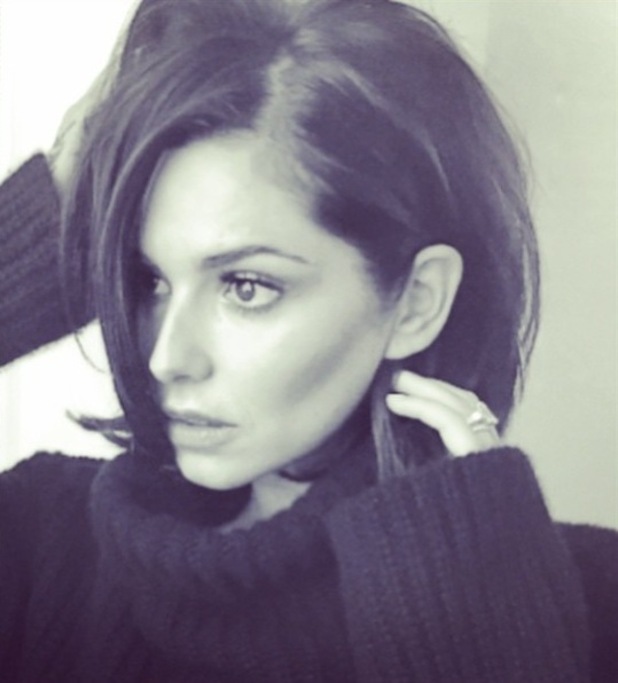 If you could have any celeb wear your range, who would it be?
"It would have to be Cheryl Fernandez-Versini. I've got a couple of really cute tea dresses and I think she would suit little things like that. She's so lady-like, especially with her new hair cut. She's very feminine and classic and that is what a lot of the range is about."
What piece from your collection would you pick for a date night?
"There's a
navy boilersuit (£60)
with gold zip detailing and it's absolutely gorgeous. It's so flattering, you can take it to a bar, a restaurant, anywhere. I would wear it with a pair of nude heels and a nude bag."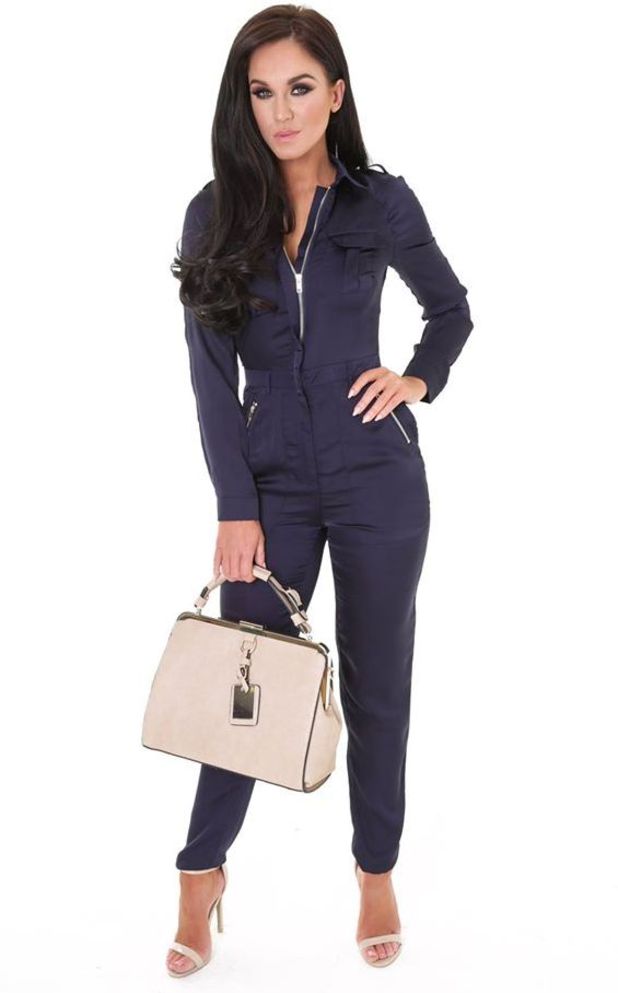 And how about a Saturday night with the girls in Newcastle?
"We've got some knee length pencil skirts, leather. I think they are lovely. And some
slogan t-shirts
, which would work really well with the leather pencil skirt. Or we have some smaller, bralette style tops which are probably more suited to a night out in Newcastle!"
Aside from your own collection, where else do you head for clothes?
"I'm a massive
Topshop fan
, every girl is. For dresses on a night out, I think you can't go wrong with
House Of CB
It's just so feminine and so well made.
Lavish Alice
, their spring stuff is absolutely gorgeous, a nice mix of pastels and bright colours, along with sleeveless trench coats.
Rare London
as well!"
Trend wise, what are you loving at the moment?
"At the minute I love sheer panels. Especially because summer is just around the corner, but it's not here yet and it's still quite chilly. So you could have lovely dresses, quite well-fitted as in a bodycon or bandeau style with like a mesh or sheer panel. It makes it sexy, hinting that summer is coming. I'm loving that leather/PVC look as well. Stripes are apparently going to be massive, too."
How would you say your style has changed since you started Geordie Shore?
"Massively. When I started I was 21, just out of uni. Now, I'm 27 and more comfortable in my own skin and confident with who I am. I don't want to wear short dresses or get my boobs out all the time. I've matured a lot.
"I've also lost a bit of weight which has made me more adventurous. I was always confident but last year when I gained the majority of my weight, I would shy away from the stuff I'd wear now. As I grew up, I realised what suited my frame."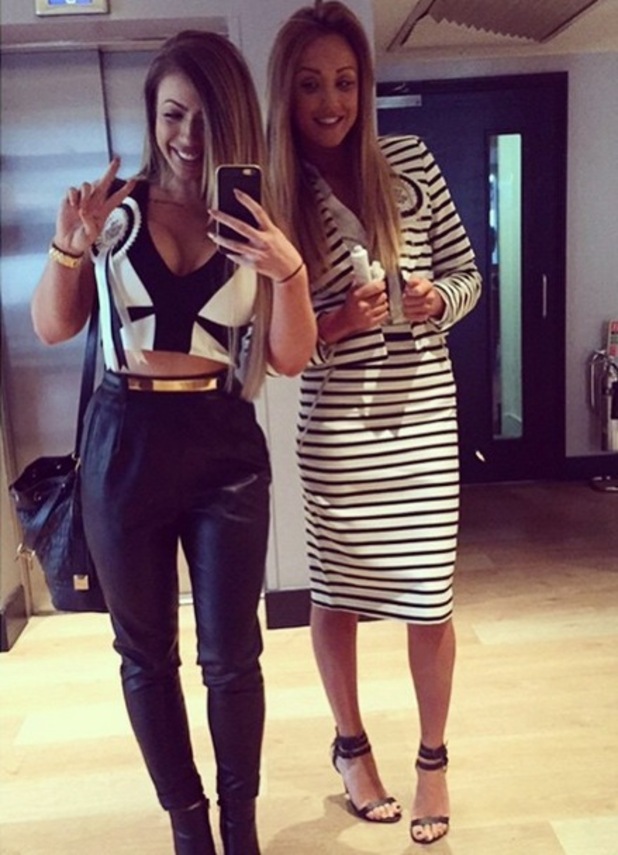 Finally, have any of the other Geordie Shore girls worn the collection yet?
"Not yet, it's so hard 'cause they all have their own ranges. Charlotte's [Crosby[ is perfectly suited to her, as is Holly's [Hagan]. If I were to give them any of mine, it would be like them trying to dress like me. But I would love for the girls to be seen in my stuff and I'm sure I will be asking them if there is anything that they want, especially because the spring/summer collection is just around the corner."
The mid-season VIP Collection by Vicky Pattison at Honeyz.com is available now
See Charlotte Crosby's 10 most shocking moments:
For exclusive competitions and amazing prizes visit Reveal's Facebook page NOW!