Kim Kardashian-West and Rita Ora attended the Mert & Marcus House of Love party last night (Thursday 27th February) in honour of Madonna wearing almost identical nude latex dresses!
No one wants to turn up to a party wearing the same dress, but turning up to a party and wearing a near-identical dress to Kim Kardashian West has to be an A-list nightmare, and it happened to Rita Ora last night.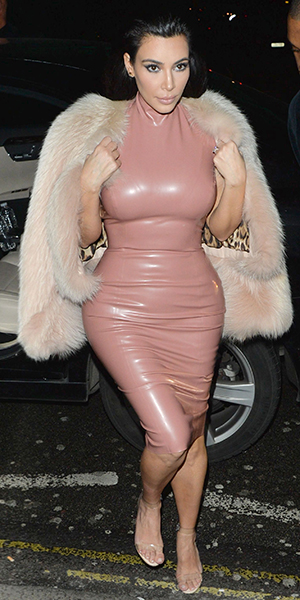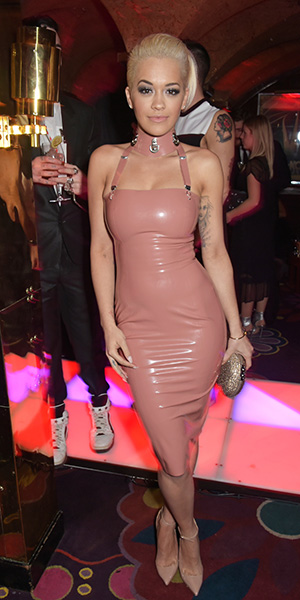 Kim, 34, is known for her love of nude outfits
and has sported a similar nude latex nude dress before, so Rita, 24, must have thought it was safe to go for a similar dress to Madonna's House of Love party but little did she know Kim was ready to bring out yet another risque latex number.
With Kim arriving at London's hot-spot Annabelle's first in her bodycon latex dress and Rita turing up an hour later, we can only imagine Kim's face when she saw Rita at the star-studded bash wearing almost the same latex dress.
Not only was it similar dresses they were sporting, they also had furry coats and matching nude heels to complete their outfit. But wait, it didn't stop there, they both went for slicked back hair and smoky eye make up! This has to be a case of sack the stylist?
Both ladies showed off their enviable killer curves in the bondage style dress, but it's certainly not one for the body shy, which is why these two both showed it off with confidence. Can you blame them with these hot bods?
Nice try on the look-at-me outfit ladies but it doesn't quite work when you're both wearing the same.
How about give each other a tweet to make sure you're not outfit twins next time, hey?
We're not big fans of the latex look, what do you think of Kim Kardashian-West and Rita Ora's outfits?Why is Kim Kardashian famous?
For exclusive competitions and amazing prizes visit Reveal's Facebook page NOW!