Reveal joined glamorous Wag, Louise Redknapp at Sainsbury's swanky 10th Anniversary of Tu showcase, for a glass of bubbly and a sneak preview of their Autumn Collections, and reminisced about Eternal's 90's style! She has curated a collection of her favourite pieces and we need to know what they are!
Louise says, "I think the collection is stronger than ever - Sainbury's have really upped their game, and picked up on all the key trends, and the fabrics are really good quality."
On close inspection, we agree - the knitwear feels supersoft, and the coats look more expensive than they are. The yellow coat shown here is just £40. She adds,"The Sainsbury's customer is just like me - a Mum, with little time, who needs easy-to-wear pieces she can just throw on. And if you can buy them whilst you're doing the weekly shop - even better - that's time saved!"
Here are Louise's highlights.
LEATHER-LOOK MIDI
"I'm really small, and I didn't think it would work for me, but I tried it and loved it. The design team asked me if I thought it should be shorter but I said 'no'. I just think it's really directional that length, and if it works for me, it will be fine on the customers. I wore it with really high-heeled lace-up ankle boots.,and I actually think it made me look taller. If I had the height, I'd love to wear it with skater pumps and a sweatshirt."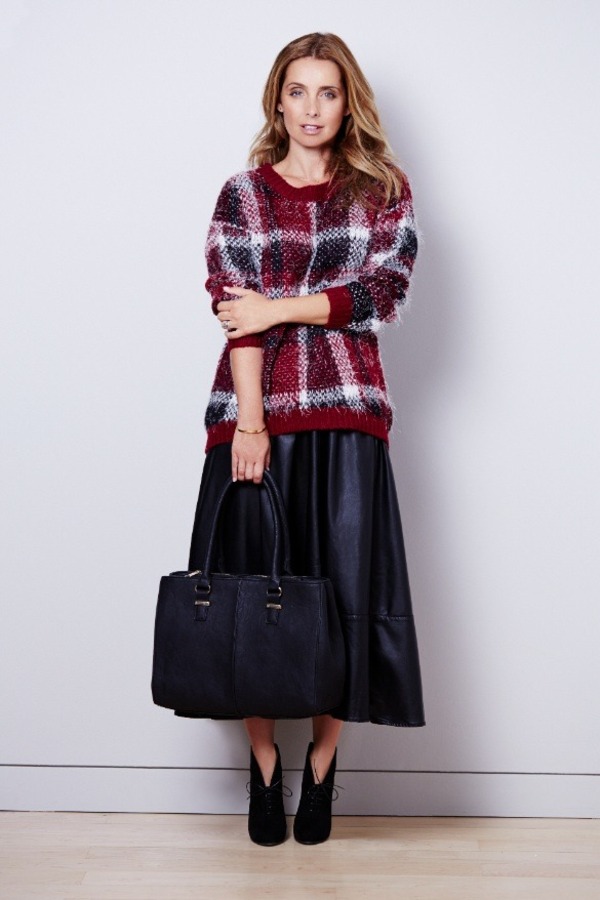 LEOPARD PRINT LONG-LINE BOMBER
"I actually glammed that up and wore it out the other night – just like this, with skinny jeans and stilttoes. Back in the 90's we loved boiler suits, army fatigues and Timberlands – you couldn't get us (Eternal) out of them. They were so comfortable – and I still like to be comfortable. This is a bit tomboy-ish - and I still love that too."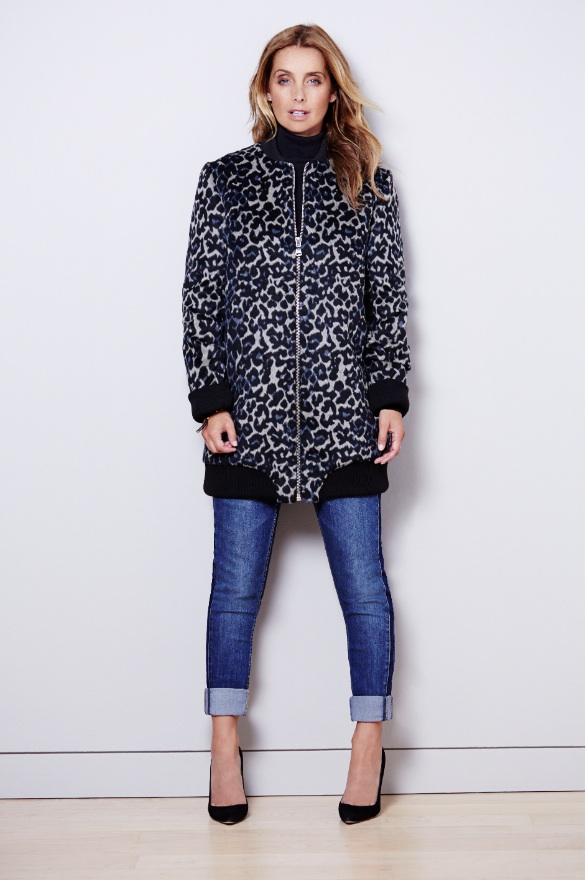 YELLOW COAT
"This yellow coat is going to be a sell-out. It's really nice to be able to wear colour in Winter - and I think people are going to love this.Perfect for the school run."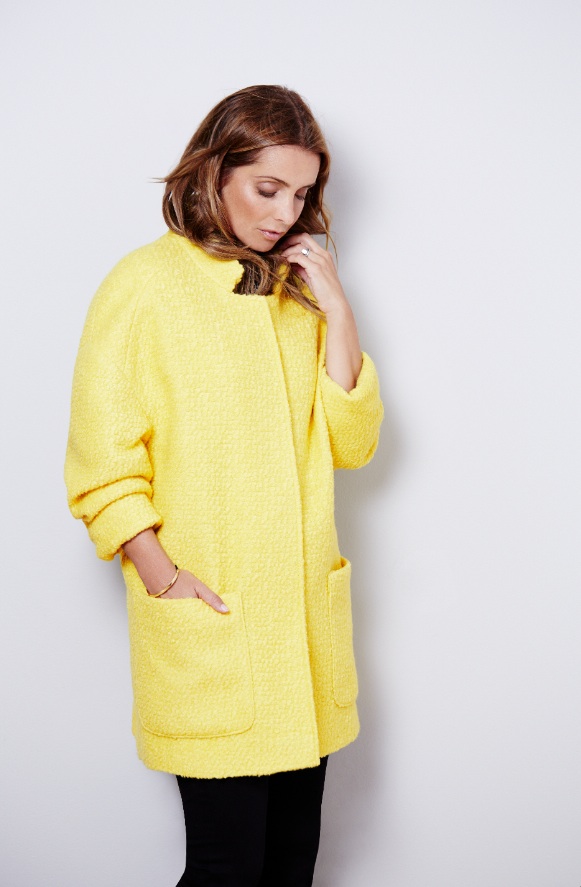 MUSTARD CARDIGAN
"This mustard cardigan is an absolute must-have – and this is a key colour for Sainsbury's this autumn." Gesturing to the outfit she's wearing for the launch, "I'm wearing it like this today - with a T-shirt, smart black trousers and heels. It looks really great with the leopard spot skirt too - I'd also style it with a tan leather plaited belt over the cardigan to give waist definition. It's versatile."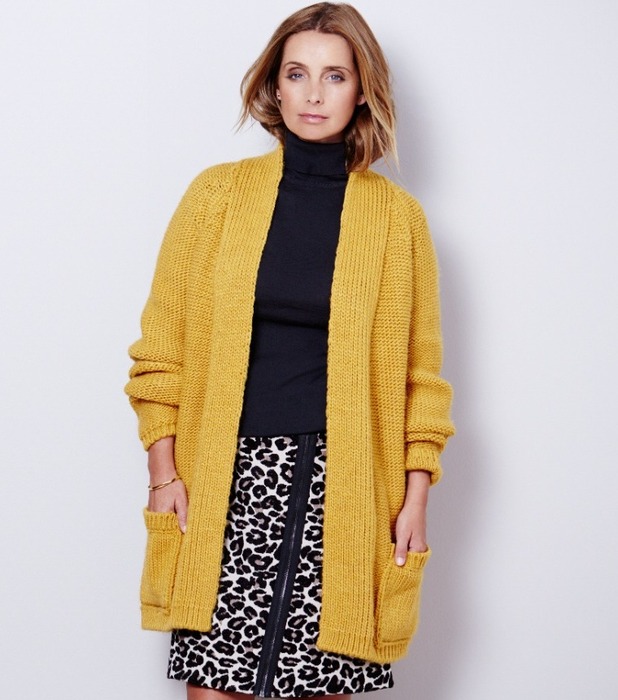 BABUSHKA DRESS
"I love this print, and it looks so good layered under knitwear or a big oversized coat, and worn with tall boots."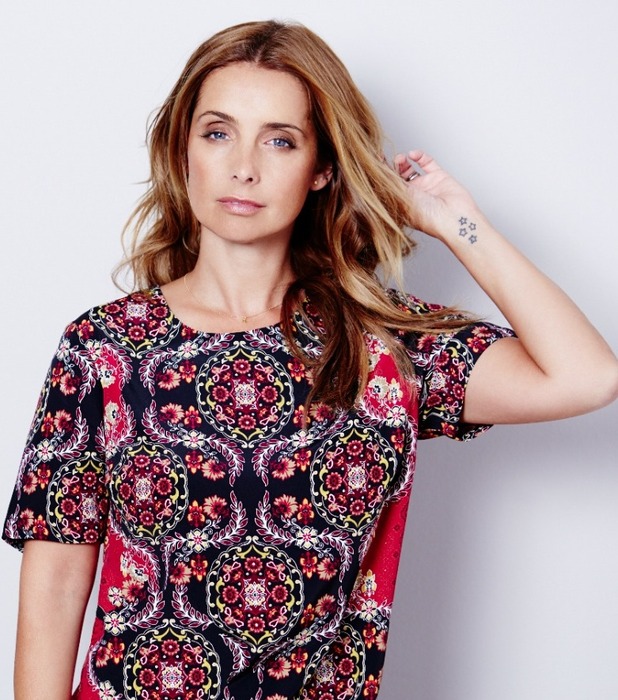 Louise also told us she's a Pinterest and blog fan: "I love Pinterest and am always sharing style ideas with my friends. I love it so much that I decided to start a blog with my friend Em - it's fashion, lifestyle and travel - everything we like, basically. I'll be putting my favourite looks on there –and showing how I am wearing the Sainsbury's collection, as soon as it's in-store. It's called
The Style Album by Lou and Em
."
We can't help but notice Louise's tiny star stud earrings, and have to ask her where they are from.
"I love stars," she says, showing me the tattoos on her wrist which (you can see them in the shot of the Babushka dress). "And I'm wearing a star chain too. I bought them from jewellery brand
Mia Lia
. They're not expensive. I buy something new every season from them to add to what I already have. I've got lots of their friendship bangles, and I layer them up. They all mean something different."
The cool jewllery is the perfect finishing touch for the Tu at Sainsbury's Collection. We like Louise's style - a lot!
Check out the new collection by Tu at Sainsbury's, available in-store on September 9th - and look out for the 10th Anniversary celebrations too!
Reveal is now on Google Plus! Join us here for the latest pictures, fashion and celebrity news!