The Saturdays star Rochelle Humes has added yet another string to her bow, with a brand new fashion collection for very.co.uk.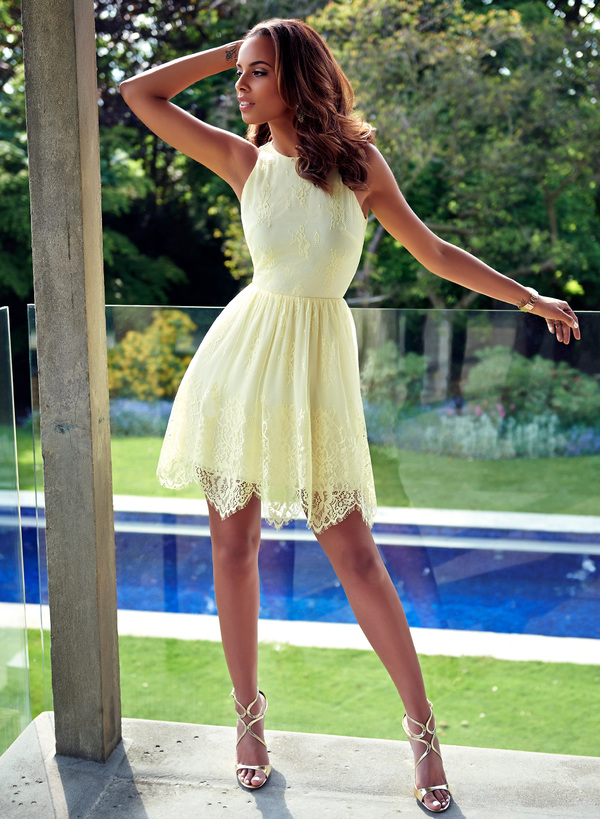 Life must be pretty sweet for
Rochelle Humes
, 25, whose daughter with Marvin Humes, Alaia-Mai,
has just turned one
.
As if a doting husband and gorgeous daughter wasn't enough, Saturdays singer Rochelle has turned her hand to designing, joining
Fearne Cotton
and Holly Willoughby with an online fashion range for very.co.uk.
And as well as creating the range, the multi-talented Rochelle also models the collection... and
looks as gorgeous as ever
.
Flaunting her tiny waist in a stunning lemon lace dress, there's no way we'd have guessed Rochelle gave birth just one year ago!
What's your favourite piece in the collection?
Although it changes, at the moment it's between the jumpsuit and shorts suit.
What figure types does the collection work best for?
I'm curvy, small curvy but I definitely had the curvy girl in mind and dressing to flatter that shape.
Where do you get inspiration from when designing for different figure types?
My friends. I have some outfits that I think, 'oh my god, this is so you!' and that's what's fun about designing your own line - I can create pieces with that in mind. This line is a summer collection so things me and my friends would love to wear in the summer.
Which celebrity would you most like to see wearing your collection?
Eva Mendes. I think she always looks gorgeous.
What are your 5 holiday must-haves?
1/ A good beach cover up, whether it be a maxi dress, a playsuit or kaftan.
2/ You need a good pair of flip flops.
3/ Black swimsuit, a black bikini – a lot of people like white but I'd definitely go for classic black.
4/ A big oversized beach bag, as you can shove everything in it.
5/ A good pair of big sunglasses.
What's your ultimate day-to-night styling trick?
Ballet pumps in the bag are always an essential! Summer's all about easy wear and taking things from day to night . So the shorts suit is good for that, as is the jumpsuit and pretty much all the dresses, such as the little lemon one and stripy one...they can all be worn with ballet pumps or sandals in the day, and then dressed up with wedges or strappy sandals for night.
Did you get any tips from the other girls in The Saturdays?
Yes. We're always together so we always take advice from each but if we ever wear the same things it's funny as they'll always look different on each of us.
Does Marvin have any input into what you wear?
No! I'm sure he likes to think he does but I'm always very strong minded when it comes to fashion. I know what I like and think I've got a pretty good eye for putting things together but if I'm ever indecisive that's when I'll ask him what he likes and he's always right… sadly, ha!
What can we expect you to be wearing on stage on tour?
On tour we like to go fun, we like to go sexy but it has to be easy to dance in. Often we pick an outfit and are then like, uh oh, we have to move and dance for near on two hours in this so we have to take that into consideration. We like a lot of glitz on stage as at the end of the day there's only one time to go all out and that's then!
Have you had to change your style since becoming a mum?
I'm definitely more conscious. Sometimes I'll look at things and then think, 'no, Rochelle, you're actually a mum now!' However I'm still a young mum, I'm only 25 so I'm still very much into my fashion, I'm just a bit more conscious about certain bits of my body.
Are there any bits of her body you don't like?
My tummy, it's perhaps not as toned as before.
Which bit of your body do you like to show off most?
Easy, my waist!
Click on our gallery below to see Rochelle's full collection, available to shop now at very.co.uk.
Copyright: very.co.uk