Katy Perry looked super cute yesterday, as she touched down in Japan wearing a pair of tiger print cat ears.
The pop songstress - who is currently dating John Mayer - landed at Narita International Airport on Tuesday (29 October) in a very fashionable ensemble, proving that on-flight style doesn't have to be boring.
She was pictured wearing a daisy print skirt with lace detailing around the bottom, a leather biker jacket and black Dr. Martens boots.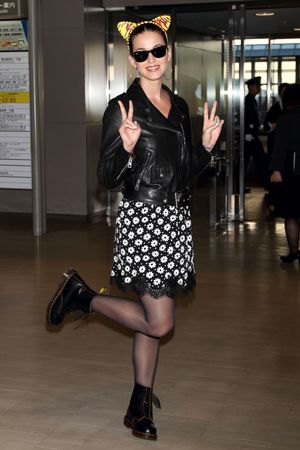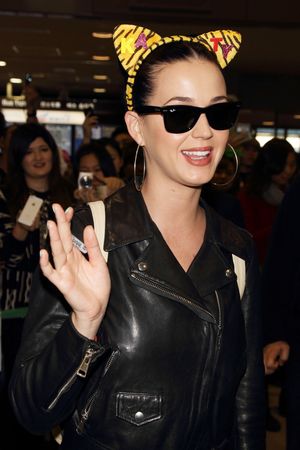 Comfy and on trend!
Katy also accessorised with a pair of sunglasses to hide her tired eyes after the long flight and completed her outfit with a rucksack.
However, most noticeable about her airport look was the pair of personalised cat ears she was wearing on her head.
The 29-year-old appeared to be paying homage to her new single 'Roar' by donning a pair of animal ears, although we have to say that they make a very cute hair accessory regardless.
In the music video for 'Roar',
Katy is seen transforming into a jungle queen
and sporting a leopard print bra, while she is surrounded by greenery and animals.
Once she had landed in Japan yesterday, the chart-topping singer tweeted: "Finally! I'm in my HAPPY place! KONNICHIWA"
She also mentioned another reason why the cat ears may have been added to her outfit earlier that day by writing: "...AND it's national CAT day?! This is too much happiness. I am gonna explode! #tokyo #cats #"
What do you think of Katy's outfit? Let us know, as the best comment each week wins £50!
Watch the video for 'Roar' below.