Fresh from her attention-grabbing performance on The X Factor, Lady Gaga emerged looking as bizarre as ever in London today (28 October) and covered in white paint!
The pop superstar made quite an impact on
The X Factor
results show last night (27 October) and this afternoon was no different, as she left her hotel wearing an unusual cream coloured frock and matching headdress.
The bottom of her outfit featured layers upon layers of fabric, while the body was tight fitting to accentuate Gaga's petite frame.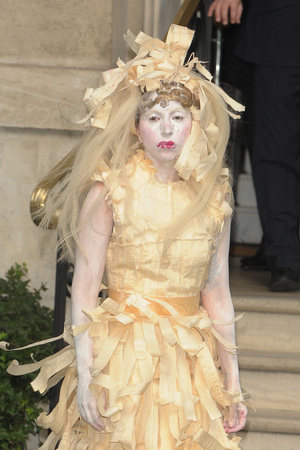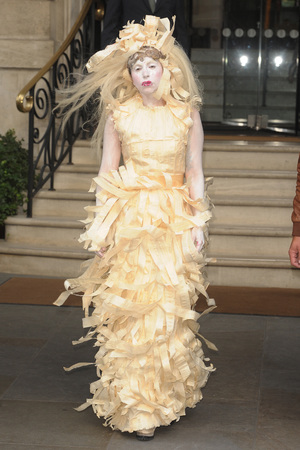 Meanwhile, her elaborate headdress was made up of the same fabric as her frock and almost blended in with her bleach blonde hair.
But most eye-catching of all was the white paint which covered the 27-year-old's face and arms, making her look like a porcelain doll!
To off-set the pale shade of her skin, Gaga wore a bright pink lipstick and she also appeared to be wearing platform shoes underneath the long skirt section of her dress.
The songstress is currently promoting her
upcoming album ARTPOP, which is set for release next month
.
Yesterday, she gave her UK fans a performance of one of the tracks off the project, 'Venus', and writhed around the
X Factor
stage in a revealing costume made up of sea shells and flesh coloured underwear.
She also settled her feud with judge Sharon Osbourne, who has previously called the pop singer a bully, after her fans ambushed daughter Kelly Osbourne with online abuse last year.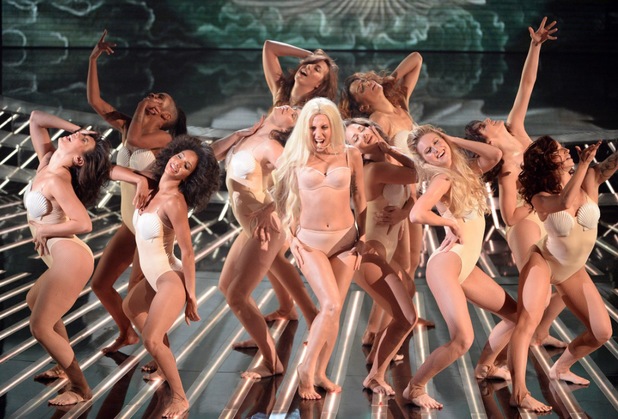 However, Kelly wasn't so quick to forgive the 'Born This Way' star last night and instead
rejected the birthday cake gift Gaga gave to her
, branding her a hypocrite!
The fiery Osbourne sibling wrote: "Not to be ungrateful but why would you send me a birthday cake via my MOTHER in a country half the would away? #JustSendItToME #LoveNotWar"
But Gaga refused to retaliate and instead simply tweeted: "Monsters, please just focus on the positive of tonight's performance and do not send any hateful messages. I don't support it. #SpreadLove"
What do you think of this new Gaga outfit? Let us know below, as the best comment each week wins £50!
Watch
Lady Gaga
's video for 'Applause' below: