Natalie Portman looked like she had fun at BBC Radio 1 this morning as she left the studios beaming.
The actress was all smiles outside the central London building on Tuesday morning (22 October) after another round of publicity for new movie
Thor: The Dark World
.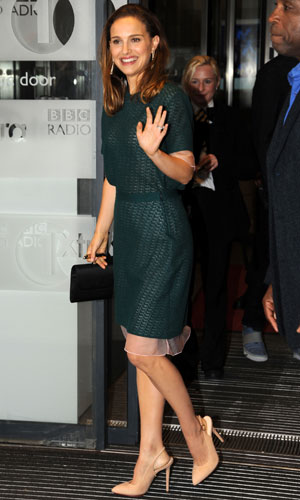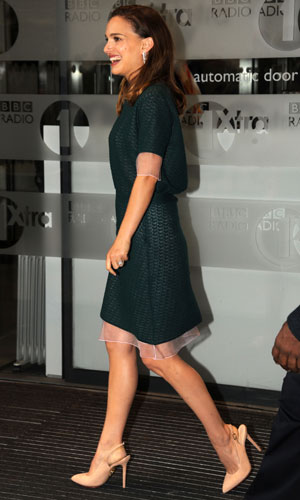 Beautiful Natalie looked as effortlessly elegant as always in a dark green shift dress with sheer pink trim and simple nude heels.
Natalie's in the capital ahead of the UK premiere of the
Thor
sequel, which was largely filmed at Shepperton Studios.
At a press conference in London at the weekend, she spoke about how much she loved working in the UK and admitted being a tad envious of our homegrown talent because of the UK's fabulous film industry.
She explained: "We don't really shoot in Hollywood at all. I love working here, though, and I'm envious of British actors and British crews, because American and Australian actors, we end up moving cities all the time."
Natalie plays scientist Jane Foster in the superhero movie. The first film, released in 2011, saw her character meeting the powerful Thor (Chris Hemsworth) when he was banished from Asgard. It ended with Thor returning home but being cut off from Jane on Earth after the portal to Asgard was destroyed.
Thor: The Dark World
takes up one year after the first film.
The sure to be star-studded premiere takes place in Leicester Square tonight, with the movie hitting cinemas on 30 October.... A second dose of superhero Chris Hemsworth? We're booking our tickets as we type!
Watch a trailer for
Thor 2
below: