Mischa Barton looked beautiful in black last night at the premiere of her new movie I Will Follow You Into The Dark.
The former
OC
star stunned in a simple black vest and flower-patterned black satin skirt with ruffled hem as she walked the red carpet in Los Angeles on Tuesday night (8 October).
Mischa kept her trademark sun-kissed locks wavy and loose and opted for a subtle, bronze smoky eye.
Gorgeous!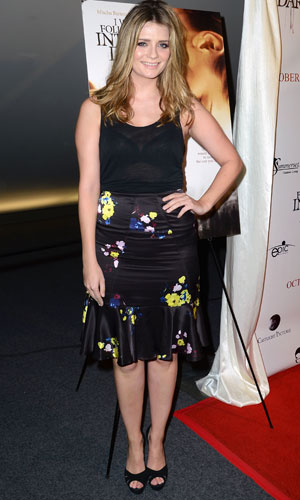 I Will Follow You Into The Dark
hits the big screens in the US this weekend.
The movie's plotline revolves around a young woman battling depression following the death of her parents until she meets a mysterious young man. A love story ensues but with a supernatural element.
Mischa told the
New York Daily News
: "This film is so well-written, it goes into a spiritual,
Eternal Sunshine of the Spotless Mind
kind of space," she says. "It's a love story that takes a dark and interesting turn that challenges your beliefs. It's the kind of work that gives me a real chance to act."
Watch a trailer for
I Will Follow You Into The Dark
below: