Alex Gerrard has been announced as the face of Lipsy's new VIP collection - and doesn't she look gorgeous?
The Lipsy VIP range features glamorous evening frocks, which launched in-store and online from mid September.
And after the success of her previous campaign for Lipsy
, yummy mummy Alex has taken to the camera again!
We chatted to the blonde beauty about the new range, her top healthy eating tips and make-up essentials.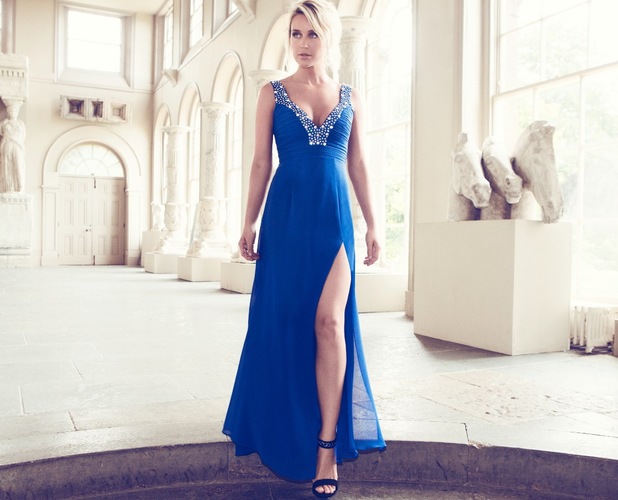 What is your go-to party outfit?
"A Lipsy dress, a great pair of heels and a nice clutch bag. I'd go for a long dress with a slit on the front, then add nude heels and either a nude or gold clutch."
Can you describe the new Lipsy collection in three words?
"I'd say it's really glamorous, yet sophisticated and classy."
Do you ever give your friends style advice, and vice versa?
"Not really, but we do ask each other for opinions on what we're wearing when we go out. We usually get ready together at my house, get our hair and make-up done, have a little glass of wine, play a bit of music, and off out we go!"
Does the new Lipsy range flatter all figures?
"Yes, I think there's something for every shape and size. There are long dresses, short dresses, loose ones and fitted ones. I think the short bustier styles would suit girls with a petite frame. There's a satin pencil dress that really pulls you in. And if you're tall, there are loads of gorgeous long dresses with side slits."
You have an incredible figure – is there any part of your body you're not happy with?
"I don't really like my stomach. When you have kids, your skin changes and that's something I've always been quite self-conscious about. But I train and I do everything I can to look my best. Sometimes you just have to go with it! I don't really like wearing anything too clingy, or anything short like crop tops."
How do you maintain your figure?
"I just try to keep a healthy balance really. I'll eat what I want at the weekend, but I try to eat healthily throughout the week. In the morning I'll have poached eggs on brown toast. For lunch I'll have a tuna wrap and for dinner I'll make either fish or chicken with a little bit of pasta and salad. I also train three to four times a week with my personal trainer at home."
That sounds very healthy! Do you ever give in to chocolate?
"Yes, I like a bit of chocolate after my dinner with a cup of tea. And at the weekend I do pig out a bit!"
Who are your style icons?
"I love Rosie Huntington-Whiteley, she always looks great. And Nicole Richie too, she's totally different but I love the way she dresses."
Where are your favourite places to shop?
"I shop on the high street all the time. I love Lipsy, River Island and Topshop. For online I like ASOS and Net-A-Porter, they're really good."
What's your daily make-up look?
"I usually just wear tinted moisturiser, a bit of lipgloss and mascara. If I'm going on a night out I like highlighted cheeks, a bit of blusher, an illuminating foundation and a nice eyeliner flick."
What are your make-up essentials?
"I love
MAC Face and Body Foundation, £21.50
. I don't really like heavy foundations, but that one applies really easily. Then MAC lipgloss and
Bobbi Brown Natural Brow Shaper & Hair Touch Up, £15
.
"I also love
NARS Blush in Orgasm, £21.50
- I've been using it for years - and for bronzer I use Bobbi Brown."
Talking of bronzer, do you wear fake tan?
"Yes, in the winter I like to use
Fake Bake Gold Self Tanning Lotion, £30.75
, it goes on really nicely."
Any tips for voluminous hair?
"
Batiste Dry Shampoo, £2.99
, is good for getting volume in your hair. I spray it just into my roots before I go to bed, and when I wake up in the morning my hair has more volume."
What is top of your Christmas list this year?
"Girly things like perfume - I love the
Emporio Armani Diamonds Rose fragrance, £26.50
, it's my favourite at the moment so I'd like to get another bottle. Also, candles and new pyjamas!"
What do you think of Alex's tips? Let us know by commenting below as the best comment across the site each week wins £50!