Lindsay Lohan looked like she was trying to go unnoticed in New York yesterday
The
Mean Girls
star covered up in a trench coat, sunglasses and hood when she stepped out for a stroll in Manhattan on Wednesday (28 August).
Unfortunately for Lindsay, if she was trying to slip by unnoticed, we spotted her thanks to her incredibly cute hood shaped like a pair of animal ears.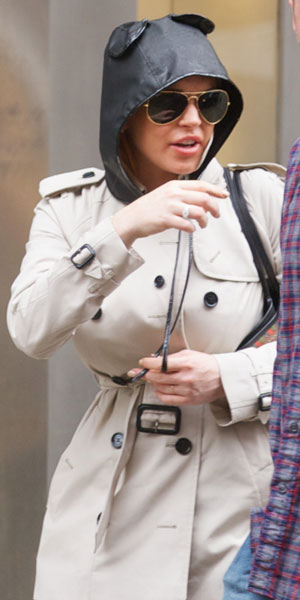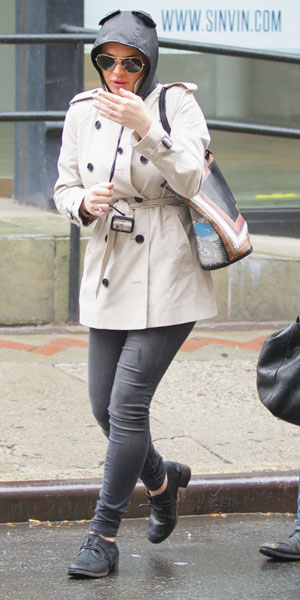 Lindsay followed in the footsteps of stars like Rihanna and Caroline Flack by donning the quirky hood – stylish and perfect for keeping the rain away from immaculately groomed hair.
The former child star was spotted out a few days after her father Michael Lohan told
Life & Style
magazine that he and Lindsay's mother Dina had to take the blame for Lindsay's troubles.
LiLo has just spent 90 days in a lock-down rehab facility
on court orders following a plea deal she made in relation to a car crash in Santa Monica, California last year.
She later described the rehab sentence as a blessing, saying: "I'm the happiest and healthiest when I'm working and I think this is an opportunity for me to focus on what I love in life. I don't think it's a bad thing, I think it's a blessing, not a curse."
And her father seems to think the same, telling Life & Style she's now committed to turning her life around, saying: "I think she has really turned a corner on this. Lindsay is back to who she was, a very kindhearted and compassionate person."
Lindsay kickstarted her new, drama-free life with a
guest hosting stint on Chelsea Lately
earlier this month, and
recorded a tell-all interview with Oprah Winfrey
where she admitted her past troubles and insisted she wanted to start again.