Marks & Spencer have revealed its autumn campaign with this stunning image, taken by top photographer Annie Leibovitz.
Instead of household names such as Twiggy, Myleene Klass and Lisa Snowdon, the new line-up - shot on the River Thames with the iconic London skyline behind and resembling a classical painting - celebrates high-achieving British women from diverse backgrounds.
"Despite being very different people, their strong sense of personal style and inspirational achievements which have propelled them to success, are the common threads which bind them together," said M&S.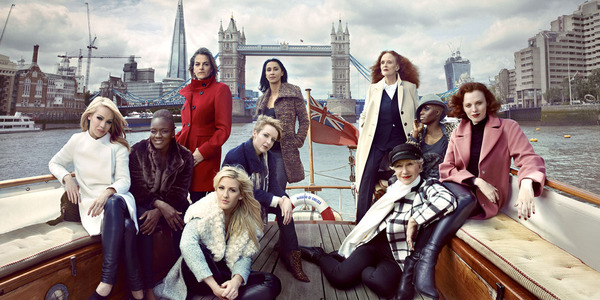 "Be it physical strength, dedication to helping others, overcoming adversity, or simply sheer determination to be the best they can, each woman is truly inspiring."
Here is the line up...
1 KATIE PIPER: Burns survivor, TV presenter and charity campaigner
The former model, now 29, has had more than 40 surgeries to rebuild her face and repair other severe injuries after an horrific acid attack. She's made two documentaries about her life - and written a column for
Reveal
!
2 NICOLA ADAMS: Olympic boxing champ
You may remember the 30-year-old Yorkshire lass from the 2012 Olympic Games when she won gold as a flyweight. Nicola also made history as the first British woman to win a major boxing title in the World Championships in 2011.
3 TRACEY EMIN: Artist and professor of drawing at the Royal Academy, CBE
Margate-raised Tracey, 50, first became a household name in the late 90s. She's best known for her confessional, sometimes shocking, art and outspoken views.
4 ELLIE GOULDING: BRIT Award-winning singer/songwriter
The talented 26-year-old with the haunting voice has just scored her first UK No.1 with 'Burn' (beating Lady Gaga!). She's no stranger to
Reveal's
style pages, either!
5 HELEN ALLEN: Nurse of the Year 2011
Helen's the founder and CEO of PEPAIDS, set up to ease poverty in Africa and combat HIV/AIDS. She's also developed the Engage programme, offering volunteer opportunities in Zambia to all of us.
6 MONICA ALI: Award-winning author
The Bangladeshi-born writer, 45, is best known for
Brick Lane
, later turned into a film. The book was placed on the Best Young British Novelists of the Decade list.
7 GRACE CODDINGTON: Creative director of US Vogue and legendary fashionista
The 71-year-old Welsh former model is now the creative force behind American Vogue. Her own modelling career was cut short due to a car accident in the late 60s, which left her with a damaged eyelid.
8 HELEN MIRREN: Multiple award-winning actress and national treasure
Still looking fabulous at 68, the iconic actress – and now Dame – must need reinforced mantelpieces for all the awards she's stacked up: an Oscar, four BAFTAs, three Golden Globes, four Emmy Awards, and two Cannes Film Festival Best Actress awards. Phew!
9 LAURA MVULA: Singer/songwriter
The 26-year-old Brummie is the new kid on the music block. She is known for her hit single, 'Green Garden'. A former teacher at a secondary school, she started writing songs on her laptop and sent out demos while working as a receptionist.
10 KAREN ELSON: Supermodel/singer
The singer-songwriter, guitarist and model is also the former wife of White Stripes frontman Jack White. The 34-year-old mother-of-two is known for her striking red locks and has starred on countless fashion magazine covers.
As well as the 10 pictured here, the other M&S leading ladies – who star in different images – are Darcey Bussell, retired principal ballerina at The Royal Ballet (and
Strictly
judge), and Jasmine Whitbread, CEO of Save the Children International.
Quite a line-up!
What do you think of the women M&S have chosen as their 'Leading Ladies'? Is there anyone you think should - or shouldn't - be there?
We'd love to know what you think, so let us know in the comments box, below. Remember, our favourite comment from across the site each week wins £50!