Danielle Lloyd knows a thing or two about looking glam, and as for maternity wear... well, we have to admit we haven't seen pregnant Danielle looking anything short of gorgeous!
She's already mum to Harry and Archie and now, with her third baby due to make an appearance any day now, Danielle has launched her debut maternity fashion collection - modelled by Danielle herself in these stunning pictures.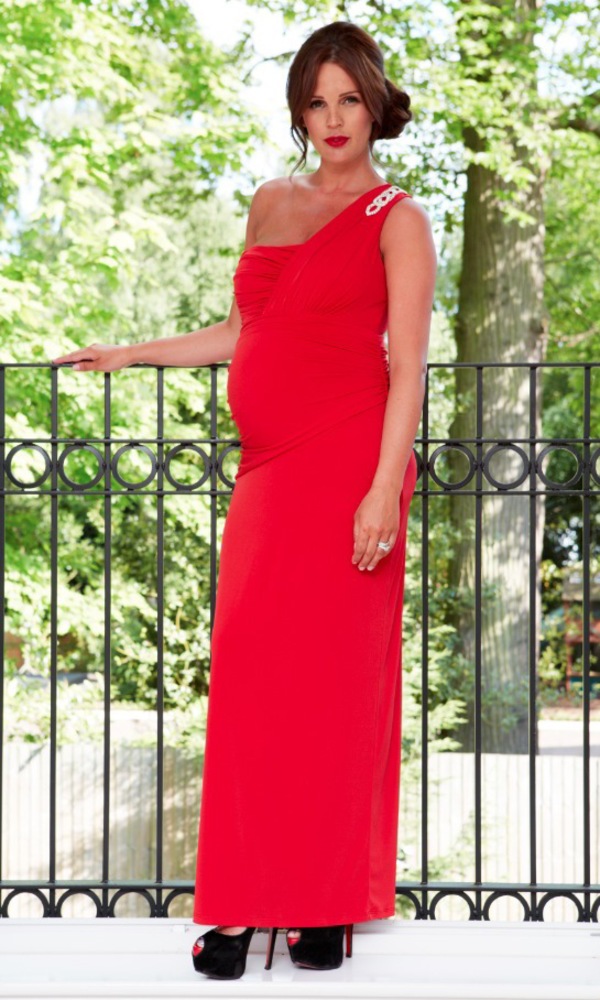 But like many mums-to-be, Danielle has revealed that she hasn't always found looking good when pregnant easy:
'When I fell pregnant for the first time, I didn't know how to dress, what to wear, where to go shopping, so I lived in Juicy Couture tracksuits the whole time.'
Now, Danielle's used her signature glamorous style as the inspiration for show-stopping evening gowns, glamorous tops and pretty day dresses - and not a tracksuit in sight.
'Now I can be a glam mummy!'
'I wanted to put my stamp on everything, I wanted it to be stuff I'd actually wear myself and I wanted it for all different occasions. What I've found hard is that, when I've tried to find glam things to wear for weddings or events, it's always been really expensive. £200 or £300 for a one-off is too much!'
'I hadn't planned on getting pregnant three times, so I've been getting rid of all my maternity stuff! I sent all my baby stuff to charity as I didn't think I'd get pregnant again, so I've had to get a whole new wardrobe for myself and for this baby. It's fun, but not in terms of my bank balance!'

But she adds, 'some of the dresses you can wear when you're not pregnant, especially straight after the birth - or if you've eaten too much at Christmas!'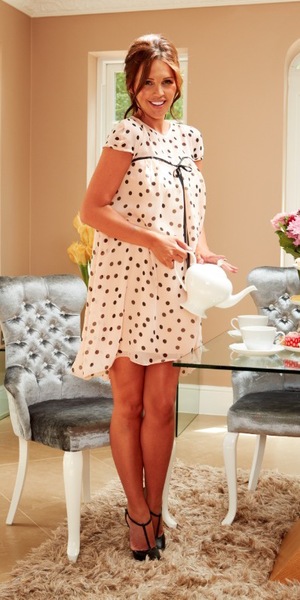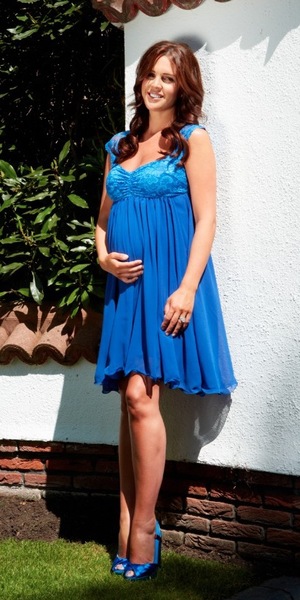 'It's important that every woman feels good about themselves, whether they are pregnant or not, but when you're pregnant you don't tend to feel not that good about yourself.
'I personally like to feel good about myself when I can, I like to feel sexy when I'm pregnant, so that's what I made the range for. It's nice to be able to glam up.'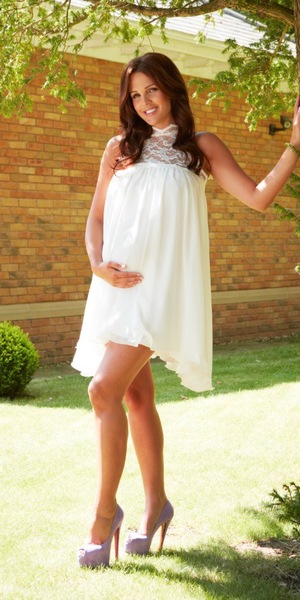 Former model Danielle, who married footballer Jamie O'Hara in May last year, revealed that she has made one or two adjustments to her style this time around:
'I took my heels off. I haven't been wearing them to be honest. If I go out for dinner with Jamie I'll put a pair of heels on, but I prefer flats at the minute.'
As for who she'd most like to see wearing her designs, Danielle told us who's top of her wish list:
'I'd love to dress Frankie Sandford, she looks good.'
So if you're reading this, Frankie - check out our gallery below to pick your favourite frock!
The collection is available now from
www.lipstickboutique.co.uk
Interview by Hannah Doyle