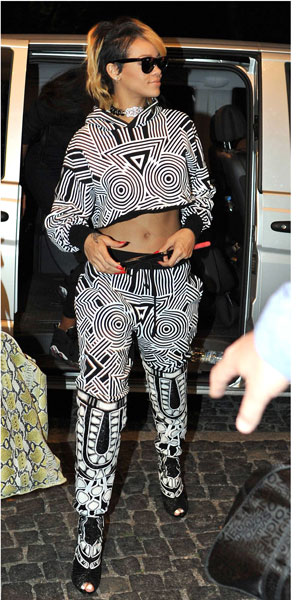 Following on from the success of her first collection for River Island, its time for Rihanna take two...
It's not just in the music charts that
Rihanna
's been a hit, the pop princess has also conquered the world of high street fashion with her clothing line for River Island.
RiRi's hugely anticipated spring/summer collection flew off the shelves earlier this year following a star-studded catwalk show attended by the singer herself during London Fashion Week, and we tip that her latest instalment will be no different.
Rihanna's A/W range for the high street giant will go on sale in September.
The 80-piece collection will incorporate a mix of urban sports luxe with sophisticated chic and feature autumn must-haves including, tartan, embossed leather and camouflage.
But for fans that can't wait that long to see her latest offerings, she's made a behind the scenes video featuring a sneak peak of the collection - thanks RiRi!
During the short video Rihanna says: "I want to wear everything."
Judging by the video, so do we!
Watch Rihanna introducing her new collection below!
Love Rihanna? Check out our fave picks in her high summer range below.
Copyright: River Island