Vanessa Hudgens took part in a dream photo shoot recently, as she and a friend dressed up as mermaids - complete with fishtails and sea shell bras!
The
High School Musical
actress revealed her new ocean-inspired image to fans on Twitter on Monday (1 July) and looked radiant in the pretty snap, which showed her sat next to fellow actress Kim Hidalgo on a beach.
The two girls beamed for the camera as they sat side-by-side in their co-ordinated mermaid outfits and we have to say that those fishtail bottoms are almost a little too realistic. Just look at those fins!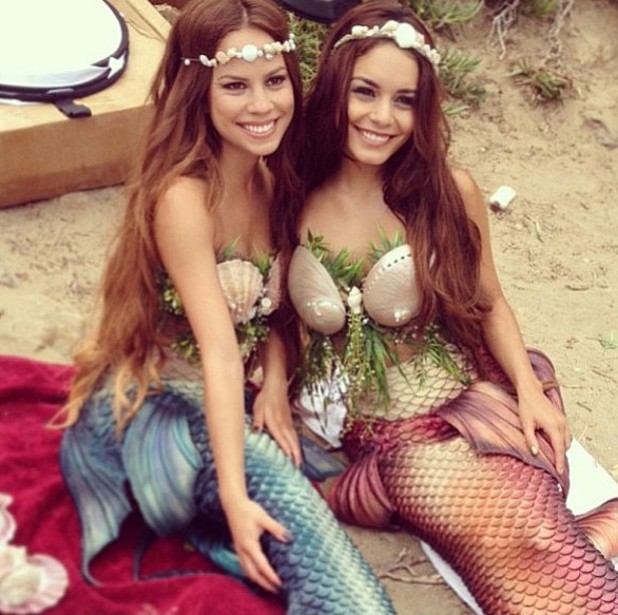 Vanessa and Kim also donned matching sea shell bras, covered in leaves, and sea shell headbands.
Their long mermaid-like tresses were then accentuated with hair extensions and then styled into loose waves for that 'just got out of the sea' feel.
Kim captioned the idyllic photo: "Is this real life? #mermaid #DreamsDoComeTrue"
Vanessa, 24, is currently celebrating the success of her most recent film,
Spring Breakers
, reaching number 5 on the iTunes chart, while also gearing up for the release of her latest thriller flick,
The Frozen Ground
.
The Frozen Ground
is expected to hit cinemas this summer and Vanessa is said to have put in a truly intense performance alongside Hollywood A-listers, Nicholas Cage and John Cusack. We'll get our popcorn ready!
What do you think of Vanessa and Kim's mermaid outfits? Let us know below!