With her leather trousers, structured blazers and chic fedoras, Made In Chelsea's Rosie Fortescue never misses the style mark.
We spoke to the reality star at the JustFab.co.uk Style Evening, and she gave us the inside scoop on her top styling tips and biggest fashion fail.
Rosie attended the do rocking her own take on evening glam in a striking silk cover-up from Zara, delicate lace top from Sandro, and fierce leather trousers from Topshop.
She completed her stylish ensemble with a Joomi Lim necklace,
strappy heels from JustFab.co.uk
, and a
white textured handbag, also from JustFab.co.uk
.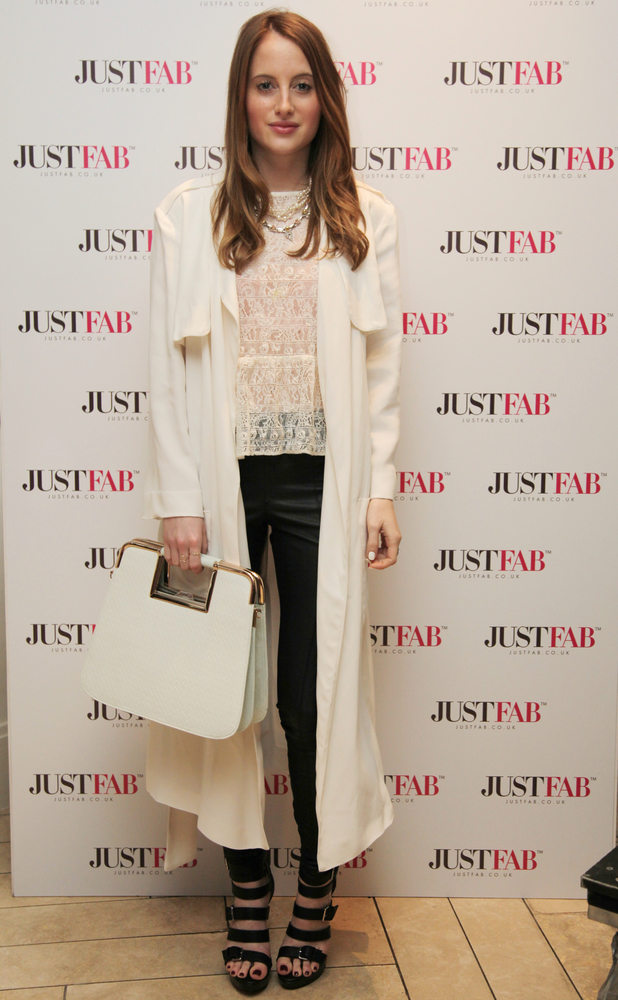 What are your top fashion picks for summer?
"A jacket or summer coat, like the silk trench I'm wearing, is a must for when it gets chilly in the evenings. Wedges are essential too because they're so comfy, especially when you're on your feet all day. There's nothing worse than having to hobble around because your feet hurt!
"I'm also really into my silk shirts and lace tops; I like wearing them with leather trousers because it makes the look more delicate. And you've got to have a good handbag. I'm usually out all day and then have to go to an event in the evening, so I need a bag that isn't too big. I like this white one from JustFab.co.uk, the gold hardware is lovely, and it matches my white nails."
What's your one golden styling rule?
"Always dress for yourself and no one else. I know I suit tight trousers, strappy heels, and plenty of monochrome. I'm not really into dresses, I do wear them but I would rather wear a tailored trouser in the evening. I think it's important to know what you're comfortable in and what suits your body, rather than wearing something just because it's in fashion."
Fave purchase this month?
"This silk trench from Zara, it's so nice for the evening. I saw a silk trench in Burberry that I really wanted but it was so expensive, then I went to Zara and found this! I'm sure someone will say I look like I'm wearing a dressing gown, but I don't care."
So which trends will you not be wearing this summer?
"There aren't any trends I hate. I always used to think I'd never wear cowboy boots, but I've actually got some great ones from River Island which are comfortable and really cool. I also never thought I'd wear boyfriend jeans, but I was wearing them before I was wearing my leathers! I hate rushing around to meetings in the summer with my legs out, so its nice to wear baggy jeans, and you can add a silk shirt to smarten them up.
"One thing I would never wear is a cutesy prom dress, they're so not me. I'd rather go for a fitted or A-line dress - I have one with a galaxy print by Christopher Kane, which I love. I don't really wear bodycon dresses either, I'm comfortable with my body but they're not my style. I've seen too many people wear bodycon badly, so I'm sort of anti-bodycon!"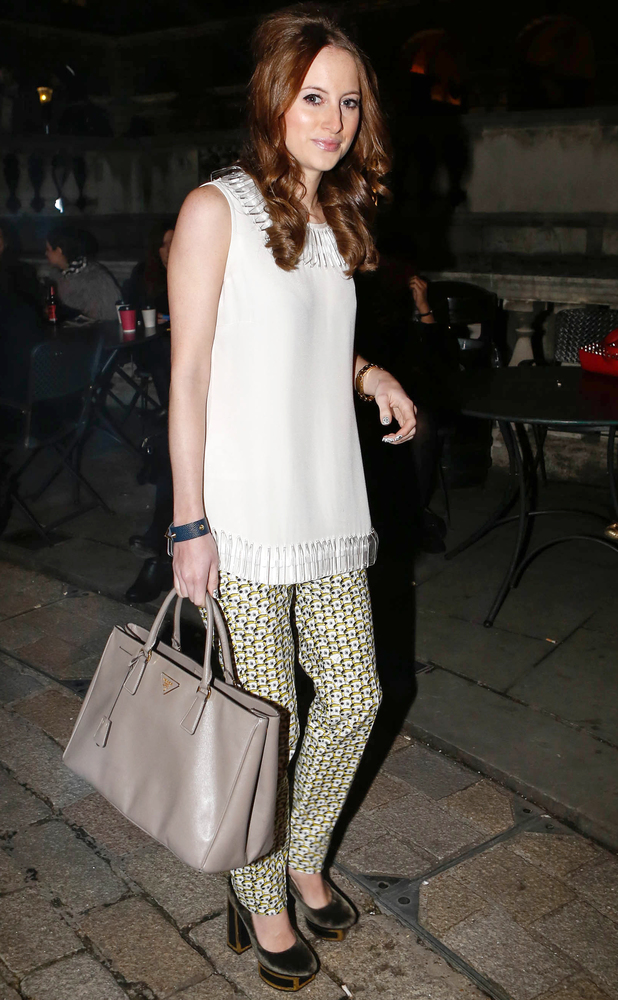 Heels or flats?
"Heels. I do have some really nice flats, but I love to wear heels or heeled ankle boots. Zara have amazing sandals right now, and they're only around £30. They're the dream! You can go to a club, and if someone pours a drink on your feet you don't have to panic and your night isn't ruined."
Designer or high street?
"High street. You get more thrills when buying high street, plus you can buy more! I do spend money on handbags though because I use them everyday. I also like to invest in jewellery - I love Laura Gravestock and Cotton & Gems for rings. Cheaper jewellery often tarnishes, so it's worth spending more and keeping it forever."
Fave high street stores?
"Zara, even though everyone ends up buying what you've got. I love River Island too, they have great leather jackets and sandals. I find it hard to find jeans that fit, but River Island have a couple of styles that fit me really well. Whenever they release a new colour or texture I always get a pair because they're only £35."
What's been your biggest fashion fail?
"I once looked at a picture of myself in boyfriend-fit tailored trousers, and I really wasn't tall enough to pull them off. Things look different when you look in a mirror compared to when you get photographed at an event. Sometimes you realise something didn't look as great as you thought it did!
"Another fashion disaster I had was bell-bottoms. I wore them while I was at school and I was so tiny, they just drowned me. I would have been so much cooler if I'd just worn flares!"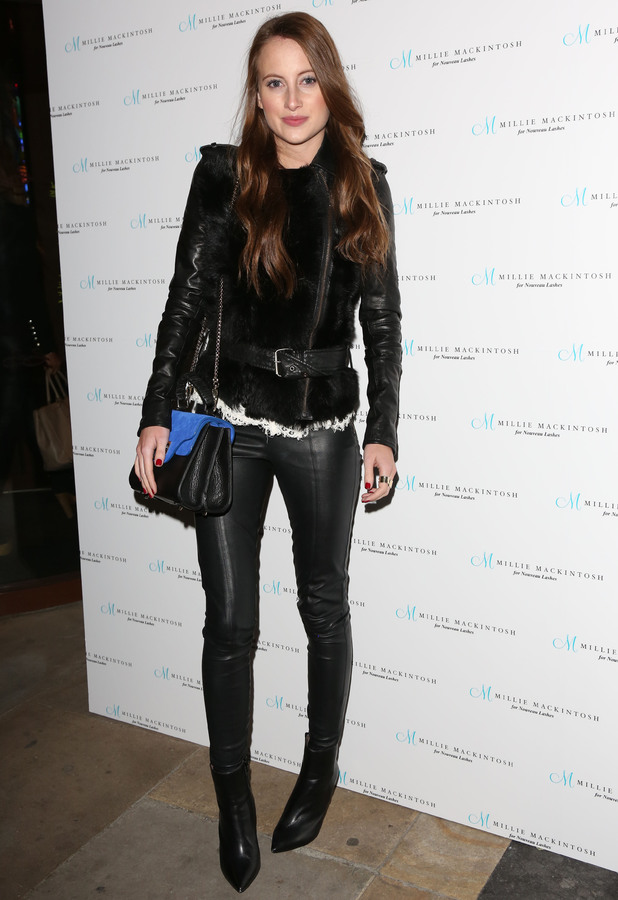 One-piece swimsuits are having a moment right now – are you a one-piece or a bikini girl?
"I'm definitely a bikini girl; I'm really into high-waisted bikinis right now. I bought one from River Island that I've been gagging to wear, it's high-waisted with slits running down each side. I've realised that I'm never going to tan, so I should stop thinking about wearing the tiniest, skimpiest bikini, because my tan lines won't show anyway! I may as well have fun with my bikinis and wear nice jewellery and hats."
What are your essential beauty products for summer?
"I don't like to wear too much make-up in the summer, so I use the
Laura Mercier Tinted Moisturiser SPF20, £33
, as a base. I always try to be safe in the sun, so I apply the
Avène Eau Thermale Very High Protection Sun Cream, £13.50
, as it's good for sensitive skin like mine. Instead of worrying about getting a sunkissed glow, I fake it with bronzer instead. Why risk the possibility of getting wrinkles for a tan? Fashion-wise, I like to wear long necklaces, kaftans, maxi dresses, and fedoras."
Can you give us a sneak peek into the depths of your make-up bag?
"I always keep my
Nivea SOS Lip Balm, £3.36
, on me, and
Optrex Brightening Eye Drops, £3.79
, are a must. For my cheeks, I use a pink blusher by MAC with the
Laura Mercier Shimmer Bloc, £31
, over the top as a highlighter. I also like the
No7 Perfectly Bronzed Dual Bronzer, £11.50
, which I dust all over my face to help fix my make-up. For perfume, I love the
Lime Basil & Mandarin Perfume by Jo Malone, £39
."
Top three lipsticks for summer?
"An orange-red like
NARS Velvet Matte Lip Pencil in Red Square, £17.50
, and a vampy purple-toned pink for the evening, like
Mac Lipstick in Captive, £14
. I'm also loving the
Clinique Chubby Stick Moisturising Lip Colour Balm in Super Strawberry, £16
, which is a nice blush pink colour. I usually layer it over my lip balm during the day so it's not too dark."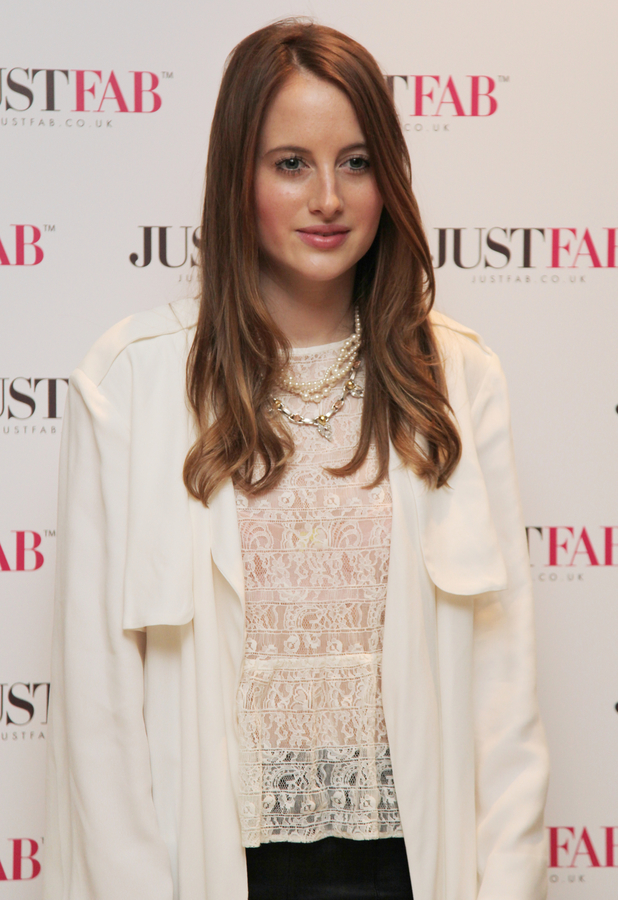 Worst hairstyle ever?
"My hair is super-straight naturally, so it doesn't hold volume very well and it can go quite flat. One time I saw pictures of myself at an event with poker straight hair and heavy make-up from a photoshoot, it just looked awful. Oh and hat hair is the worst!"
Which part of your body do you like best and why?
"I like my lips best. Recently people have been saying I've had Botox and fillers but I haven't, I just have big lips! I don't wear that much make-up so I like to play around with deep colours on my lips in the evening."
And your least fave?
"My wrists. They're so tiny which means I can't wear bracelets. If I want to wear a bangle, I have to force it up my arm and make sure it stays there, otherwise it'll fall off!"
If you could have any celeb's body shape, who would it be?
"Jennifer Lawrence, she has an amazing body. I'm naturally very skinny and I wish I had an athletic, curvy body like her. She's so beautiful and natural, and she doesn't wear too much make-up. I think she's a great role model for young people."
What do you think of Rosie's style tips? Let us know by commenting below as the best comment across the site each week wins £50!