With Gwen Stefani and Gavin Rossdale as parents, six-year-old Kingston was never going to be a wallflower when it came to style, but the youngster appears to be giving even Willow Smith a run for her money in the hair stakes, with more 'dos than you can shake a stick at.
Spotted earlier this week at JFK Airport, in New York, with his glam-azon mum, Kingston was rocking a shock of blue hair. The mini-me – who just last month was sporting a peroxide blonde look has also dabbled with mohawks and buzz-cuts – and that's just his hair!
Kingston is fast becoming a style icon in his own right, sporting his own unique look.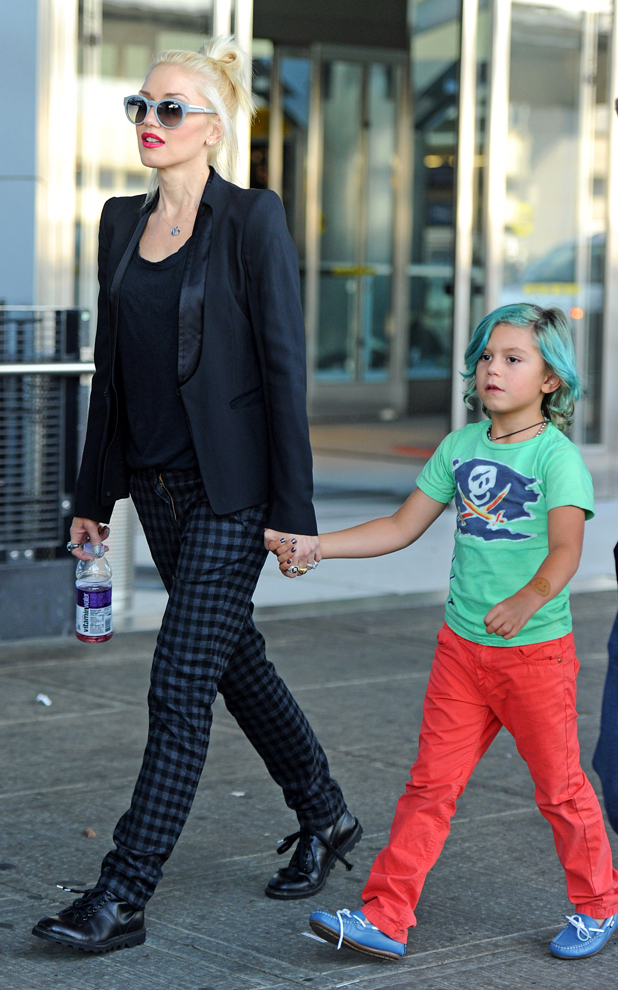 > Gwen Stefani and No Doubt are back with new single Settle Down
The eldest son of the rock royalty couple hit the headlines last year when he stepped out with mum Gwen in his 'n' hers matching camouflage outfits.
Speaking about her son in the past Gwen hinted he isn't just a fashion icon, suggesting the tot is already becoming a hit with the ladies! "He thinks Britney Spears is cute and he flirts with her," says Gwen.
But is it all in the genes? Dad Gavin Rossdale – lead singer of rock band Bush – is famous for his laid back surfer-style hair, while mum Gwen - of newly reformed 90s band No Doubt – has become synonymous with bleach blonde locks.
All we can say is, watch out Willow: this fashionista might just steal your crown!
Would you let your child have blue hair? Let us know below
Watch No Doubt's new music video for single
Settle Down
right here..