Kimberley Garner may have shot to fame on Made In Chelsea, but it's the fashion world that's really stolen her heart!
The blonde beauty has her own swimwear label, Kimberley London, and has just launched her new summer '14 collection which consists of six bikinis and one-pieces designed by the lady herself.
Reveal
grabbed a chat with the starlet to talk through her latest range, plus her top beauty products for summer. She also let us in on a bit of
MIC
goss, including why she still loves former flame Richard Dinan and why she
won't
be meeting up with Cheska Hull any time soon...!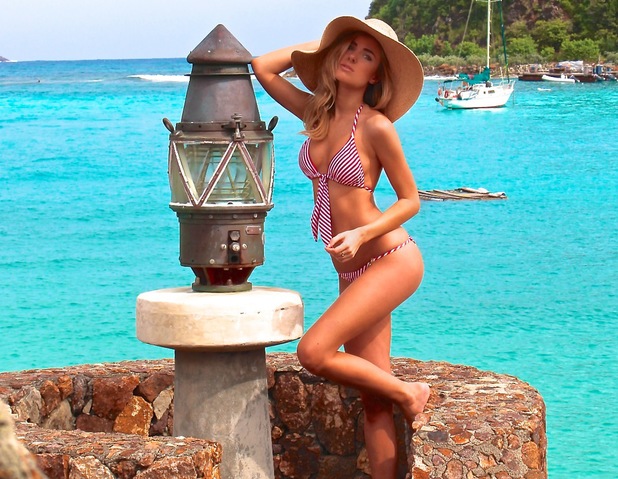 Tell us about your new collection...
"All the pieces in the collection have sexy bows on the bum and I've gone for navy, white and red colours. The fabric is from Italy and the gold I had made in Paris, then I had it all shipped to England and made in a factory here. I wanted it to be the best of British. And they're all made by hand by wonderful people! The bikinis are very little and sexy, they have Brazilian briefs and they're designed to flatter the body – make the waist look small and flatter the bum. They're quite nautical, but a bit more 'girl next door' than my last collections."
Did you always want to work in fashion?
"I went to London College of Fashion and I learnt a lot there, but you learn much more doing it yourself. This is my baby, I do everything from the tax returns to the fabric orders, to going to the factory and actually helping to cut the fabric. It's hard work, but it's amazing being 24 years old and doing my dream job."
Which celeb would you love to see wearing one of your bikinis?
"Elle Macpherson. She's got the most amazing body, she's called 'The Body' for a reason! I've seen her in person a couple of times because she goes to the same polo club as my family. She's just beautiful."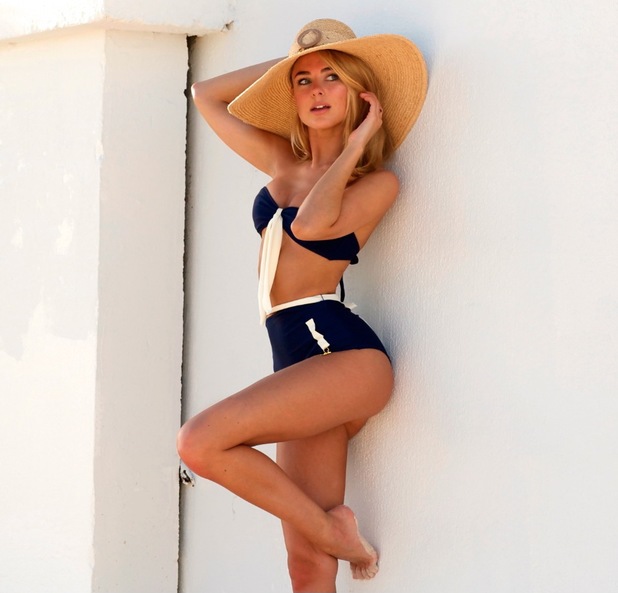 What are your summer make-up essentials?
"I think less make-up in the summer is really important. Just a bit of mascara and blusher. But I love
MAC Lipstick in Hue, £15.50
, it's a very sheer pale pink. Natural make-up is much prettier than heavy make-up. I try to stay away from foundation as much as possible. I just bought
Clarins Wonder Volume Mascara, £21
, it's so good and it doesn't smudge under my eyes. I like a good eyebrow too. Mine are quite dark already, but if I want them a bit darker I'll pencil them in with a light brown colour by MAC or Bobbi Brown. I love that Cara Delevingne chiselled brow look!"
How about your skincare must-haves?
"For me, skincare is so much more important than make-up. If your skin is in really good condition then you don't need much make-up. I use the brand Elemis, it's a little bit pricey but it's amazing. I really recommend the
Elemis Tri-Enzyme Resurfacing Facial Wash, £29
. I also use
Clarins Eye Contour Balm, £30
, it's great for making your eyes look fresh when you haven't slept much!"
Where will you be holidaying this summer?
"I'm going to St. Tropez for three weeks, I'm so excited, we go every year. I've got a whole suitcase full of my bikinis. I'm going with a girlfriend, so I'm going to make her wear them too!"
Since being on MIC, you've become a bit of a regular on the showbiz scene. How have you found it?
"I can't believe it, I'm still so surprised myself. I've always been a London girl and I've been to such wonderful things growing up. But it's crazy, the increased press interest. I'm a bit cheeky and always run around getting up to mischief, but now I have to behave a little better... which is kind of annoying! But I love it, and it's a wonderful excuse to get dressed up."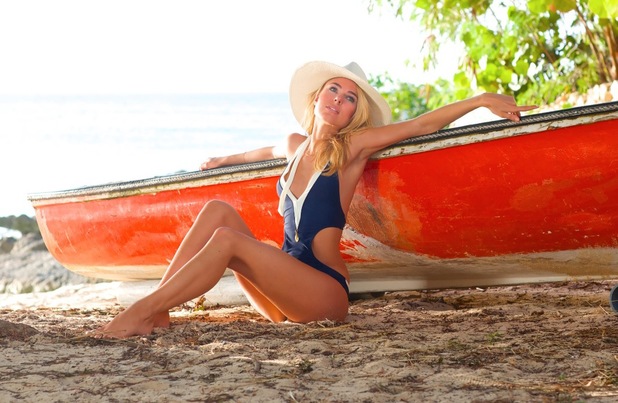 Why did you leave MIC?
"I left after one season. I would definitely go on another show but I don't think I'd go back on
MIC
. I wanted to start my own company and build my own thing. Luckily it's gone OK, so I'm really happy."
Do you still keep in touch with any of the cast?
"I didn't know any of them before I started filming, so we didn't know each other well anyway. But Richard [Dinan], who was my on-screen boyfriend, has become one of my best friends. I love him to bits. We talk every couple of days. It's so nice to make a friendship like that from a reality show, I really treasure him."
Things got a bit frosty with Cheska Hull while you were on the show, because of your relationship with Richard...
"I never understood that because I never had any problem with her. I think she needed a bit more of a storyline boost so she kept being really catty, and I was like, 'Oh give it a rest!' I think maybe she over dramatised it for the show. She might not like me but I wish her the best."
While on MIC, you also went on dates with Spencer Matthews and Jamie Laing. What were they like?
"Spencer and Jamie are very, very sweet boys and they're a real laugh. I actually met up with Spencer recently in St. Barths when I did the photoshoot for my collection. I stayed in his hotel which was nice. They're fun boys, but definitely just friends!"
So you wouldn't date them again?
"No, I don't think I'd date them. I think they're really cool but not in a romantic way."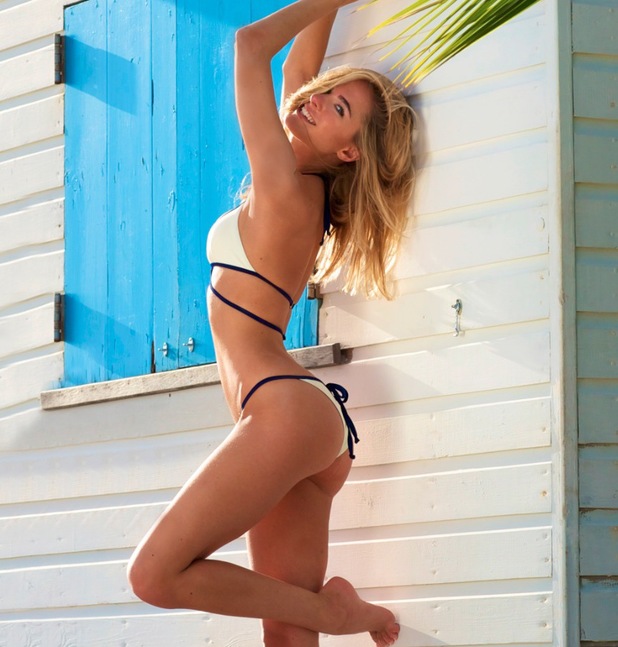 Did you watch the most recent series of the show?
"I watched a couple of episodes, so not that much. I try to keep up to date with it though because people always ask me about it. I heard there's a lot of drama between Binky and her boyfriend?"
Yes, he cheated on her, and Cheska wasn't happy...
"Was she not? Somehow she's back, she's involved again!"
There's been a few new guys join the show since you left - Stevie, Andy, Edo, Fordy... what do you think?
"Not for me... bring on Brad Pitt! Come on
MIC
, up your game!"
Are you loved up yourself at the moment?
"I'm just dating and enjoying summer. Having fun and going with the flow!"
Are you on the lookout for love?
"Definitely, every girl is. I can't wait to fall in love... get married and have babies! [Laughs]"
What would your ideal man be like?
"He would be very fun and mischievous, but also caring, loving and attentive. I'm very playful and I'd want someone to come on adventures with me!"
We bet you must have admirers coming up to you all the time!
"With the whole public eye thing, it's so much harder to meet someone. I often get boys coming up and asking for my photograph, but I'd rather them chat me up! It's made more difficult now, which is kind of crazy because you wouldn't expect it, but it definitely is."
Maybe they feel intimidated...
"No, boys, don't be intimidated!"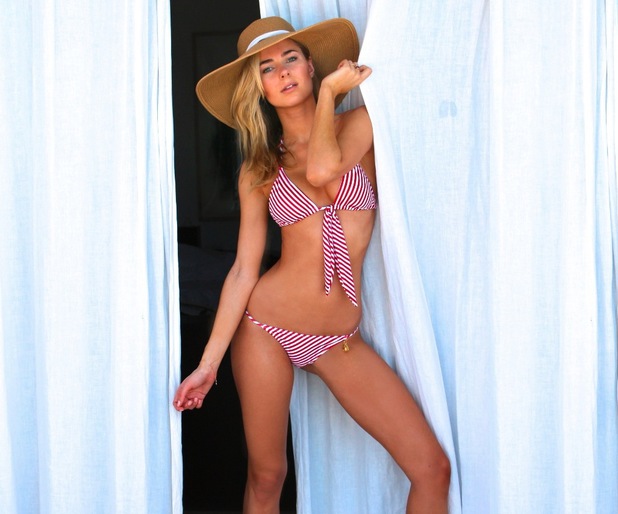 You definitely get a lot of attention from the paps - how do you feel about that?
"It's crazy, isn't it? I came back the other day and they were sitting outside my door. They're so nice though. I just try to concentrate on not falling over! I get really nervous."
Do you mind getting pictured without make-up?
"I think it's quite nice when they get a picture of you with no make-up on, in your tracksuit. You have to not care too much and be like, 'It's OK, I'm not perfect'. I'm going to have days when I run out of my house in my pyjamas with greasy hair in a ponytail. But I hope they never get a really bad shot. One time last year I was on a photoshoot, and I had no idea they were photographing me, I think they were hiding in the trees. I was washing a sea shell in the sea and a big wave came, and my bikini bottoms fell down with the wave! I just remember thinking, 'It's a good thing I've still got the shell!' My friends called me about the photos two hours later... so the rest of the holiday, I wouldn't even go down to the beach!"
What are your future plans?
"I'd like to go back to TV at some point, and I'm loving making my swimwear so I hope that will continue."
Any TV show in particular you'd love to go on?
"I'm not sure, I've been offered so many... but my manager has me on a tight leash! [Laughs]"
The Kimberley London summer '14 collection is available to buy now at kimberleylondon.com.
Will you be checking out Kimberley's swimwear collection? Let us know by commenting below as the best comment across the site each week wins £50!
Reveal is now on Google Plus! Join us here for the latest pictures, fashion and celebrity news!
Got an iPad or iPhone? Reveal Mag is specially designed to fit!