TOWIE's Jess Wright has unveiled her summer '14 clothing collection for Lipstick Boutique, and it's packed with the classiest shapes and prettiest prints!
The reality star has designed each piece herself and we have to say, we're pretty impressed with her new line.
Think intricate lace detailing, bright colours like cobalt blue and lemon yellow, and fabulous florals - all perfect for the sunny weather.
And lucky Jess was even whisked away to Marrakesh for the shoot, striking a pose in a whole host of exotic locations. Jealous!
Reveal
caught up with the starlet to chat about her new line, her figure-fixing tips and make-up faves, being inspired by
X Factor
's Tamera Foster, her fake tan secrets and plans for the future.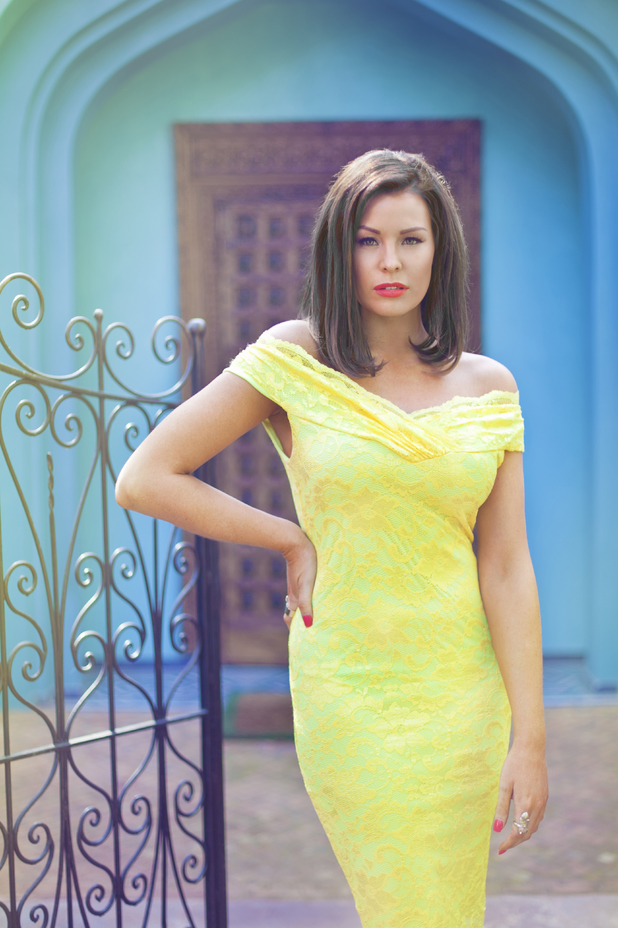 What's the inspiration behind your latest range?
"Prints! A lot of my dresses in my first range were just lace dresses or simple knee-length dresses, but I've started going away from that style and wearing more two-pieces and jumpsuits, so I've tried to incorporate that in my new range."
Describe the collection in three words?
"Sassy, sexy and sophisticated."
Which piece is your favourite?
"It's probably between the skort suit and the 50-style floral swing skirt. I designed them fully from scratch and they represent a new me. They're really girly and great for any summer occasions like christenings, weddings, dinners… you could dress them up or down."
What was it like shooting the campaign in Marrakesh?
"It was really cool, we had this amazing hotel with a casino and brilliant restaurants, but it was very intense too. The weather was lovely so it was nice to get away for a few days, and be in an exotic location. We went to Yves Saint Laurent's house and it was so cool! You don't get to go right into his house, but you see the outskirts, his gardens, the way he designed it. Everything looks amazing."
Why did you choose to go there specifically?
"We discussed a few different places but Marrakesh is fairly close and we wanted to capture the culture. We thought it would bring something different to the range rather than just shooting in England. We wanted a summery feel because it's a high summer shoot."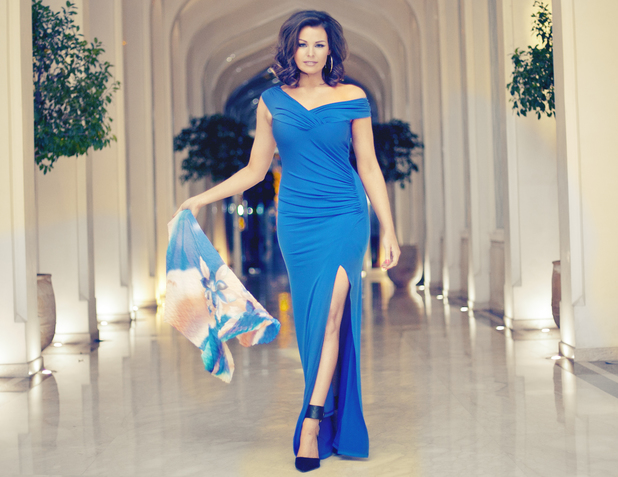 Did you have any time to relax and sunbathe?
"No, not really! I did a little bit of sunbathing on the last day, but it was only for about an hour or so. It was really manic, we were shooting for 15 hours on the main day and the following day we flew home. It was an intense few days but I loved doing it."
What does your boyfriend Ricky Rayment think of your new collection?
"He really likes it. When I first showed him the prints - he's a young boy I suppose and doesn't have a great eye for fashion! – he was like, 'Oh I don't really get it'. I showed him a picture of everything I designed, all from scratch, and he was like, 'Err…'. Really old granny-ish! I said, 'Wait until you see me it!' Then when I wore it in Marrakesh I showed him a picture of me in the skort suit, and he thought it looked amazing. I was like, 'See, you have to trust in me!'"
Boys don't get fashion do they?
"No, unless they're Tom Ford!"
What's Ricky's fave piece?
"He really likes the black and silver lace dress, I wore it in the advert for
TOWIE
. He loves that one."
Which of your fellow TOWIE cast mates do you want to see wearing your new collection?
"All the girls are glam! But Sam, Billie and Ferne, I'd love to see them in it. They all look amazing every time they go out."
And which celeb would you love to see wearing it?
"I love Blake Lively, I know she's a bit off the radar now, but I've always been obsessed with her style. I think she can carry off anything, a bit like Sarah Jessica Parker. They can both wear anything and look fabulous! Blake's really tall and sexy at the same time and she always looks flawless."
She is gorgeous, and she's married to Ryan Reynolds…
"Oh I know, that makes things even more annoying!"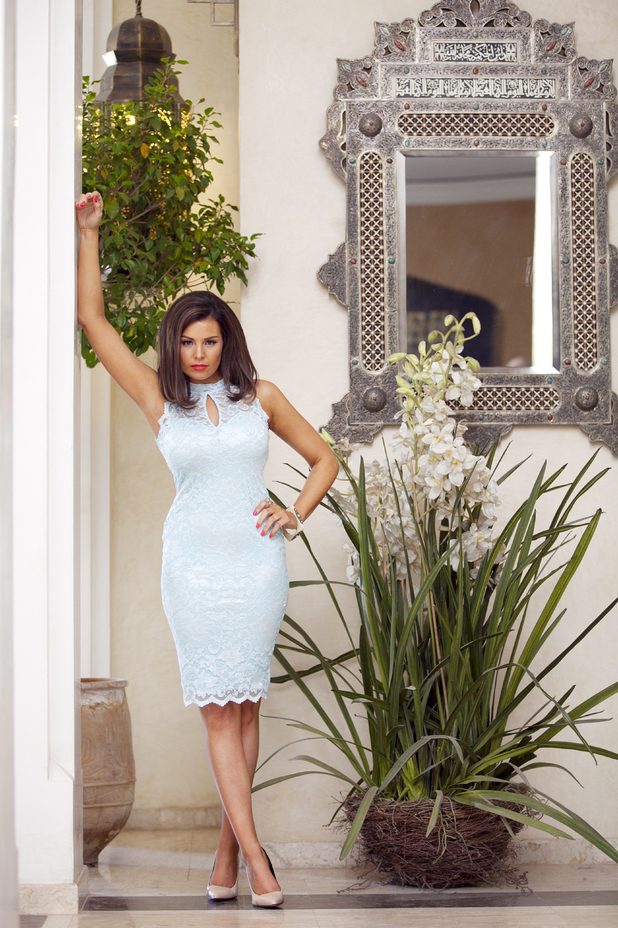 You have an incredible body, how do you dress to flatter your figure?
"I don't know about that! I'm trying to hide my boobs now. As much as I did really want them done, and I did wait until I was 25, they can sometimes really get in the way. They're stopping me from wearing crop tops. I've got a few pieces from Topshop and River Island and I'm struggling to wear them because I feel I look too top-heavy, which is a mistake I used to make. I'm not into that anymore, I've completely grown out of that glamorous, 'get your boobs out' bodycon look. I'm trying to wear more structured things. Tailoring suits me, like tailored suits and jumpsuits."
Which part of your body do you like to play up more?
"My legs - when I've been going to the gym that is! I've got really nice legs because they're quite long, so I'm quite fortunate in that department. But at the same time, if I haven't been going to the gym and I'm not wearing heels, they can look quite dumpy!"
You famously cut your hair into a bob, what inspired you?
"I was getting annoyed at every picture I looked of myself with long hair, and I kept feeling like nothing was working. Then I saw Tamera Foster on
The X Factor
when she cut it really short and wore it big and curly - that was the defining moment. I texted my hairdresser like, 'I'm going to do it!' I had a bob two years ago and liked it for about a week but then got bored and put the extensions back in. I feel I wasn't quite ready for it then but I am now, and it's working for me."
Are you going to keep it?
"I can't see me having long hair again, but then I feel in the summer I need it! I don't know."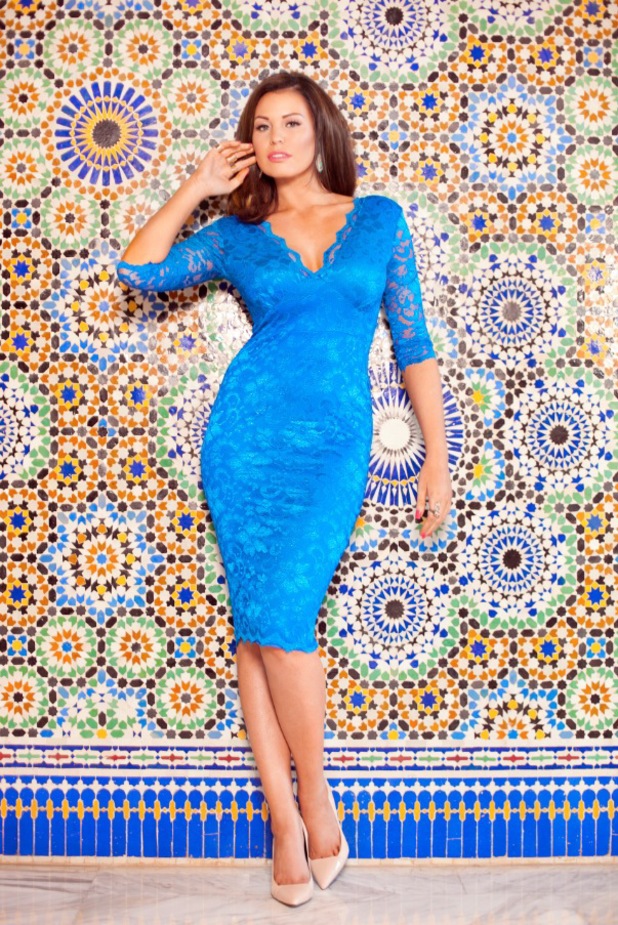 Let's talk about make-up – what are your favourite products?
"I've been wearing
Illamasqua Skin Base Foundation, £32
, which has a slight gold shimmer to it, so it's lovely especially in the summer. My
Origins Ginzing Mascara, £17.50
, is really good, it gets to all the lashes. I recently had LVL treatment on my lashes which curls them upwards. It was actually Ricky's sister Lisa Kempley, she does it and she's amazing. My favourite false lashes are
Girls With Attitude in Heart Stopper, £5
, they're wispy so they look really natural."
Any other make-up products you swear by?
"I sometimes wear
MAC Studio Sculpt SPF 15 Foundation, £25
, or I mix it with my Illamasqua foundation. I also use
MAC Mineralize Skinfinish in Soft and Gentle, £22
, on my cheekbones, which is a glittery shimmer highlighter. Then
MAC Prep + Prime Highlighter, £18
, for under my eyes, I never knew about it until about a year ago but now I swear by it.
"I'm always using
Simple Kind To Skin Facial Cleansing Wipes, £3.25
, and Origins make an amazing cream called
A Perfect World, £35
, which feels like silk. It's so lovely."
Summer is just around the corner – what's your favourite fake tan?
"I've got my own brand called
Fruity Tans
and it smells like fruit. You put it on, go out and it smells like coconut, strawberries or cherries. It gives a really lovely colour too."
How do you tan your face?
"Before I go to bed I put moisturising cream on my face, then I take my
Tan in a Can, £21.95
, hold it at arm's length and mist on my face, then I always wake up with a bit of a glow. If I feel I've had a late night or want to look really good the next day, I always put fake tan on my face. Not so I look stupid, but just so I have a glow!"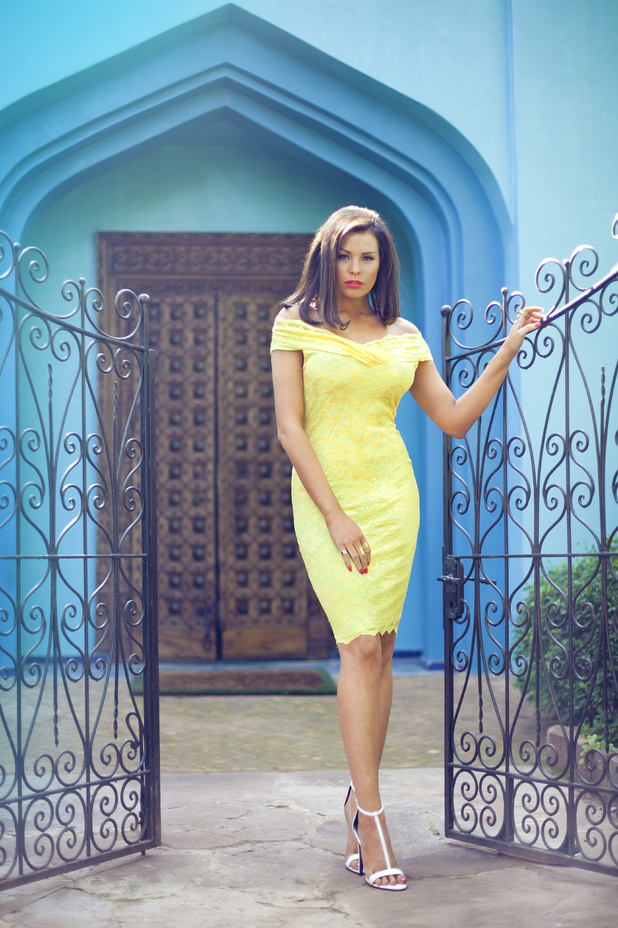 What else is happening with you right now?
"I'm moving into my own flat and I'm looking to kit it out with furniture, but I've got a long way to go! I've still got my record deal and we're probably going to be working on material later this year, and hopefully it might get somewhere. It's taking a while for people to actually care because I'm on
TOWIE
. When you're on a reality show, if you want to go into the music industry it's a really long, hard road, which I completely understand."
Are you and Ricky moving in together?
"I'm going to move into my flat and he's got a flat, then we'll both rent out our flats, or sell them and buy together. I was just going to rent my flat out now and carry on staying at his and my mum's, but I feel like I need my own place. I feel I'm living under my mum's feet now and it's getting on my nerves!"
Jess Wright's summer '14 collection for Lipstick Boutique is available to buy at lipstickboutique.co.uk.
Check out more pieces from Jess' collection in the video below:
What do you think of Jess' new range? Let us know by commenting below as the best comment across the site each week wins £50!
Got an iPad or iPhone? Reveal Mag is specially designed to fit!