Ashley Roberts is one of our favourite fashionistas, so it's hardly surprising she's been snapped up by Key Fashion to front the new spring/summer '14 collection.
The former Pussycat Doll looks absolutely breathtaking as she models the new range, which features colourful lace dresses, glitzy floor-length gowns and sequin-covered statement frocks.
Reveal
caught up with Ashley to discuss the collection, along with her fave make-up products and why she loves living in London.
She even let us in on her celeb crush, and why Johnny Depp knows a little too much about her nose cartilage! You heard it here first...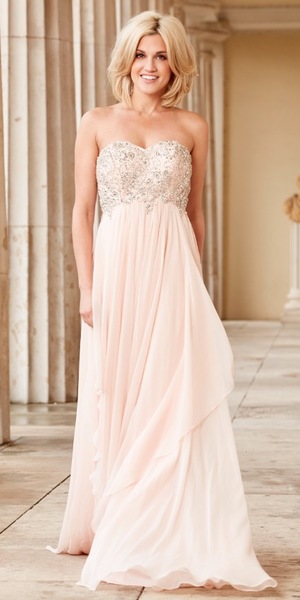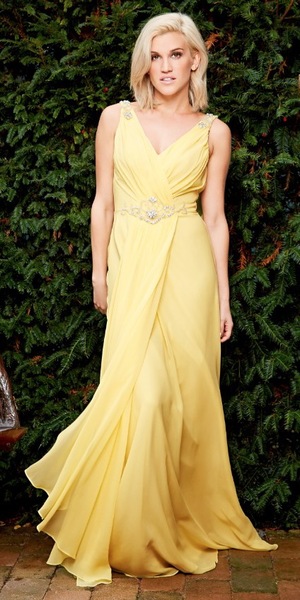 Tell us about the new collection?
"The spring/summer collection is full of colour, there are some really amazing dresses in all different sizes and styles, ranging in price from £80-£495, so quite a broad spectrum. There's short and fun little prom dresses, long flowing ones for bridesmaids and glamorous dresses you could wear on the red carpet or to events. A little bit of everything."
Describe the range in three words?
"Fun, well tailored – that counts as one, right? – and fabulous."
If you could only buy one piece, which would it be?
"That's really tough! I'd say the gold
Goddess dress
. It's a 'wow' dress, definitely my favourite."
Do you feel a lot of pressure when dressing for the red carpet?
"I don't feel pressure, I just get excited to choose what I'm going to wear and how to do my hair and make-up. It's fun. I enjoy that part of work."
Which celebs do you reckon would look fab in the range?
"My three fashion favourites – Nicole Richie, Rosie Huntington-Whiteley and Kate Moss. I want to give a dress to Kimberly Wyatt [from the Pussycat Dolls], Laura Whitmore and some of my friends who I know will rock them really well."
You're often spotted out with Laura Whitmore, what do you think of her style?
"I love her style! She's fun. She's like a modern-day Penny Lane!"
Can you see your former Pussycat Doll bandmate Nicole Scherzinger wearing any of the dresses?
"Definitely, she would look great in the Goddess dress too, or the
Charisma dress in silver
would look really pretty on her. She has that nice skintone, so she could wear the bright colours and look really beautiful."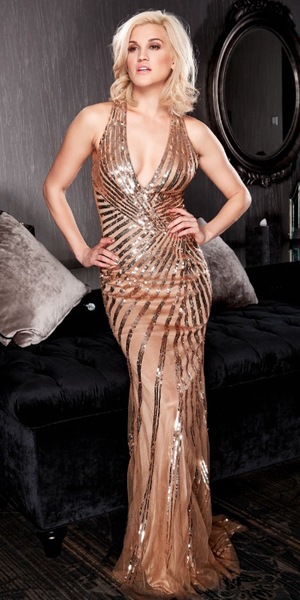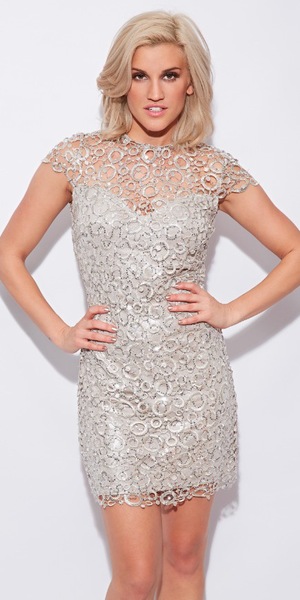 You always look flawless, what are your favourite make-up products?
"I've been using
Sheer Cover Studio Conceal & Brighten Trio, £22.95
, which is a natural mineral-based product, I really love it at the moment. I can't go without my
MAC Lipstick in Ruby Woo, £15
, and a nice bronzer. Also, I really like the
Garnier Skin Perfector BB Cream, £9.99
, it's like a moisturiser with a little tint of colour. It's not too heavy, it's got SPF in it and you get a little coverage too. For nights out I use a lot of products by Laura Mercier and Giorgio Armani."
You seem to have settled in England – are you staying here for good?
"My life has always been a bit of a rollercoaster ride and I don't know where it's going to take me next, but this is home for now. I love my life here and I love the amazing opportunities. I'm so grateful for all that's happening here."
What is it about London you love?
"I love the energy, there's an eclectic liveliness of people and fashion. I love putting on my headphones and going for a walk and just getting lost, there are so many different pockets of coolness here, we just don't have that sort of thing in America. I'll be like, 'Wow, this road is amazing and I didn't even know it existed!'"
Do you have your eye on any British men?
"Not at the moment. I've been so busy, I need to go out and be social! But sometimes when I'm out dancing with my friends it's not necessarily an environment where I'm looking to meet somebody. I've just had my head in the studio, recording my music, launching my perfume and doing television things."
We're sure you have heaps of admirers though! Who is your celeb crush?
"I always go back to my girl crush – Justin Timberlake! He's one that no matter what, I'm always like, 'That man is fine!' I've actually met him a couple of times and he is really nice too, so that makes him that much cuter. But he's married now so he's off bounds! I need to find someone new. Who's out there?"
How about someone like Bradley Cooper?
"That's how my dog got his name! My best friend was so in love with Bradley Cooper, he would talk about him all the time. So when I got my dog I was like, 'Cooper, that's a cute name!' Bradley is very handsome, I don't know if I'd swoon over him, but he is handsome. And talented!"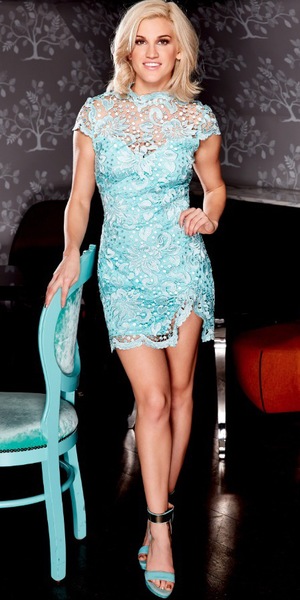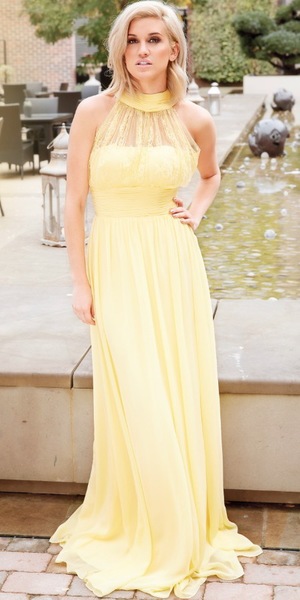 Do you ever feel star-struck when you meet celebrities?
"Yes definitely! Justin Timberlake was one, I've met him a few times and I'm very easy to talk to, but I just acted like a little girl. I got completely star-struck when I met Johnny Depp too and said the most outrageous thing ever!"
What did you say?
"Well I don't have a lot of cartilage in my nose, so I can bend and twist it in weird ways. He walked up to me and I said, 'I have no cartilage in my nose!' He asked if he could see, so I bent and twisted it, and he walked away and said, 'That's one of the weirdest things I've ever seen'. I felt like an idiot! Also, Chris Martin was at a charity event the other day and I'm a big fan of Coldplay, so that was pretty crazy. Jay-Z was at my studio recently, I've actually met him before and he was so cool, he remembered me! Also comedians, I love Paul Rudd, Leslie Mann and Will Ferrell."
Which celebrity have you not met that you really want to?
"Goldie Hawn. She was one of my icons growing up."
Do you watch English TV?
"Yes,
Dinner Date
! [Laughs] I like that. I haven't really got into much of the scripted stuff. I really like
Shameless
as a TV show in America, but I heard it was brought from over here so I need to watch the English version. I've heard it's pretty crazy. It sounds so silly but I go home and pop on my Apple TV and watch something like
Come Dine With Me
. I put it on in the background while I'm doing stuff around my house."
Have you seen The Only Way Is Essex or Made In Chelsea?
"I have seen a couple of episodes of
Made In Chelsea
because Hugo Taylor was in the jungle with me, so I wanted to watch it. I thought it was good, a bit like
The Hills
, which we had in America. I haven't watched
The Only Way Is Essex
, but I've seen
Geordie Shore
. It's so bad but also so entertaining!"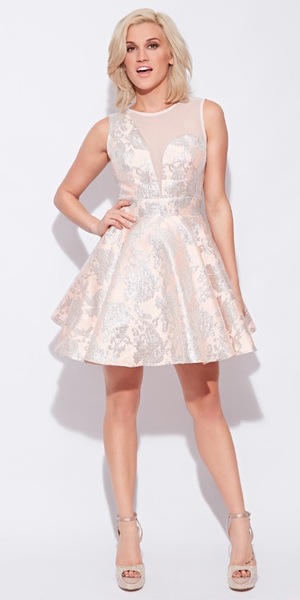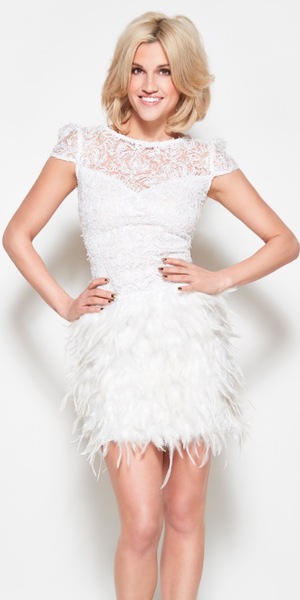 Nicole Scherzinger is constantly visiting London too – do you meet up often?
"We try, I saw her while she was on
The X Factor
because I did
The Xtra Factor
, so we caught up a bit there. We email each other saying, 'I'm in London for the day,' but then we're both so busy, we haven't had much time to have a proper catch up."
What do you think of the rumours about Nicole and Lewis Hamilton getting married?
"I think they're just rumours!"
It would be nice if they got married though, right?
"Let's see! They've been at it for a while, so we'll see what happens."
Are you on the lookout for love yourself?
"I'm open to it, I would love to have a man in my life but it's got to be the right guy. Right now, I'm at a place where if I feel I'm not fully there or it's not right, then I'd rather let it go, rather than hold on to something just to have something. I'm definitely looking for someone who gives me butterflies."
Do you keep in touch with any of the other Pussycat Dolls?
"Yes, Kimberly just got married and I was her maid of honour, so that was amazing. I recently talked to Melody, Jessica, I talk to all of them."
Do you think there will ever be a Pussycat Doll reunion?
"I don't know! Not at the moment because we're all so busy, but never say never."
Everyone really wants one…
"I know they do! Everyone asks me if it's going to happen, but we'll see what the future holds."
Lastly, what's next for you?
"
I just launched my perfume
so I'm really excited about that, but we're switching gears and heading more towards the music now. I've been in the studio recording and I just did the photoshoot for my new album, which comes out in May. My website will be re-launched too with new downloads. I'm really excited!"
Ashley fronts the KEY Fashion spring/summer '14 collection, available from keyfashion.co.uk.
What do you think of the dresses? Let us know by commenting below as the best comment across the site each week wins £50!
Got an iPad or iPhone? Reveal Mag is specially designed to fit!