Lydia Bright has designed a brand new spring/summer '14 collection for Lipstick Boutique, and Reveal went backstage on the shoot to bring you all the goss!
Her latest range - which is Lydia's fourth for the brand - packs a serious punch with sophisticated jumpsuits, pretty lace dresses and figure-hugging party frocks taking centre stage.
And despite not modelling this season's designs, Lydia was fully involved behind the camera and had a hands-on approach. She helped to dress model Jasmine Clarke, adjusting her outfits between takes and directing her poses.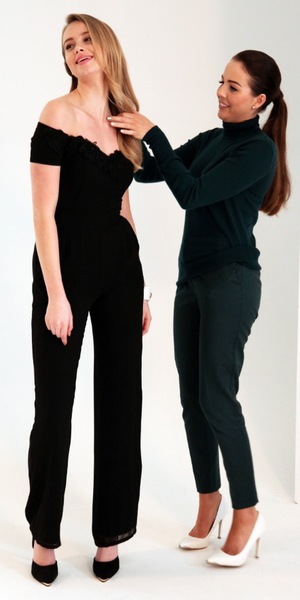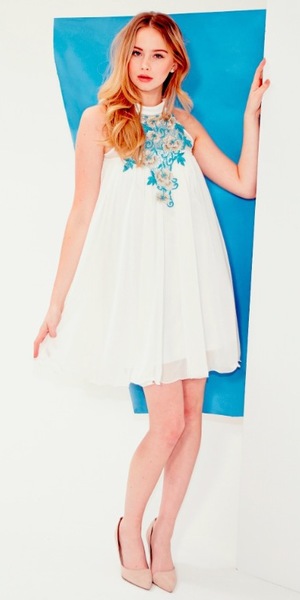 The thing we were most impressed by? The former
TOWIE
star spent the whole day tottering around in sky-high white heels - she hadn't slipped them off since her 9am start!
We chatted to Lydia about her favourite pieces from her new line, plus why she'd love to see Lucy Mecklenburgh and Mollie King wearing her designs.
Tell us about your new collection...
"It's similar to my other collections in the sense that it is feminine, very sophisticated, timeless and classic, but because it's for spring/summer I was able to experiment more with colours. I've used lots of pastels, pinks and creams. I've also used more floaty materials like chiffon. For me, spring and summer are my favourite seasons when it comes to fashion because I hate wrapping up."
Which celebs would you love to see wearing your dresses?
"I would love to see my BFF Lucy Mecklenburgh in some of my dresses! I'm sure she's going to get some. I'd also love to see Mollie King wearing my designs because she's got a very feminine dress sense and she loves her prints, so hopefully she'd like some of the printed pieces. Do you know what? I'd just be so honoured if any celeb wore my dresses. When I see anybody in one of my dresses it's amazing, but when it's a celeb it's even more special, because they get sent so many clothes and they get to choose from just about everything. When they pick something of mine, it's absolutely amazing."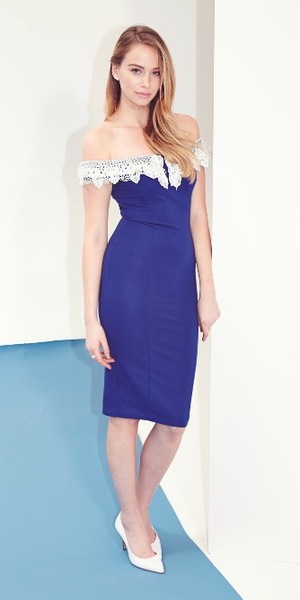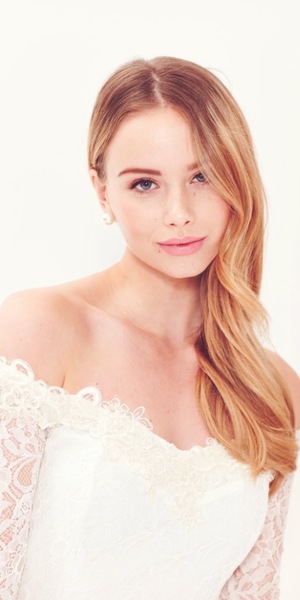 Can you see any other TOWIE girls wearing your collection?
"Yes, I think all the girls look absolutely stunning in everything they wear. But I think Lucy would probably be more interested in my collection than the others because everyone has their own signature style. For example, Chloe Sims has an amazing fashion sense, she's very rock chick and loves her leather, so this collection probably wouldn't be for her. But all the girls know they're more than welcome to wear any of my dresses!"
What kind of dress would you pick for Lucy?
"I think Lucy suits figure-hugging shapes because she's got such an amazing body. She's so slim and has the tiniest waist ever, it's absolutely mini! So she's probably best off with something which really highlights how great her body is. She'd probably like the lingerie-style dresses too."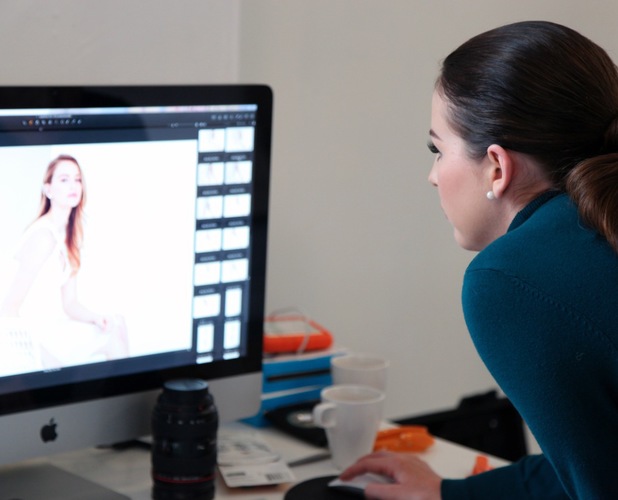 You've always modelled your own collections in the past, so what made you pick Jasmine as the face of this range?
"I absolutely loved doing the modelling myself but I felt I wanted to take a step back this time and be more hands-on as a designer - which I have been all along - but I thought it would really make people realise that I do design everything myself. I have 110% input into everything that gets made. So I thought it would be a good idea to have someone else model the pieces, that way on shoots I can make sure everything gets shot in a way I like. And Jasmine is absolutely stunning! I had a huge casting day with many models. I was very particular about what I wanted, but she walked through the door and I picked her straight away. I knew I wanted her. She's so lovely too, so I'm happy to have her on board."
Have your brought back any designs from your previous collections?
"Yes, I have! The babydolls always sell out really quickly, everyone loves them. I've put those back into this season's collection. I've brought back pieces which were bestsellers in the past. For example, I made the Evangeline dress in black and berry, but this time I've repeated it in a cream colour for spring/summer. I've also included a cream version of the Maggie, which was originally in black. When I get to the design process I always look back on which items sold best, and I evolve on those and design different variations. That way I can make pieces that people like buying."
The first drop of Lydia's spring/summer '14 Lydia Rose Bright collection launches this week and is available online at Lipstick Boutique, Bella Sorella and ASOS, and in store at River Island.
Check out Lydia talking through her favourite pieces from her new collection in the video below: