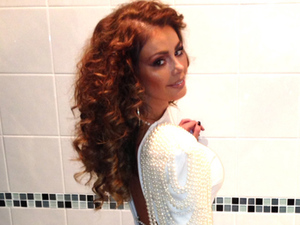 The Only Way Is Essex's Chloe Sims always has her finger on the pulse when it comes to fashion, so who better to blog her favourite outfits from the week for Reveal?!Outfit one: Chic lunch look
I loved rocking this look. I wore it for filming and went for lunch afterwards with my cousin Joey Essex and my nan. It was warm, comfortable and most importantly chic! This look is definitely ideal for daytime and black polo jumpers are a MUST for the festive season. Not only are they warm, but they go with everything.
"I also wore a lot of black for this outfit, with the roll neck, thick tights and big boots, so I just added the dogtooth skort for a bit of colour. I'm one of those people that end up wearing a lot of black in winter, as it's so easy to put a load of black on.
The long sleeve polo neck jumper from Zara cost £19, and I teamed that with my leather biker jacket, which I also got from Zara last year. I'm totally loving fake fur collars at the moment and I wore a black one from ASOS, which cost £20, to dress up my outfit. There are loads of different fake fur collars around and you can put it over any jacket, top or whatever you want.
My skorts are so comfortable. It's knitted and a really soft material and I got it at a really good price for only £19.99 in Zara. My black over the knee boots cost me £120 from River Island. I've had a lot of wear out of these and the block heel is really comfortable. Over the knee boots dresses the outfit up again. These boots are really nice and they've got a gold plaque at the back. It also gives you a bit of height and it's not too over the top for the daytime.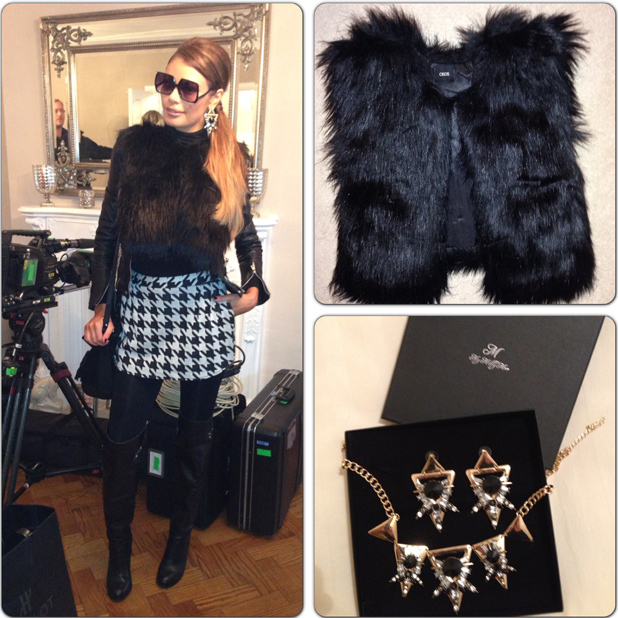 Like most girls I feel pressure not be seen in the same outfit twice, so lately, I've been trying to buy key items that I can mix up and wear in different ways, otherwise it's such a waste. For example, the black polo neck can been worn again and again, and the skorts can be worn with tights and boots for a daytime look, and also with heels for a night out on the town. Red pointy heels would also look stylish, but remember if you're going to be brave showing your legs, cover up on top!
Also, a really good investment is a black leather jacket. Zara do really good cuts and good quality, and it will bring most looks up to date and see you through the winter days right through to summer nights. Even though it's winter, it's still really bright, so I wore some oversized square sunglasses from ASOS, which cost me £10. I wore my hair and make-up simple and accessorised with some statement black and gold bead drop earrings. I got them as part of a set from www.mymillymoo.com, but they can be purchased separately for 4.99.
Outfit two: 80s Glam
I wore this for filming to Lewis Bloor's 80s-themed birthday party, which was also our series finale. I was an 80s diva because I knew no one else would go for that look! I'm actually not a fan of fancy dress, so I wanted to wear something that I liked but that was still inspired by the 80s. I had my hair done in the morning at around 10am, so it was really, really curly, but we didn't film until 6pm, so it lost a bit of volume by that time.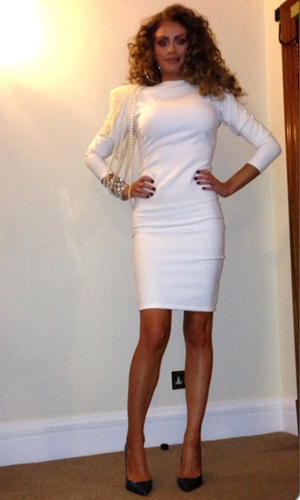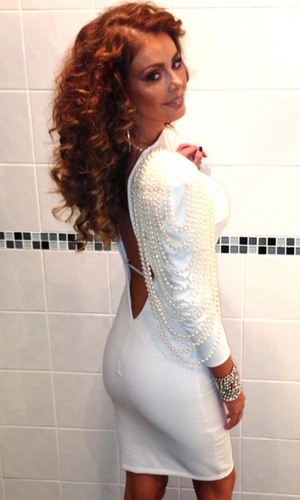 My dress was made to measure by designer Gerda Truubon (www.gerdatruubon.com) and cost me £175. I needed something that would carry off the 80s look and I thought this dress was perfect. I had double shoulder pads and pearls, which was really light on the shoulder. There were also pearls that went across the neck at the back to hold it together. My leather petrol blue heels are from Celeb Boutique and they cost me £119. I always put gel cushions into my shoes for the balls of my feet, but I found that these heels were really comfortable for court shoes and really soft.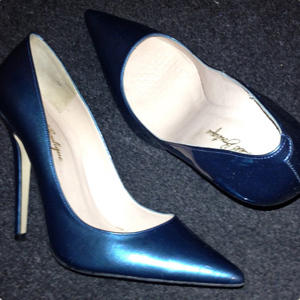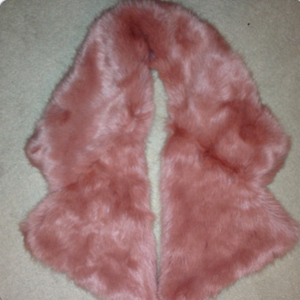 The faux fur lapel pink collar I wore is similar to the black collar in outfit one. It's got a clasp on it and you can wear it around your neck with a jacket or a jumper, but I just draped it over my shoulder to complete my look. I got that collar from ASOS for £24. For jewellery, I wore an old siver cuff and some oversized silver hoop earrings, which I got from New Look last year, and I carried a white studded clutch purse from Celeb boutique, which cost me £34.99. The iconic shoulder pads and metallic heels really carried off my look!
Outfit three: Essex's take on FunkyOffish
I was reading all about the newest trend, FunkyOffish, which is short for Funky Official. It's a trend coined by Pixie Geldof, designer Ashley Williams and stylists Julia Sarr-Jamois and Fran Burns. It basically describes an offbeat, mish mash style. So for example, an A-line skirt with a floral print, teamed with a Coca-Cola print jumper and a modern designer shoe. In my opinion, it's basically an expression of your personality and your fashion sense. They're actually doing their own range too based on the looks they've made up, so I thought, 'Well, I'll get involved in that for the wrap party!'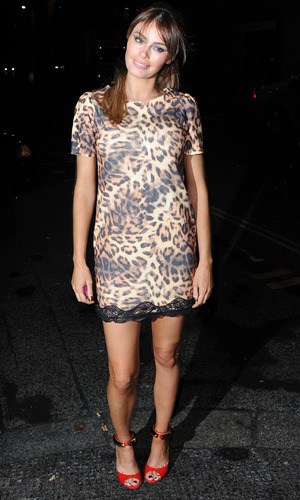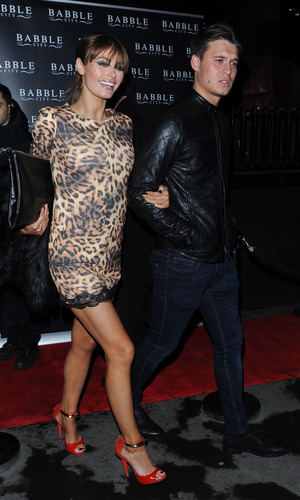 I wore a leopard print shift dress with a black lace trim from Zara, which cost me £25.99. I was feeling quite bloated that day and I didn't want to wear a little tight dress, so I found my dress to be quite flattering. Also, if you've got long legs, it's quite an easy dress to wear because you'll have your legs out, but every thing else covered up.
I wore that with my red Giuseppe Zanotti Bon-Ton sandals, which cost me £860, but I've seen loads of similar ones on the high street. I also used my large faux leather clutch from Primark, which cost £7 because I had to dress down the heels - they were so expensive! My outfit worked quite well because I had the leopard print, black lace, red shoes, the gold buckle on it, and then the black bag and fake fur gilet. It was like a mismatch of all different fabrics and looks all in one.
Which of Chloe's outfits do you like best? Vote in the poll below!
Essex's take on FunkyOffish
42.50%
Watch Chloe Sims on The Store on Sky Channel 642, Freeview Channel 39 and Freesat Channel 809 promoting her Chloe Sims Starship Tan or check out the website. TOWIE is on Wednesdays and Sundays at 10pm on ITV2.
Got an iPad or iPhone? Reveal Mag is specially designed to fit!