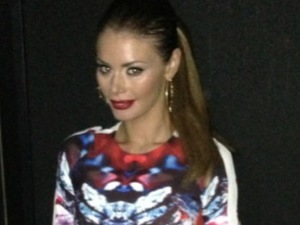 The Only Way Is Essex's Chloe Sims always has her finger on the pulse when it comes to fashion, so who better to blog her favourite outfits from the week for Reveal?!Outfit one: Shopping swag
I went out shopping for my birthday outfit and I wore black leggings from Primark, which cost £4, with some high-heeled black boots from River Island. My boots have a block heel and platform with a cross strap detail and I bought it for £85. I generally find that block heels are more comfortable than small, thin heels. I teamed it with a leopard print T-shirt from Zara that cost me £17, so it was quite comfortable but it still looked smart.
I also wore a really cool black snakeskin leatherette tank from House Of Tre Li, which cost me £99. It's actually for men but it's really cool and also comes in plain black and red. You can even wear it as a dress!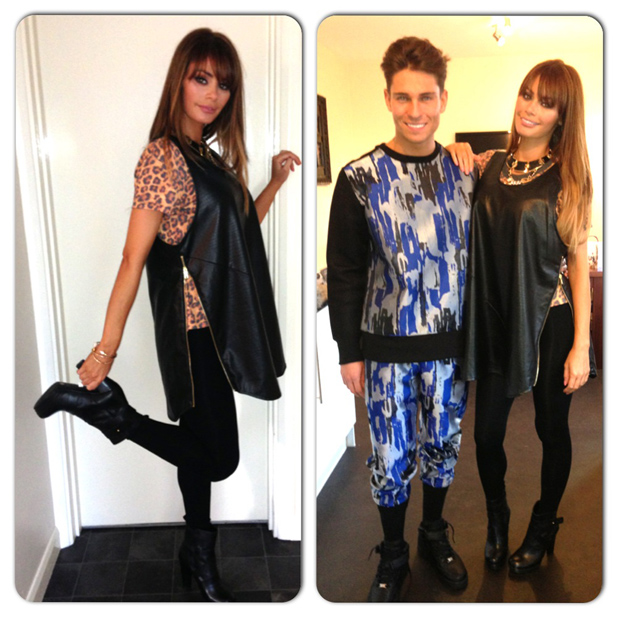 The one I actually wore was too big for me, so I gave it to my cousin, Joey Essex, but I've got a smaller size now. It's even got a zip down the side and I got really good feedback from it when I wore it on
TOWIE
this week. I was wearing a lot of black, so I felt that I needed some pattern and a bit of colour, so that's why I wore my leopard print underneath, but you can wear any colour to brighten it up really.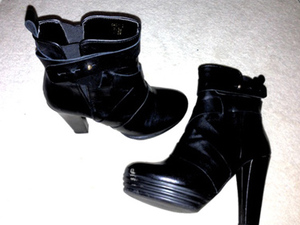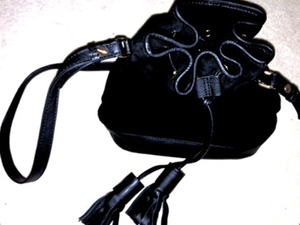 I finished off my outfit with a black leather duffle bag from ASOS. I really like the chunky tassels on it and it's also in the sale right now for £31.50. I got both of my necklaces from New Look at £7.99 each. I wore a black and gold snakeskin detail statement chain, and a gold chunky diamanté leopard necklace. I also accessorised with some gold bangles from Primark, which only cost £3.
Outfit two: Birthday glam
I filmed my birthday for
TOWIE
and had a little get-together with my family and close friends. It was quite low key. I am planning to celebrate it again, but I'm going to do it after filming because it's really hard to plan with everyone, so I will be having another birthday look too!
For this outfit though, I chose a red long sleeve printed Celeb Boutique dress. It cost £115 and I liked it because it was covered up but at the same time still really vibrant. The dress zips up from the back and I've got a couple of other styles similar to this, which are short sleeved but very flattering. In general, I find Celeb Boutique dresses really flattering and also a really good fit - they do hold you in, and in all the right places I've found!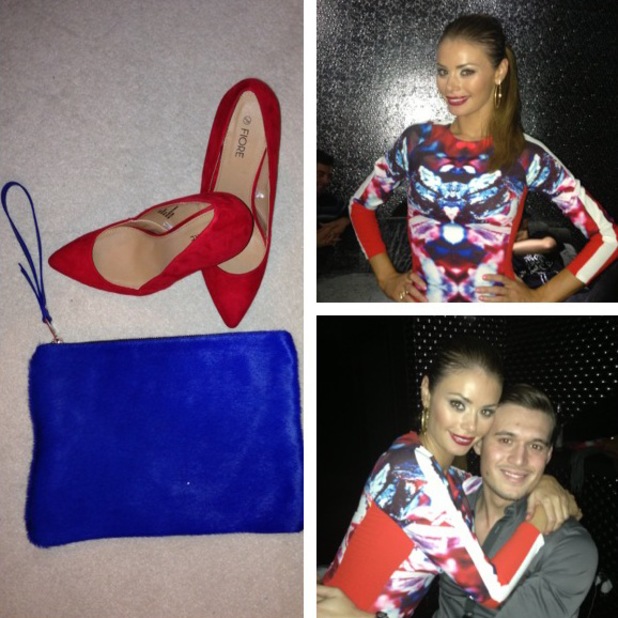 You should definitely stand out for the right reasons and because I'm really into covering up, I feel I can carry off the bright colours and patterns that are on the high street. Three years ago, I would have had massive hair, massive eyelashes and red lips, and I would have probably worn shoes to match my bag.
If you're going to wear a dress to make a statement, then you have to be classy. Tone everything else down and let the dress get the attention, rather than having your boobs exposed and your legs out! I've seen some absolute horrors lately, so I think girls should take that on board - keep it classy, especially for the festive season!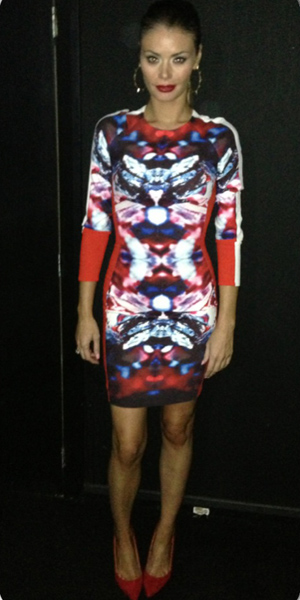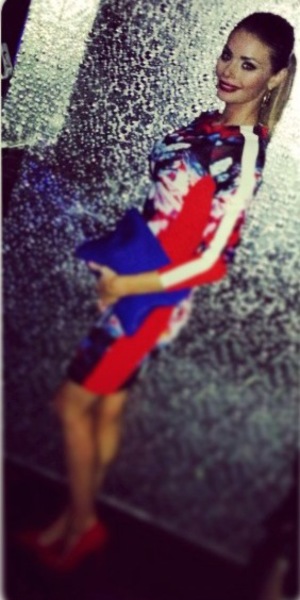 I tried to keep my hair and make-up to the minimum, but I did wear red lipstick to brighten my face up. I think if you keep your hair and make-up simple and you wear something really bright, you can totally have the red lip as well. But I think if you have full on hair and make-up, with a bright dress and bright lips, then it would look a bit too much. Keep your hair and accessories simple but don't be scared to apply bright lippy girls!
To complement my dress, I wore red suede effect stilettos from Matalan, which only cost £15 and I love them! They're really comfortable as well and not very high. Instead of having the usual look of red bag and red shoes, I mixed it up and carried an electric blue clutch bag, which I got from Zara last year. I also wore some gold hoop spike earrings from online shop, My Milly Moo, which cost me £15.
Outfit three: Cute casual
I was filming today and I wore a white crew neck boyfriend crop top from ASOS, which cost £12. I teamed that with black tights, a patent black high shine pleated skirt from River Island, which cost me £30 and stops just above the knee. To dress it down, I wore flat burgundy ankle boots with a sliver buckle detail, which cost me £24 from Matalan. It was a simple, comfortable outfit but it still looked stylish.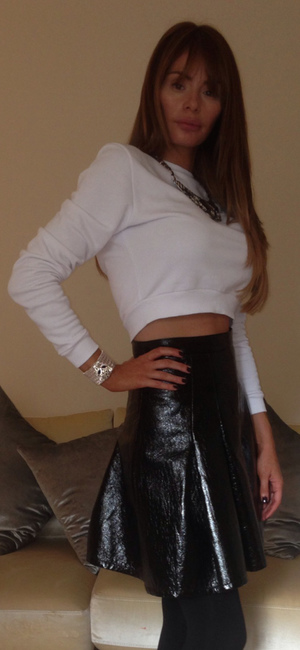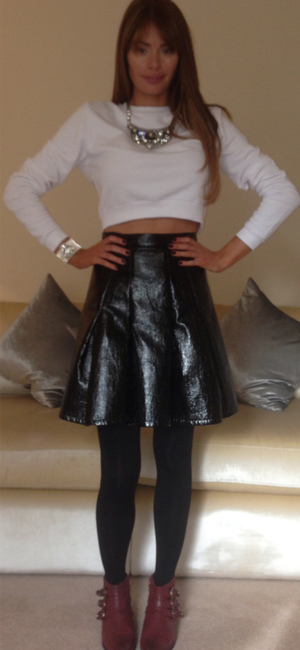 I wore the same ASOS bag that I wore for my 'shopping swag' outfit. It really is my favourite new bag at the moment! It's actually quite compact, but you can still fit lots of stuff in it and is perfect with most outfits really.
I also accessorised with some jewellery too, which added a bit of sparkle to my look. I wore a really nice silver leopard cuff from New Look, which cost £14.99, and I wore a silver statement necklace from Misseee.com, which was £14.99, too. It's really chunky, so it was the perfect accessory to complete my outfit.
Watch Chloe Sims on The Store on Sky Channel 642, Freeview Channel 39 and Freesat Channel 809 promoting her Chloe Sims Starship Tan or check out the website. TOWIE is on Wednesdays and Sundays at 10pm on ITV2.
Which of Chloe's outfits do you like best? Vote in the poll below!
Got an iPad or iPhone? Reveal Mag is specially designed to fit!