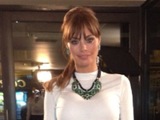 The Only Way Is Essex's Chloe Sims always has her finger on the pulse when it comes to fashion, so who better to blog her favourite outfits from the week for Reveal?!Outfit One: Daytime Edge
I wore this outfit to go to some meetings I had in London and to do a bit of shopping, so it was more of a day look.
I'm really enjoying layering skirts with leggings, tights and even skinny jeans, so this week I rocked leather look skinnys with a leather look skirt. Try it out, I think it gives your overall look edge! I had black leggings from Primark and they only cost £4, and I wore that underneath my gladiator pleated pleather shirt from Zara, which I bought for £25.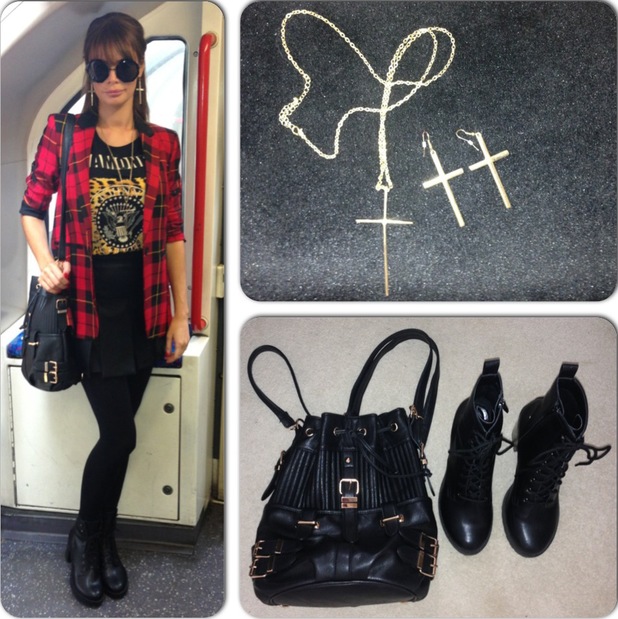 I was layering things because obviously it's getting cold now and it's hard to look fashionable and keep warm. On that day, I wasn't particularly spending much time outside though, as I got the train to London and then I went to a few places. As girls know, it's hard to keep warm and go shopping because when you go into the shops, it gets really hot!
I'm also really into mixing patterns as well, so I wore my Ramones sleeveless T-shirt, which has a leopard print on. I got that from New Look and it cost me £17. I then mixed the leopard with the tartan print, by rocking my fitted red blazer from River Island, which I bought for £55. My black biker boots from New Look cost £29.99 and because they're quite chunky, they were actually really comfortable to walk in. I finished off my look with some simple gold jewellery, teamed with oversized hexagon sunglasses from ASOS that cost £12, and a black shoulder bag that I got from New Look.
Outfit Two: Casual glam
I was only going out for a casual drink at a bar, so if you're going to wear a short skirt like mine, it's best to cover up your top half, which I did with the long white sleeve cotton T-shirt from Zara. That cost me £12 and it went perfectly with my pleated leather look gladiator skirt, that was also from Zara. I really love the skirt because it's got the leather flaps. I kept warm in a black fake fur gilet that I got last year from Zara.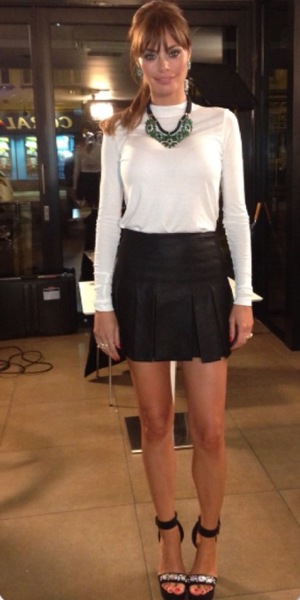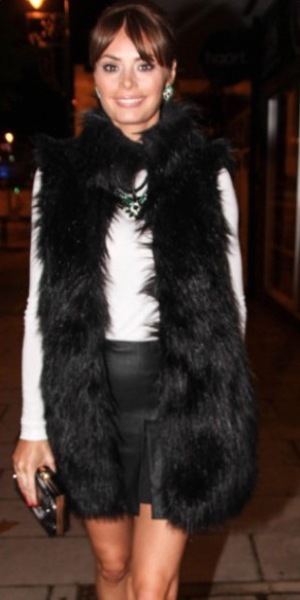 My black suede heels were really comfortable on the night. It's like a platform heel with gemstones attached on the front and the heel is actually really high, but it dressed my outfit up a little bit.
I accessorised with some emerald green jewellery from New Look. I wore some statement earrings, which cost £5.99 and teamed those with a chunky green and black statement necklace, which was £17.99. I also had a plastic, lace patterned clutch bag. I had a stylist help me out before I went to Vegas and she gave me some accessories, so I'm not sure where's it's from but I know it's an inexpensive piece.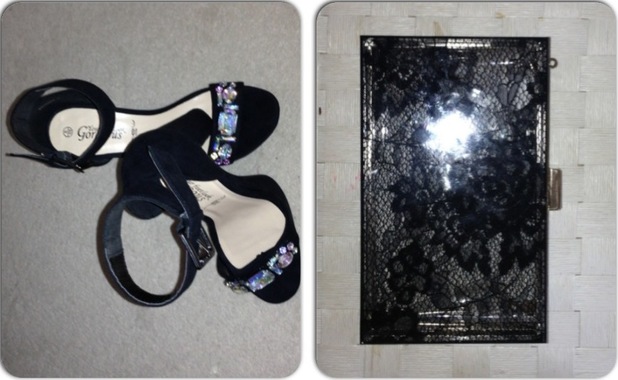 I tied my hair back for my night out because it just toned down the outfit a bit, rather than having big hair which would have looked way too over the top! The thing I like doing as well is making sure the skirt length matches the jacket length. Or, if you wear an oversized blazer and it matches the length of the skirt, I think that looks good, rather than it all being different lengths. It really completes your look, so try to get your lengths right... the streets are your catwalk!
Outfit Three: Urban chic
I went out to dinner with Lauren Pope in London and I was wearing that same Zara skirt again, so it does show that celebrities do wear the same thing! I'm obsessed with that skirt, I just love it because it's so easy to wear and looks cool, but I better stop wearing it now. I promise not to wear it again anytime soon! The 'Coco Made Me Do It' T-shirt is from House Of Tre Li and costs £39.99. It's one of my new favourite brands, so you'll be seeing me in a lot of new pieces from there. A lot of their items are unisex but they sell really cool urban pieces, a bit Rihanna-esque.
I cut it because it was a men's T-shirt and I was planning to wear it as a dress for that night, but I changed my mind and thought it was too short, so I just cut it and left it raw. I just wanted to wear something comfortable and because I was going for dinner, I didn't want anything too tight on my belly! I've been buying some men's clothes recently and wearing them as dresses, and it's good for girls to be different because we all end up buying the same stuff, especially on the high street.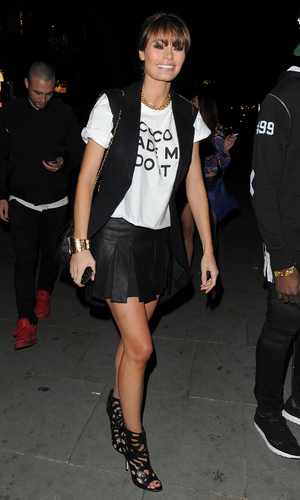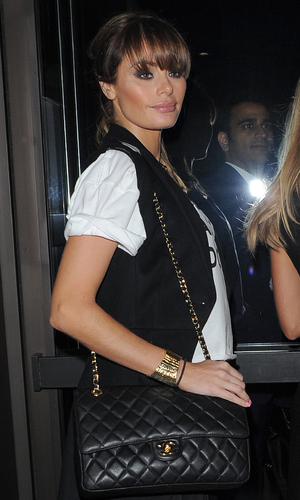 I've noticed in a lot of shops that they're making coats with no sleeves, almost like a long waistcoat. I've seen some expensive ones in Zara and I was wondering how much wear I would get out of it, so I went home and had a look at the coats I already had. I found a really fitted coat that I got from All Saints, like three years ago. The sleeves were really wide and baggy, but it was really fitted on the waist and shoulders. So I unpicked it, and took the sleeves off! It's a good tip for people that are on a budget, and you can take the sleeves off yourself or get it done at a tailor. I ended up saving £120 instead of buying another one, so I was quite pleased with myself! The coat wouldn't be perfect for everyday, but for a night out, it kept me warm enough.
I also wore a gold choker from ASOS that's really old. I've noticed that chokers are creeping back in and I'm really surprised because they haven't come back round for ages. I think the last time I wore a choker was in the 90s, so I thought I better get one back on and keep up with the trend. So yes, I rocked a choker, done it and relived my 90s! I wore a black Chanel bag on my night out too, which was big enough to fit all of my make-up in it, but you can get similar black quilted bags from lots of high street shops. My shoe boots were designer and I got them in the sale about five months ago and River Island also sell similar ones.
Watch Chloe Sims on The Store on Sky Channel 642, Freeview Channel 39 and Freesat Channel 809 promoting her Chloe Sims Starship Tan or check out the website. TOWIE is on Wednesdays and Sundays at 10pm on ITV2.
Which of Chloe's outfits do you like best?