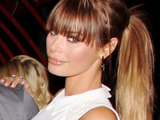 The Only Way Is Essex's Chloe Sims always has her finger on the pulse when it comes to fashion, so who better to blog her favourite outfits from the week for Reveal?!Outfit One: Girly Swag!
This is what I'm wearing today for filming
TOWIE
. I love my skirt! It's a grey felt material and has a black lace hem around the bottom.
I've teamed it with a really loud jumper that I bought in Topshop last year. It's got a lion print all over it and, although it's last season, I've seen similar fierce prints on the high street this season.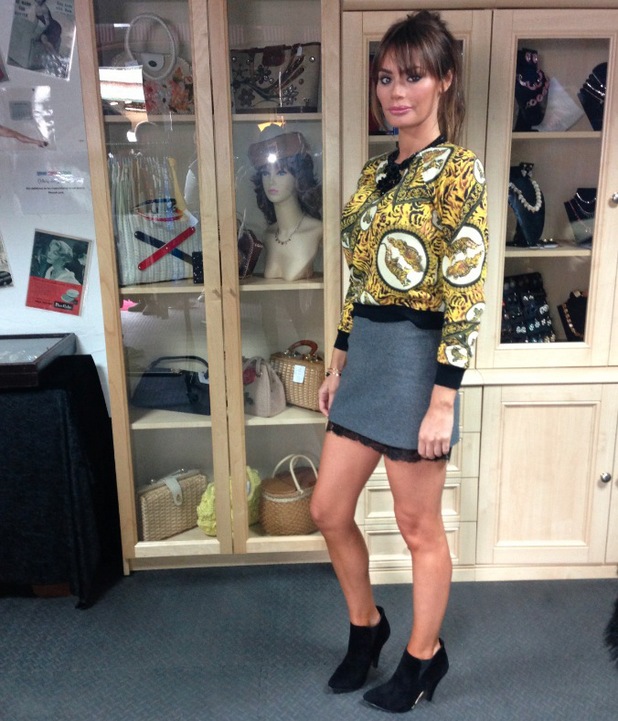 I heart accessories, so have tied this look in with little grey and black bracelets from Primark. They're in store now for a couple of pounds and are really edgy. I bought my shoe boots from Matalan and I absolutely adore them! They're only £20 and are really comfortable. I don't go to Matalan very often so went wild when I was in there recently. I picked up seven pairs of shoes, so you'll see them popping up! I can't stress enough how comfy they are. I bought some high-top trainers for £20 and they are more comfortable than my gym trainers!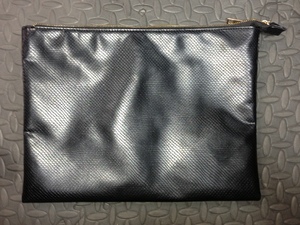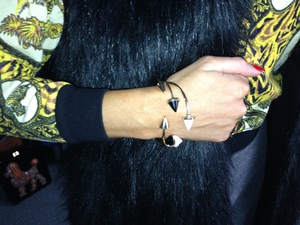 I've topped my look off with a big clutch from Primark, which is definitely my tip for this outfit. It costs just £6 and is in the stores now. I think big clutches look really cool at the moment and the Primark one comes in loads of different colours. They are folded in half with a double zip, meaning I can get all my bits, pieces and make-up in. You'll see me on
TOWIE
in this outfit and I've worn it to go shopping, as the shoes aren't too high. It's a great one to go to lunch in too. It's a mix between swag and girlie, as it has lions on the jumper and lace on the skirt!
Outfit Two: Cute For Coffee!
I really like this wet-look PVC pinafore dress and chose to wear it earlier this week with a simple grey crop top from ASOS. The pinafore is also from ASOS and was around £30 in the sale. I love a bargain! I bought this in a 'petite', which is my tip for the week. I think people assume you have to be 5ft to wear petite, however I'm tall and sometimes find petite clothes are a better fit. For example, if I bought this in the standard size, the dress would come just above my knee. This is a bit shorter, but not too short. It's perfect and so I've started getting a few bits from the petite section. They go up to all sizes.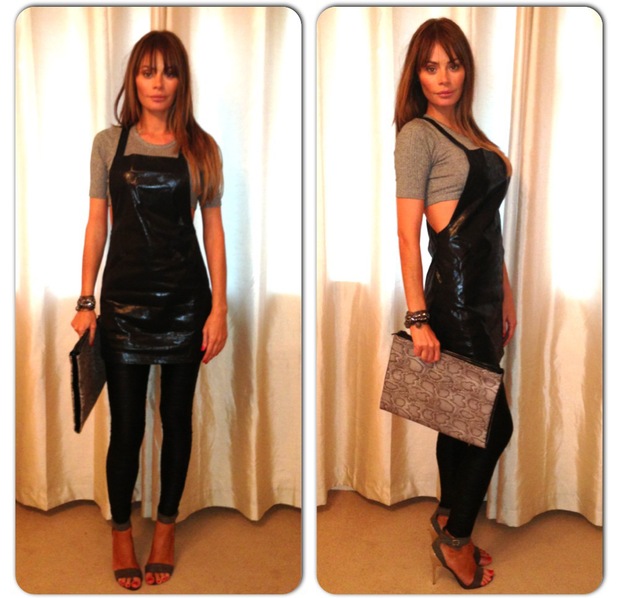 I teamed my pinafore with shiny textured black leggings, which I got in ASOS last year. Again, I've seen them everywhere this year so you can definitely get similar elsewhere. The shoes are current and are from New Look. They're a grey suede look with a metallic silver heels and smarten up the outfit. Again, I teamed it with a large £6 clutch from Primark. I can't get enough of them! This time, I opted for a snakeskin print, as it really coordinates with my grey heels and crop top. You might recognise this outfit from the last episode of
TOWIE
, as I wore it to meet my cousins Joey and Frankie Essex for coffee and cake. This is definitely more of a daytime look.
Outfit Three: Teenage dream!
I'll let you in on another secret...my sleeveless shirt is from the teenage section in Matalan! I was looking for clothes for my daughter Madison when I saw it and bought it. It's age 15! The range goes up to age 16 and is great for people who are slimmer on top. I teamed it with a plain black polo neck underneath, from ASOS, and a pair of high-waisted leather look trousers from Zara. Again these are last season, but they have similar ones everywhere on the high street at the moment.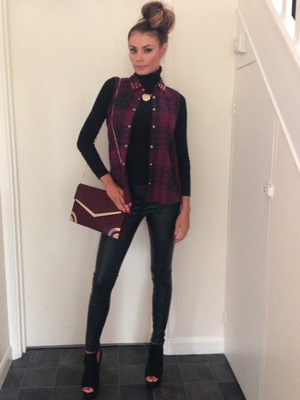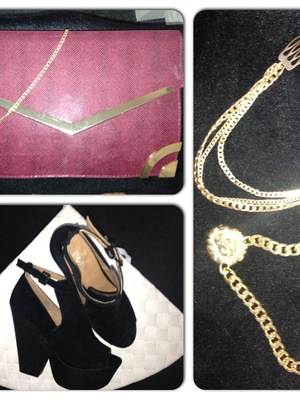 I love my shoes - they're amazing! They were another pair that I snapped up in Matalan and are so cool. They are a cross between a wedge and a platform. I've seen similar designer pairs for more than £100, so was really excited to find these for just £20! I must say, although they're comfy, you have got to be a pro at walking in heels to wear them. They are really high! I was crossing the road at one point and thought, "Woah, if I go flying I really
am
going down!" They dress things up and, I shouldn't say it, but they kind of take the Essex out of the outfit, which is why I picked them! My bag is current and is from New Look. It's a maroon suedette and has a gold metal chain and trim on it. To complete this look, I wore a gold head chain from Asos, which I bought for £10. You can wear a head chain so many different ways. On this day I wore my hair up and used it to hide my extensions. Unfortunately, we don't have hair stylists on set so I do my hair myself - you have to learn! I wore this outfit to go for dinner with Frankie, Jasmin Walia and Lauren Pope, but I also wore it to go shopping in the morning. It's a good all rounder - if you can walk in the shoes!
Watch Chloe Sims on The Store on Sky Channel 642, Freeview Channel 39 and Freesat Channel 809 promoting her Chloe Sims Starship Tan or check out the website. TOWIE is on Wednesdays and Sundays at 10pm on ITV2.
Which of Chloe's outfits do you like best? Answer in our poll below!