As part of their $30 million wedding plans, Kanye West's reportedly chosen two dresses for Kim Kardashian. Would your man get to dictate your look?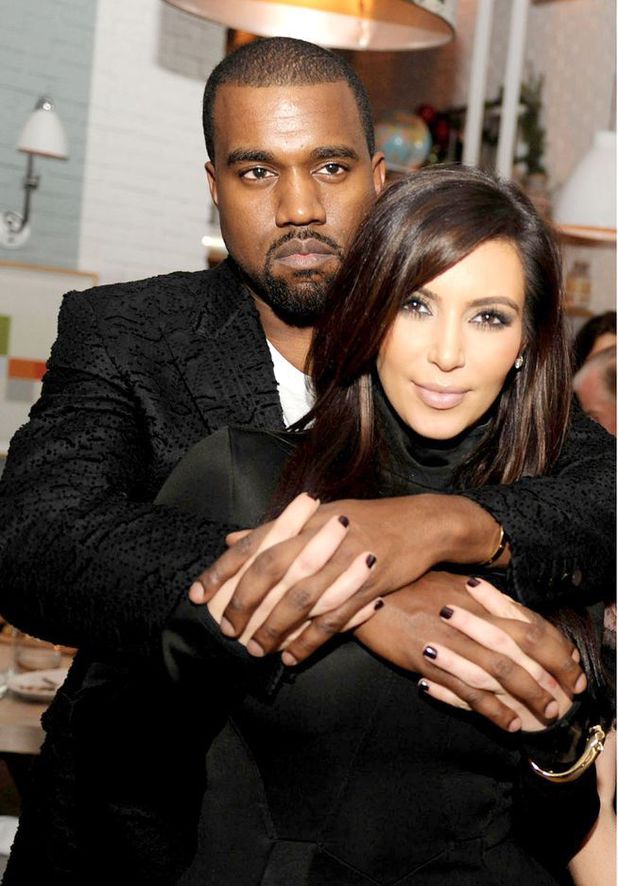 YES says journalist Samantha Brick, 42
Ooh la la! So Kanye has reportedly chosen two wedding dresses for his Parisian nuptials to Kim. Such scandalous news might propel most brides-to-be to reach for a very large Baileys in horror.
For me? It's no biggie: I too let my husband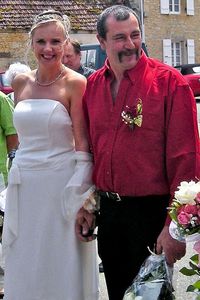 choose my wedding dress.
When we set the date for May 2008, I was 37 and Pascal, my French husband-to-be, was 10 years older. Pascal had spent his twenties photographing Parisian fashion catwalks – he knows how to flatter a woman's figure.
It was the second wedding for both of us. We knew becoming husband and wife isn't about 'the day' – it's about 'happily ever after'. We weren't going to get into debt and neither were we going to have a daft spectacle of Katie Price proportions.
We got hitched in south west France in late spring. It was hot. When we were planning in winter, I hadn't considered this but, luckily, Pascal had. My dress was similar to the Chanel design Keira Knightley wore when she also married in France.
The fact that Pascal found the dress on eBay (a snip at £25!) is irrelevant. Designer labels didn't sway him, he chose what would work with my figure and the temperatures.
Mine was perfect: a strapless, knee-length dress, a tight bodice with a big skirt. I would never have chosen it and yet it perfectly suited me and our unpretentious, rural nuptials.
Your man will always tell the truth – unlike your friends. When I produced the series Bridezillas, I frequently witnessed 'bitchy friend syndrome': brides swayed into choosing frightful frocks by their jealous mates.
As for the groom seeing the dress before the day? Superstitious nonsense! I'd rather my bloke recognised me, which is a lot more than can be said for some brides.
NO says Reveal's Features Editor Su Karney, 33
Certain things in life make sense. Beans on toast. Kate and Wills. George Clooney getting ever hotter. But allowing anyone else to choose your wedding dress, especially the groom? It makes my head hurt to think of it.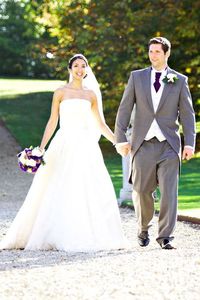 Simply put, I'd trust my husband Kev with my life. If aliens invaded or the country was in the throes of a zombie outbreak, he'd be my first port of call. But to choose my wedding dress? No siree.
I've seen enough episodes of Don't Tell The Bride to know it's not a good idea to leave sartorial choices to anyone else when all eyes are on you. It's not that I was afraid my beloved would be on speed dial to Thelma Madine the minute my back was turned, for a cream puff worthy of the biggest and fattest of gypsy weddings.
But, for most of us, it's the single most important dress we'll ever own. It's exciting – and the one time you definitely want to get it right.
When we got married in October 2011, my gown was everything I'd dreamt of. It had taken copious amounts of Champagne, three road trips and six ferry rides to a boutique on the Isle of Wight – including a breakdown on the A3 when I ran out of petrol in a giddy post-fitting high – to achieve my idea of perfection.
Though Kev did ask to see the dress before the day (he 'doesn't like surprises'), I stuck to my convictions. Not because I'm superstitious or particularly traditional.
But I wanted to see the look on his face when I walked down the aisle. I'd chosen it with him in mind just as much as me. Thankfully, he wasn't disappointed with the wait.
Would you let your man choose your wedding dress?
Yes - I agree with Samantha
30.61%
No - I agree with Su
69.39%