As Team GB's
Nicola Adams
makes history as the first woman to scoop Olympic gold in the women's boxing, we ask if it is really a suitable sport for us girls...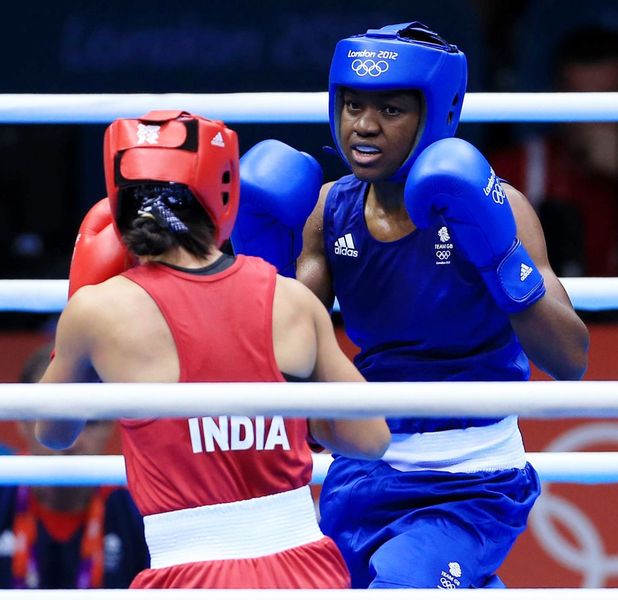 NO, says Reveal's Editor, Jane Ennis

On a high after watching the incredible Usain Bolt win his second Olympic Gold, I sat down in front of my television in happy expectation to watch the women's boxing. Nicola Adams was tipped to beat Chinese world champion flyweight Ren CanCan and win a gold for Great Britain.
But after a few minutes, I was wincing in horror. As Nicola landed punch after punch on her opponent's face, I could only think of how the little Ren would look the next morning as she sat nursing a black eye, thick lips and bruised cheeks.
I began to feel more and more uncomfortable with the idea of two women beating the stuffing out of each other, and turned the television off before the fight finished.
Those of you who follow my editor's letters in
Reveal Magazine
will know that I am a great supporter of equality for women - so why did I find my first experience of women's boxing so distressing?
Well, first I have to declare that I am no fan of men's boxing. It's hard to like a sport that involves people trying to hurt each other and which has been proved to cause lasting brain damage.
So while I support any female's right to equality with males, I think there are some activities that men should be ashamed of and women should not follow. Binge drinking, swearing and gratuitous violence are unsuitable pastimes for either sex.
So congrats on your gold medal Nicola, but I won't be watching women's boxing again.
YES, says Reveal's Celebrity Editor, Rosalind Sack

The first time I watched a boxing match on TV one guy ended up in a coma and, unsurprisingly, it put me off. That was until about 24 hours ago when, swept up in the infectious buzz of the Olympics, I was gripped by Team GB's Nicola Adams' fight for gold.
Dare I say it, the women's game seemed more skillful than the men's bouts. Just like tennis, for me, watching brute force from the hard-hitting guys pounding unreturnable serves is never as gripping as the intricate rallies of the women.
Yes, in the ring Nicola was tough as nails and taking no prisoners, but as soon as she stepped out of it, her Cheshire cat grin melted those hard edges and the hearts of the nation alike.
I play netball. It's supposedly a non-contact sport, and is often associated with shrieking girls in the school playground. Yet over the years I've suffered a broken finger, fractured elbow and even whiplash on court and I've spent many a long hour in A&E after a match waiting for an X-ray or some industrial-strength painkillers.
In fact it looked like Nicola came off better after going four rounds in the Olympic final than I sometimes did after a warm up (although I am a tad accident prone)!
Just like men, women have that fire in their bellies to compete, and risk a good clattering at the same time. Watching women in the peak of physical fitness harness their power and skill - in any sport - is just about as inspiring as you can get.
Are you a fan of women's boxing, or should us girls just leave it to the men? Let us know below...Read more: Usain Bolt: Why we love all the Jamaican sprinterRead more: Jessica Ennis reveals her beauty secretsRead more: Louis Smith: Ten reasons to love the hunky gymnast!