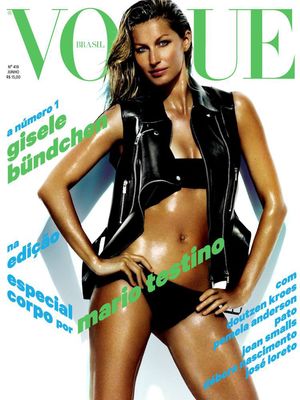 Brazilian supermodel Gisele Bündchen has racked up over 120 Vogue covers. Yet this one, shot by Mario Testino for the Brazilian edition, is remarkable. Amazingly, she posed just two months after giving birth to her second child...Are you inspired by Gisele's postnatal body?YES, says mum-of-three Sarah Wray, who gave birth to Eva in December.
Gisele Bündchen
looks amazing, so yes, surely she can be seen as aspirational. She's renowned for her love of kung-fu and yoga and her disciplined attitude to food and exercise. Sure, her Brazilian genes may also help her in looking great, but that's not the whole story. She looks toned and healthy, and for a mum to look like this after giving birth only two months before is surely to her credit.
It's actually refreshing to see a 32-year-old mum of two gracing the cover of Vogue, rather than the usual twentysomethings who seem to have missed a few square meals and appear to survive on a diet of fags and fresh air in order to keep their 'look'.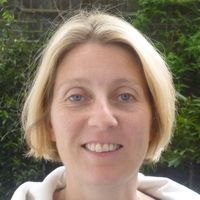 Will I get a supermodel body months after giving birth? Hell, no. She's a supermodel, it's her job to keep in shape and look great, so credit us mums with the intelligence to realise this. But I do want to get back to my normal pre-baby weight, and will I need to exercise and eat a little more healthily after breastfeeding to get there? Definitely.
Since giving birth in December, I've tried to get back into shape. I play netball with other mums once a week, as well as starting back at my Pilates class. I also walk with my newborn, Eva, when taking my other two children to school.
And the chocolate biscuits are gradually reducing as I ease off the breastfeeding. Being a mum doesn't mean you can't aspire and want to look your best... just like Gisele.
NO, says mum-of-three and novelist Fiona Gibson.
At two months after giving birth, I still looked pregnant. In fact, someone stopped me in the street and said: 'When's it due?'
Pictures like the one above spell heartache for us mere mortals who spend those early weeks of motherhood in enormous T-shirts and leggings, whiffing of sour milk.
I know some women find Gisele inspiring, and it must have taken incredible dedication to look this way, but let's not forget that she hardly represents your average new mum.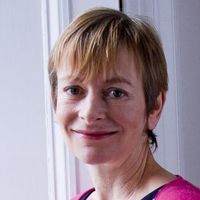 Those first few months are all-consuming. We are dizzy with exhaustion - why else would I have dropped my house keys into a post box and 'lost' my car in an airport car park? It was all I could do to pull on a libido-murdering nursing bra and a scruffy hoodie. Factoring in millions of sit-ups and crunches was simply out of the question.
There's huge pressure these days to regain a bikini body as quickly as possible - ideally, by the time you get home from hospital. But it's not fair, or even advisable (the general consensus is that it should take at least as long to lose your pregnancy weight as it did to pile it on. That way, it's more likely to stay off for good).
It's Gisele's job to look amazing, but Vogue covers bear little resemblance to sick-splattered real life. She's not just a model, she's a feat of engineering.
I'd rather snuggle up with a packet of biscuits knowing, with utter confidence, that Mario Testino isn't going to call.
Fiona's latest novel, Pedigree Mum, is out now (Avon).
Over to you - are you inspired by Gisele's postnatal body?
YES - I agree with Sarah
60.00%
NO - I agree with Fiona
40.00%
Let us know your opinion by commenting below - the best comment across the site each week wins £50.