Carol Vorderman has dazzled us with her brains and enviable figure for decades. But when the 51-year-old turned up to the Daily Mirror Pride of Britain Awards in this eye-popping. plunging scarlet gown it caused quite a stir.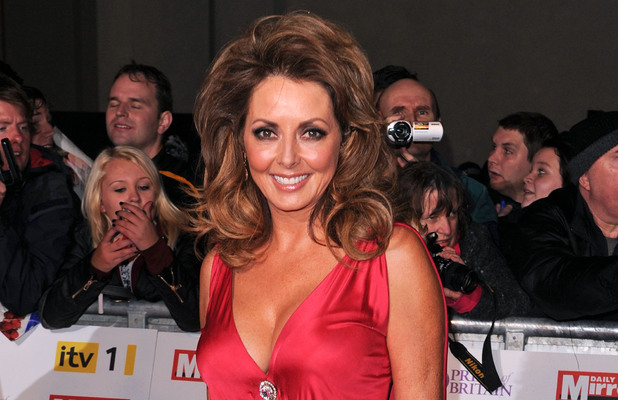 Is it time for her to ditch the figure flashing clothes?

YES says writer Lucy Sweet
Oh Vorders, Vorders. I'm all for ladies displaying their vowels, but Carol's dress at the Pride of Britain Awards was a shocker.
I don't really know where to start. There was the coral red satin Grecian gown, like a bedspread in a Mykonos brothel. The hair, plucked off the head of a Bratz doll. And there in the middle, two golden globes sitting there like the last oranges in Sainsbury's, offset with a diamanté clasp from Claire's Accessories. Not since Madonna's Gollum arms has the world so wanted to scream: 'PUT IT AWAY, LOVE!'
Now don't get me wrong, I believe women can wear what they like if they've got the right attitude. You could be 90 and get away with wearing a leopard print thong and a coconut bra. But this isn't the right attitude. It's desperation. There's just something about Carol that screams – 'Look at me, I've still got it!' She's trying to compete with the Tess Dalys of this world, and play the younger ones at their own game. And at the age of 51, that's more embarrassing than Anne Robinson in a lapdance club.
There comes a time in every woman's life when she has to start celebrating her other assets – not just the ones on her chest. Only then will she really start to impress the people who matter. Instead of dressing like Barbie's mum, Carol needs to take a style lesson from sexy older women like Michelle Obama or Carla Bruni. And that means she has to stop wearing tasteless dresses that even the TOWIE mob would reject.
I mean, honestly, Carol. You can do MATHS! Time to dazzle the crowds with your brain, not your coral-clad knockers.
NO says Reveal Deputy Editor Paula Jones

Carol looked amazing. Yes, it's a daring dress but let's face it, Carol isn't your typical 50-something, is she? She has a figure that women half her age envy, thanks to genes and, I suspect, hard work in the gym, constant weight-watching and beauty treatments.
Some are sniping that at 51 she shouldn't be getting her boobs out. But her cleavage looks fine to me – no hint of droop or the dreaded crepey skin, which might be an argument for a discreet cover-up.
And anyway, if a perfectly preserved 50-something can't show off her excellent form on the red carpet, then where? She covered up her impressive form when it came to presenting the awards.Plus, you can't deny that these days, Carol does plunge better than even Jennifer Aniston, 43, whose recent red carpet appearance in a slashed-to-the-waist Gucci gown conjured up unfortunate visions of spaniel's ears.
So yes, if you have droopy boobs, crepey cleavage, middle-aged spread, of course you have to take care in dressing and yes, you have to adapt to physical changes that come with age. Or risk looking like Jackie Stallone.
Thankfully, the days when women were written off after the age of 40 are gone. And, in a world where Halle Berry, 46, looks sexier than stars half her age, the whole concept of judging by age is useless.
Either you've still got it or you haven't – and Carol definitely still has plenty of 'it'. Just check out her sexy, younger new man if you need proof. The critics may snipe, but Carol is having the last laugh......
Who do you agree with? Post your views in the comments box below and you could win £50 for our Comment of the Week
More fashion and gossip here:
Red carpet fashion at the Pride Of Britain Awards
Carol Vorderman's cheeky proposal for Harry Styles