Susanna Reid has described Piers Morgan as a "force of nature".
The journalist has been co-hosting
Good Morning Britain
with
Piers this week, with the latter replacing Ben Shephard
, who is on holiday.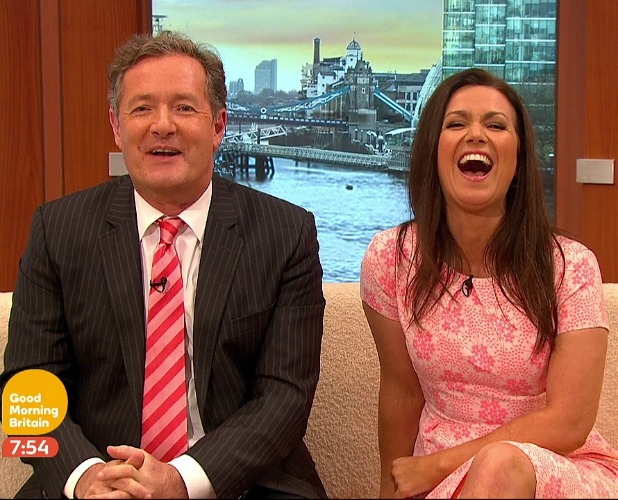 Speaking on today's
Loose Women
, she said: "It's fantastic working with him but he's a force of nature. It's like sitting next to a mini tornado and I think whenever anyone gets interviewed by him, they feel like they've been through a tornado! You should see the looks on guest's faces after they've been interviewed by Piers. They're like 'what just happened?!'"
Susanna went on to say it was a "real privilege" to work alongside Piers considering his "incredible" career and all he has achieved in the past.
"It's fantastic and he brings a whole new energy to the programme and I am very much looking forward to working with him again tomorrow, I have the day off on Friday and then Ben is back on Monday. It's been brilliant."
Susanna also spoke in her interview about everything
GMB
has done in the last twelve months.
"We've packed so much in. It's been an absolutely brilliant year. We've done so much. We were up in Edinburgh for the result of the vote on the Scottish Referendum, which was amazing, we did a four-hour programme there," she said. "I've been out to Kabul and to Kandahar, reporting on the inauguration of the new president of Afghanistan.
"Absolutely extraordinary opportunities and privileges that I've managed to have but what a brilliant connection with our audience as well."